8 Best AI Architecture floor plan generators in 2023
I had been searching for an AI architecture floor plan generator, and I was amazed by what I found. The technology wasn't perfect yet i.e. hundred percent – the AI still needed tinkering here and there – but it promised so much potential. It could generate floorplan, and different room layouts based on a few inputs, as well as furniture arrangement ideas that took into account a homeowner's style preference. These tools are great for Architects, students, and others who want to get their work done quickly by experimenting with AI in Architecture.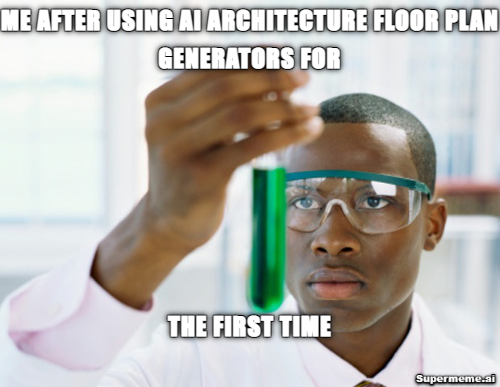 Artificial Intelligence (AI) has become a game-changer in the technological world. It has been used to create numerous programs and applications that facilitate human functions, saving time and increasing productivity. One of the latest AI products is the AI Architecture Plan Generator, which enables architects to design buildings efficiently.
The AI Architecture Plan Generator works by providing an automated solution for design optimization. Architects can input their requirements, such as building size and layout specifications, into the system. The software then analyses these parameters and generates several optimized designs based on them. This process reduces the time spent on manual calculations while also improving accuracy.
Furthermore, this tool allows for flexibility in design options. Architects can easily explore different possibilities by making adjustments to their requirements in real-time until they achieve optimal results. The AI Architecture Plan Generator also employs machine learning algorithms that learn from previous projects to improve its efficiency continuously.(Check our 🚀AI Tools Directory-Toolsai.net for more AI tools).
8 Top AI Architecture floor plan generators
Here are some best AI architecture plan generators
Maket AI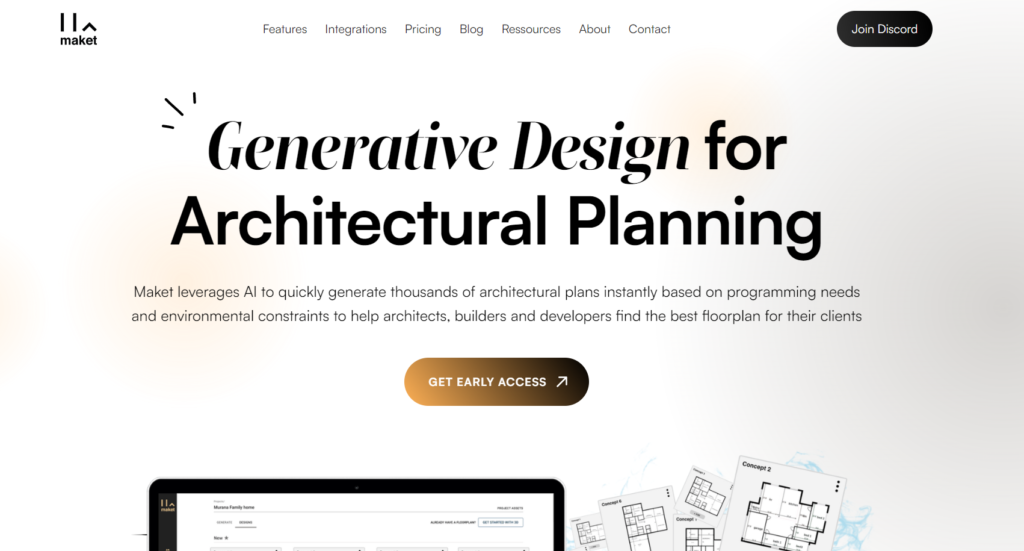 The process of designing a house can be tedious and challenging, as it requires architects and designers to create functional floor plans that meet the needs of their clients. However, thanks to maket.ai's generative design for residential planning, this process has been revolutionized. By harnessing the power of generative AI, Maket empowers architects and designers by enabling them to generate floor plans quickly and efficiently.
Maket's generative design technology works by allowing architects and designers to input their desired parameters into the system. The software then uses algorithms to generate multiple floor plan options in minutes. This approach saves time by eliminating the need for manual drafting or copying existing designs from other projects. Additionally, it provides a wide range of options to choose from, giving clients more flexibility when it comes to selecting a layout that fits their specific needs.
These innovative tools use cutting-edge technology to generate floorplans in minutes, rather than hours or days. You can explore different styles and customize each design to fit your unique vision with just a few clicks. With these automated tools at your disposal, you'll be able to spend more time on what really matters – being creative!
With the support of a virtual assistant, you can make informed and self-assured design decisions by receiving professional advice on materials, expenses, and design options.
Provide information on the size of the room and any requirements for its proximity to other areas.
It creates residential floor plans immediately.
Convert designs into.DXF format for exporting.
PlanFinder AI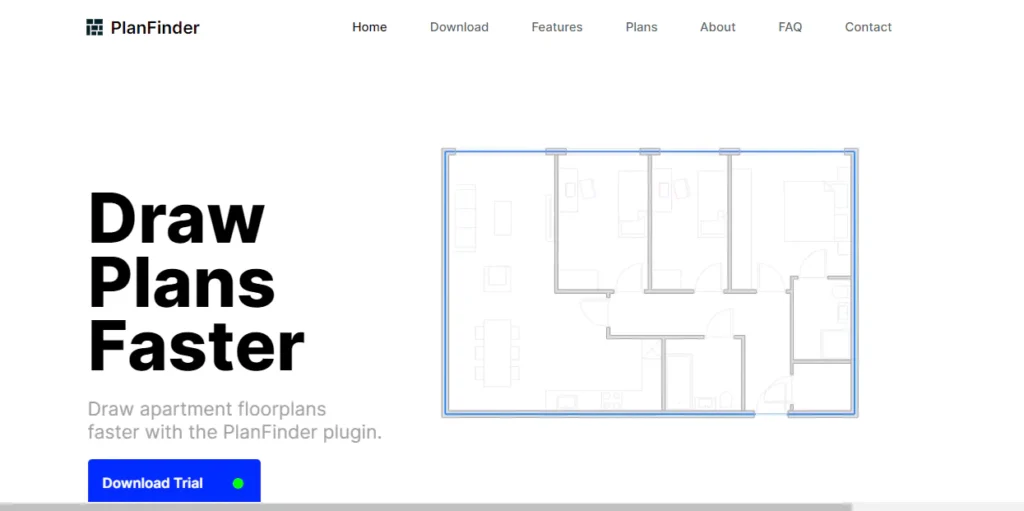 PlanFinder AI is a revolutionary plugin that can help architects, engineers, and designers create apartment floor plans in record time. With the power of artificial intelligence, PlanFinder makes it easy to generate, fit, or furnish an entire space with just a few clicks of a button. This innovative tool has been designed to streamline the planning process and save professionals valuable time and resources.
The beauty of PlanFinder lies in its simplicity. Using a range of sophisticated algorithms and machine learning techniques, this powerful plugin can quickly analyze your desired parameters and generate multiple layout options based on your specifications. Whether you're designing an open-plan living area or need to accommodate several bedrooms within a limited space, PlanFinder can help you find the perfect solution in seconds.
In addition to generating layouts, PlanFinder AI also allows users to experiment with furniture placement and decor options.
Utilize power AI to compare several floor plan variations and analyze trade-offs.
With just the outer boundary and desired rooms provided, several options for floor plans can be generated within a matter of seconds.
With PlanFinder, I can sketch rectangular and single-level floorplans for apartment units.
PlanFinder operates by generating one or more floor plan options using an algorithm that takes into account an outer boundary and the desired number of rooms. These options are guaranteed to be distinct from one another. The user can then compare and select their preferred option, similar to Fit. The algorithm employed is founded on diffusion principles.
Qbiq.ai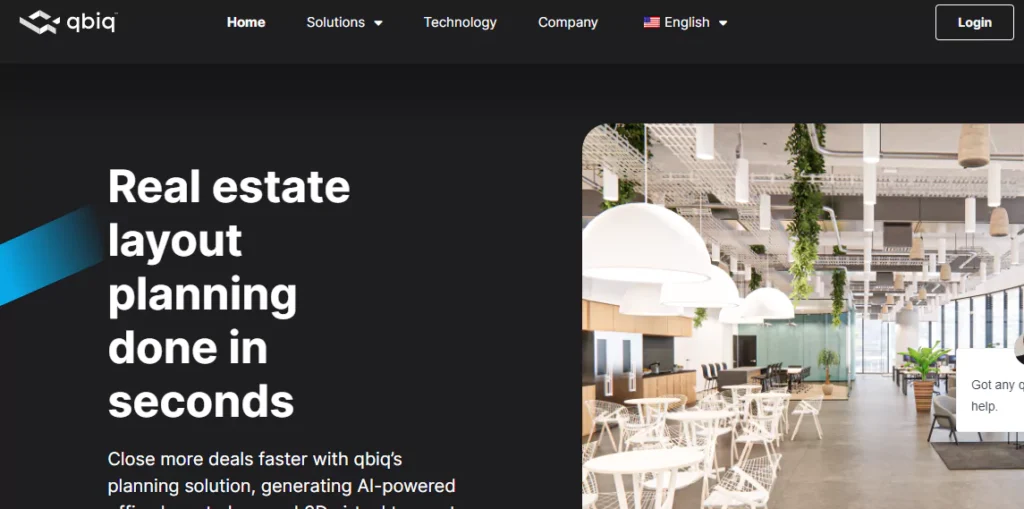 qbiq.ai is revolutionizing the real estate industry by providing an innovative solution for office layout planning. Their AI-powered planning software generates custom office layouts in a matter of seconds, giving real estate agents and property managers the ability to close deals faster than ever before. This cutting-edge technology provides a new level of efficiency that streamlines the entire process of finding and leasing commercial space.
With qbiq's AI-powered solution, clients can visualize their future workspace before committing to a lease, making it easier for them to envision how their team will work together within the space. The software takes into account factors such as natural light, common areas, and individual workstations when generating plans. This ensures that each layout is tailored to each client's specific needs and preferences while maximizing productivity and fostering collaboration among team members.
Qbiq's planning solution revolutionizes real estate layout planning for landlords, brokers, and architects by providing customized layout plans for any space and tenant in under 24 hours. This next-generation test fit generation accelerates turnaround times at a fraction of the cost of alternative solutions.
qbiq's technology is revolutionizing the process of real estate layout planning, making it more convenient and accessible. Their exclusive architecture optimization engines incorporate advanced technologies such as generative design, image processing, and 3D visualization, enabling us to provide architectural-quality plans and data-driven insights instantly. Their collaboration with the leading real estate firms worldwide has resulted in the creation of over 10 million square feet of customized floor plans for their clients every month.
Getfloorplan.com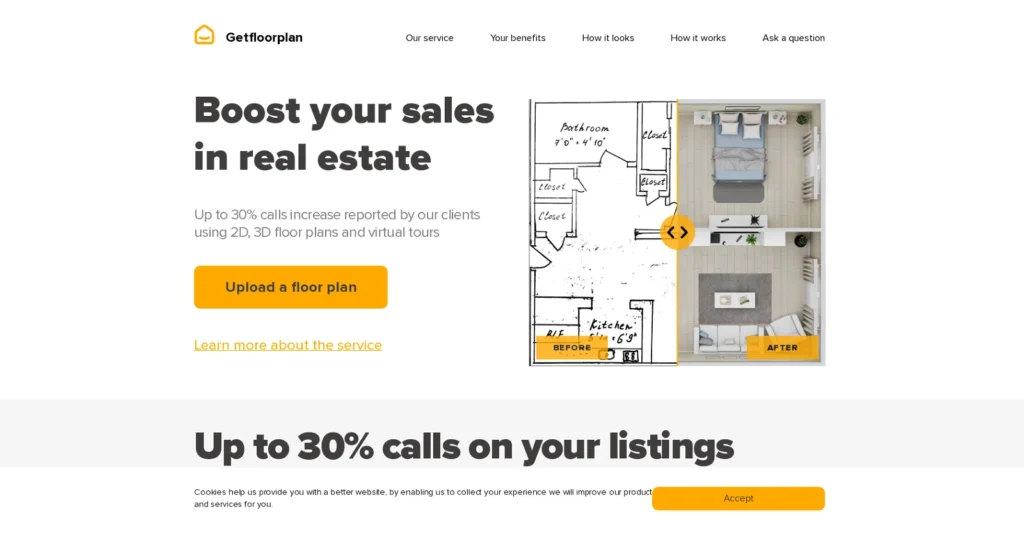 Getfloorplan.com is an excellent tool for real estate agents, architects, and interior designers. The website offers users the ability to create 2D and 3D floor plans as well as 360 virtual tours in just a few clicks. With its user-friendly interface, anyone can easily use this technology to enhance their listings.
The materials offered by Getfloorplan.com are top-notch and are guaranteed to turn any ordinary listing into something extraordinary. The software is equipped with all the necessary features including drag-and-drop functionality, measurement tools, and color customization options that make it easy for users to customize their floor plans exactly how they want them. Additionally, the virtual tour feature allows potential buyers or clients to have a first-person view of the property from anywhere in the world which can increase interest and ultimately lead to faster sales.
Upload floor plan
Let AI do the heavy lifting
The 3D plan is ready
Interior Design
Cove.tools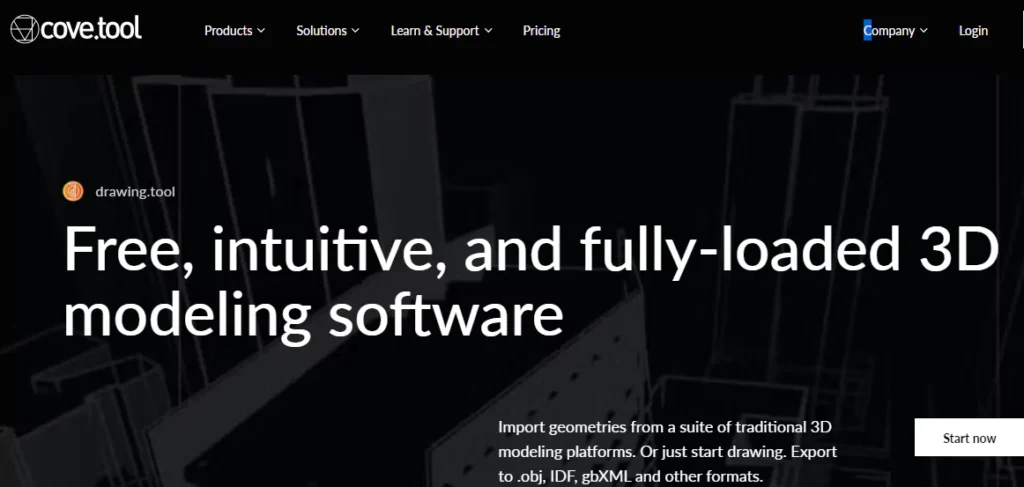 If you're looking for powerful, yet easy-to-use 3D modeling software, look no further than Cove. tools. This free software is packed with features that will help you create stunning designs and models with ease. Whether you're an experienced designer or just starting out cove. Tools have everything you need to take your work to the next level.
One of the key features of the cove. tools are its use of AI technology. With Assemble, the software's cutting-edge assembly tool, you can quickly and easily create complex models by snapping together different parts and components. This not only saves time and effort but also enhances collaboration across teams by allowing designers to share their work in a cohesive format that others can easily understand.
But that's not all – cove. tools also offer a range of other powerful features that make them essential tools for any 3D modeler.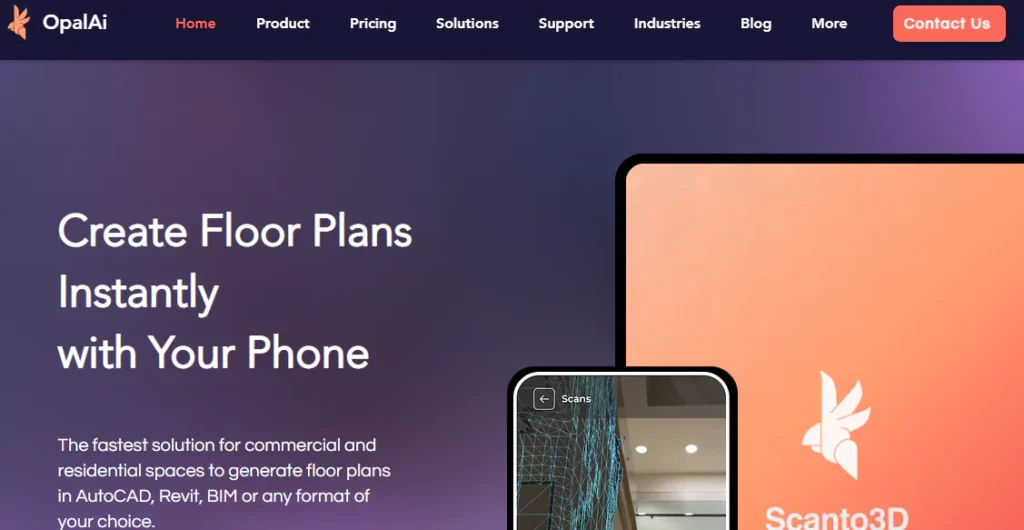 OPAL.AI has launched a revolutionary new feature that allows users to generate floor plans in AutoCAD, Revit, and BIM instantly using their smartphones. This innovative solution is ideal for both commercial and residential spaces as it eliminates the need for expensive equipment or time-consuming manual measurements. With OPAL.AI floor plan generator, all you need is an iPhone or iPad with a camera.
The process couldn't be simpler: take a scan of your space with your phone or tablet, and within seconds you'll have a detailed 2D or 3D floor plan at your fingertips. The app automatically detects walls, doors, windows, and other features so that you don't have to spend hours measuring everything manually. Once the scan is complete, users can view and edit their floor plans directly on their phones or export them to AutoCAD, Revit, and BIM software programs for further customization.
With OpalAi, a floorplan BIM can be created by anyone using just their phone and a simple walkthrough, while their AI takes care of the rest.
In just minutes, a furnished house can be decluttered and a comprehensive floor plan provided, all done automatically.
Planner 5D Floor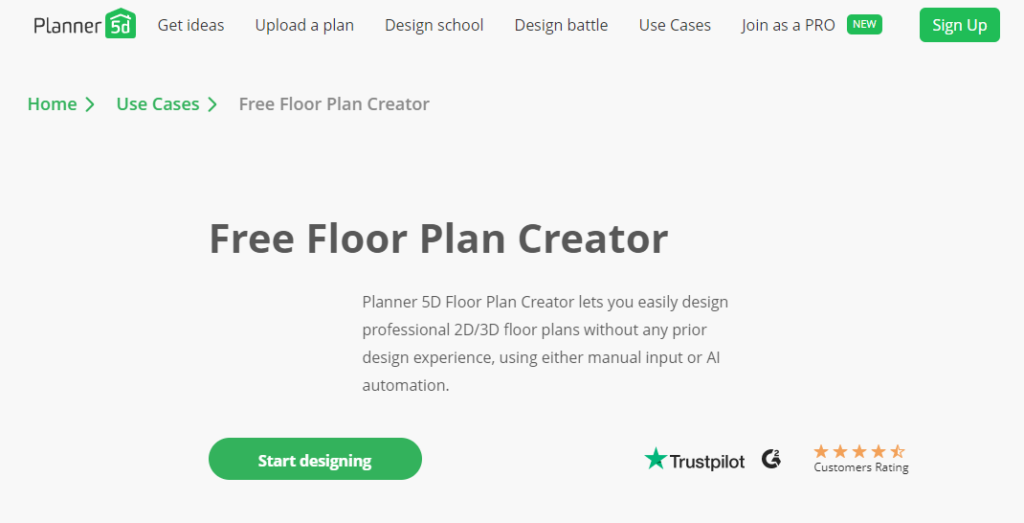 Planner 5D Floor Plan Creator is a revolutionary tool that lets you easily design professional-grade 2D and 3D floor plans without any prior experience in the field of design. Whether you are a beginner or an expert, this software provides all the necessary tools to create accurate and detailed floor plans for your property. With just a few clicks, you can design your dream home, office space, or even an industrial complex.
One of the key features of Planner 5D is its intuitive user interface which allows even novices to create stunningly accurate designs with ease. All you need to do is select from a range of pre-built templates or start with a blank canvas. Once you have chosen your base, simply drag and drop furniture items onto your plan and arrange them as per your preferences. You can also choose from various color schemes and textures to give your plan a personalized touch.
To begin your project, either upload your current floor plan into the floor plan creator app or manually enter your measurements. Alternatively, if you have an iPhone 14, you can utilize the Scan Room feature. Additionally, you can select one of our pre-existing layouts or templates and adjust them to fit your requirements. Construct walls, incorporate doors, windows, and openings, and then establish your dimensions.
Add furniture and decoration
Switching between 2D and 3D modes is effortless while designing, allowing you to monitor your project's progress. Take an interactive virtual tour to preview your room's appearance before commencing any physical labor. Preserve lifelike renderings of your project, and share them with others by downloading or printing to scale.
Hosta A.I.
Hosta A.I. is a revolutionary technology that allows businesses to easily create floor plans and 3D models of any room from photos. This tool has proven beneficial for companies in the spa industry, enabling them to automatically assess their facilities with ease. Hosta A.I. uses advanced computer vision algorithms to analyze photos of a room and generate an accurate floor plan within minutes.
The technology is incredibly user-friendly, allowing anyone—even those without previous experience in design or architecture—to use it effectively. With Hosta A.I., businesses can save time and money by streamlining the process of assessing their facilities, as they no longer need to rely on manual measurements or costly consultations with professional designers. The resulting 3D model also provides a clear visual representation of the space, making it easier for businesses to identify areas that may require improvement or renovation.
Coohom.com
Coohom.com is a revolutionary platform that allows architects and designers to create floor plans with ease. With Coohom.com, you can quickly draw a plan, place model renders, and bring your design visions to life. One of the key features of Coohom.com is its ability to create projects that are both visually appealing and user-friendly.
The process begins with creating a project on the platform's intuitive interface. From there, users can start drawing their floor plans using the provided tools. The software is equipped with an array of options such as wall thickness, window placement, and door position so that designs can be customized according to individual preferences. The drag-and-drop feature simplifies the process even further by allowing for easy placement of furniture models in appropriate locations.
Once users have finished designing their space, they can then generate a 3D model render which brings it all together into one cohesive image.
FAQ
Which AI can generate floor plans?
Maket.ai, PlanFinder AI, Planner 5D, OPAL.AI,Getfloorplan.com are a few AI tools that can generate floor plans and apartment building designs.
Can AI design a house?
Artificial intelligence (AI) is transforming the way we live, work, and play. From self-driving cars to virtual assistants, AI-powered technologies are everywhere. But can AI design a house? The answer is yes – AI has the potential to revolutionize the design and construction of buildings.
Using machine learning algorithms, AI can analyze millions of data points to generate unique designs that meet specific criteria such as size, shape, and function. However, there are some limitations to AI's ability to design a house. While it can generate innovative designs based on certain parameters set by humans, errors, it lacks creativity and imagination in the same way as human designers do.
What AI apps generate floor plans?
OPAL.AI, Get floorplan.com, Hosta.AI, AI Floor Plan Design – CamPlan, are AI apps that can generate floor plan
Final Thoughts
AI architecture floor plan generators are an innovative solution to streamline the design process and improve efficiency. These tools provide architects and designers with accurate, customizable floor plans in a fraction of the time it would take to produce manually. With advanced algorithms and machine learning capabilities, these generators can easily adapt to different project needs and offer endless possibilities for customization. The benefits of utilizing this technology are evident in the time and cost savings it offers, as well as its ability to reduce errors and improve accuracy. As we continue to see advancements in AI technology, incorporating these tools into traditional design processes will undoubtedly become more commonplace. It is now up to industry professionals to embrace these innovations and revolutionize the way we approach design.
Disclaimer: The information contained herein is of a generic nature only, and Toolsai.net is not, by means of this website or any part thereof, rendering professional advice or any recommendation of any AI Tools. We have just collected & shared AI tools in one place & blog as education. Every business is different and its need and not every tool fits every business. Before making any decision or taking any action that might affect you, your finances, or your business, you should make your own independent decision as AI is in the emerging stage, and some tools based on it may occasionally give incorrect results. Do not share sensitive information and read the terms and conditions of the respective tool. Your use of this website or any of its pages or links given is at your own risk and you assume full responsibility and risk of loss resulting from your usage in developing technology. Also, Read our Detail Disclaimer