6 Best AI Home Design generators 2023 (Exteriors +Interior)
I decided to explore the idea of using Artificial Intelligence for my home design project. I wanted something unique, and this presumably offered more creative control than the traditional options available. After researching various AI-driven tools, I chose a platform that was able to quickly create 3D renders of potential designs for me based on my inputted preferences. I envisioned what a perfect collaboration between human creativity and machine capacity could look like – comfortable, sleek, inviting, yet modern. With the push of a few buttons on my laptop, I immediately had access to hundreds of incredible outdoor designs that were tailored specifically to my style and vision.
With AI-powered tools and algorithms, homeowners can now effortlessly reimagine and transform their homes' exteriors and Interiors like never before.
Gone are the days of tedious manual processes and guesswork when it comes to designing a home. Thanks to AI, homeowners, Architects can now utilize smart software that analyzes existing architectural elements along with personal preferences to generate stunning design options. By simply inputting key details such as desired color schemes, materials, and styles into the program, AI algorithms can produce an array of designs tailored specifically to individual tastes.
Points to Consider for Deciding AI Home Designer Generators tools
With the power of AI, Architects, and homeowners can now generate ideas for their dream homes before embarking on the actual transformation process. This cutting-edge technology utilizes algorithms and machine learning to analyze various data points, such as architectural styles, color palettes, and landscaping trends, enabling Architects, and homeowners to visualize their vision with precision.
I have considered the following points for deciding AI home design generator
The AI Home Designer tool's interface should be intuitive and easy to use, enabling architects and designers to navigate the tools and features effortlessly. A well-structured and tidy interface can greatly enhance workflow efficiency.
The software must have the ability to facilitate both 2D and 3D design, enabling architects to generate intricate floor plans, elevations, and 3D representations of the residence.
It is crucial for the software to have the capability of creating realistic and high-quality renderings of home designs. Advanced visualization features like lighting effects, shadows, and textures should be included to aid clients in accurately visualizing the end result.
The software must possess collaboration capabilities enabling multiple users to work on a project concurrently, facilitating architects, designers, homeowners, and clients to offer feedback and make instant modifications. Additionally, it should facilitate the effortless sharing of design files with both clients and team members.
6 Top AI home design generators
Here are some AI home design generators
Homedesigns.ai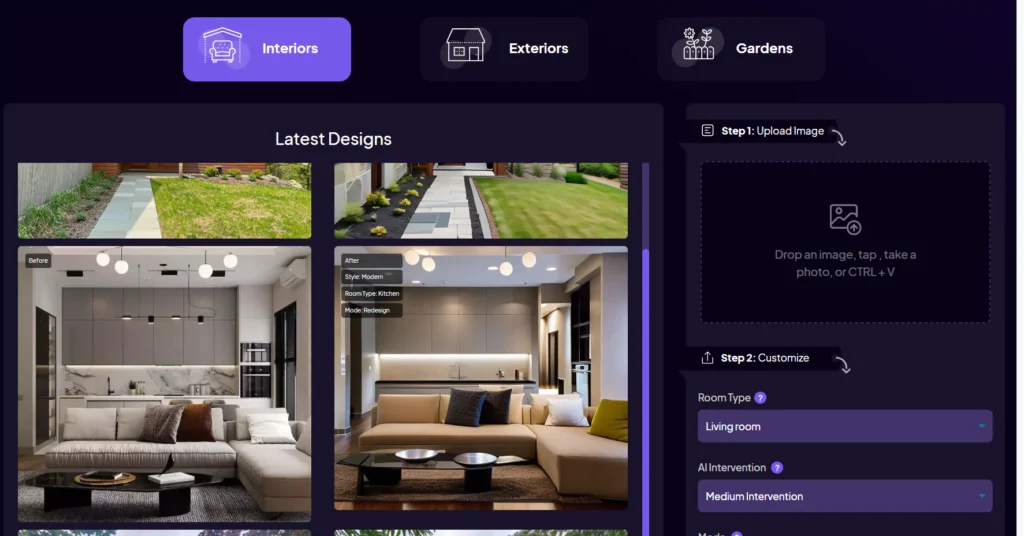 Homedesigns.ai, the innovative AI-powered platform, has revolutionized the way homeowners can redesign their Interior and exterior, Gardens. With just a few clicks and less than 30 seconds of your time, you can transform the look of your home effortlessly. By simply uploading a photo of your house onto the platform, Homedesigns.ai uses its advanced artificial intelligence algorithms to generate multiple design options for you to choose from.
The process is incredibly user-friendly. Once you've uploaded your photo, you have the option to select different modes such as modern, traditional, or minimalist. Whether you're looking for a contemporary upgrade or want to retain some classic elements in your exterior design, Homedesigns.ai has got you covered. Additionally, users can pick from a wide range of colors and finishes to further customize their chosen design mode.
They offer 40 different design styles, and we continuously introduce new styles every month. Additionally, you have the option to request any customized design style.
Design Interior, exterior, and garden, living room, kitchen room with Homedesign AI
Steps for Designing a Home with Homedesign AI generator:
Upload Photo
Select Room Type
Select AI intervention
Select mode
Select design style
Select the number of Images you want to generate at the time
Press Generate and start generating Home Designing Ideas
Maket.ai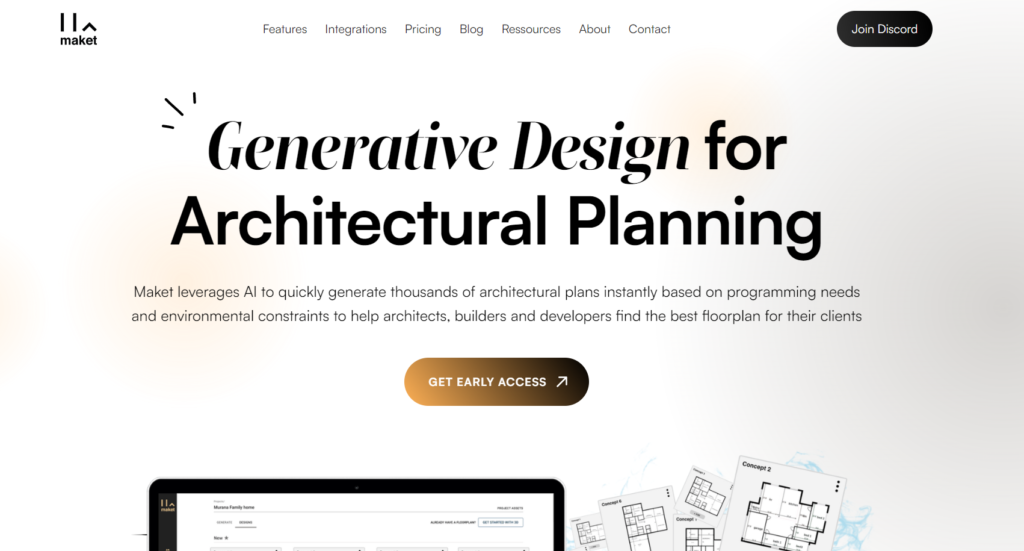 Introducing the Maket.ai Residential Plan Generator currently , the groundbreaking tool that revolutionizes the way we create customized residential architectural plans. With just a few clicks, users can now instantly generate personalized floorplans tailored to their unique needs and specifications.
The key feature of this innovative platform is its ability to specify room dimensions according to users' requirements. Whether you need a spacious master bedroom with an ensuite bathroom or a compact studio apartment with maximum space utilization, maket.ai has got you covered. Simply input your desired room sizes, and watch as the software generates a complete plan that optimizes every inch of your living space.
Maket.ai's Residential Plan Generator not only saves time and money but also offers unlimited design possibilities.
Create personalized floorplans for residential spaces in an instant with AI tool
Effortlessly discover a range of diverse design styles to choose
Maket's platform offers the Virtual Designer feature, which allows you to utilize text prompts to envision and test out a wide range of interior and exterior design styles that are in line with your specific preferences.
Receive expert guidance instantly with their AI virtual assistant. Inquire about materials, costs, and design options to receive knowledgeable answers and make informed decisions with confidence.
With just a click, the Virtual Designer can alter styles. Explore various interior and exterior aesthetics, envision style changes, and customize designs to bring joy to your clients.
Make compliance easier with smart navigation. By uploading zoning codes, asking questions in plain language, and getting instant answers, you can streamline regulatory research and reduce project risks.
Integration available with Rhino, Autocad,Autodesk Revit
Planner 5D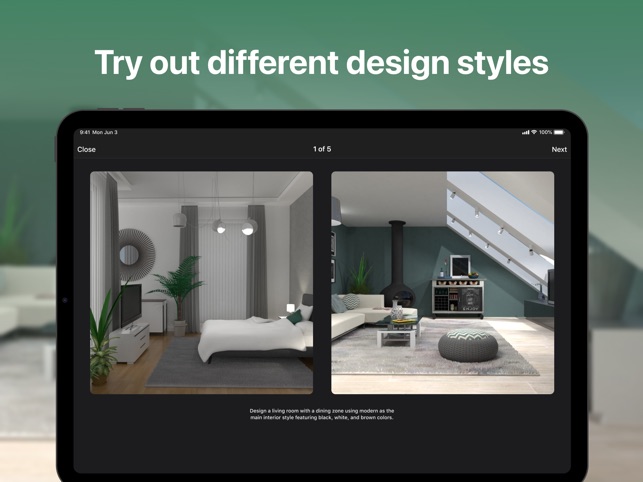 Planner 5D, the revolutionary AI-powered home design software, has completely transformed the way people create floor plans and interior designs. With its user-friendly interface and advanced features, designing your dream home has never been easier or more efficient. Whether you're an aspiring interior designer or a homeowner looking to redecorate, Planner 5D offers both 2D and 3D modes to cater to your specific needs.
Gone are the days of spending hours measuring every nook and cranny of your space. Planner 5D's intuitive drag-and-drop functionality allows you to effortlessly arrange furniture, appliances, and decor items in a virtual environment that accurately reflects your actual room dimensions. Want to see how that new sofa will fit into your living room? Simply select from Planner 5D's extensive library of customizable objects and place them in real-time on your floor plan.
Planner 5D is designed to cater to the interior house design needs of amateurs, even without any professional skills.
Try out both 2D and 3D perspectives while designing to explore different angles. Organize, modify, and utilize personalized surfaces and materials.
Customize furniture, walls, and floors with personalized colors, patterns, and materials to suit your interior design preferences.
Fotor AI -AI Archichtecture Designer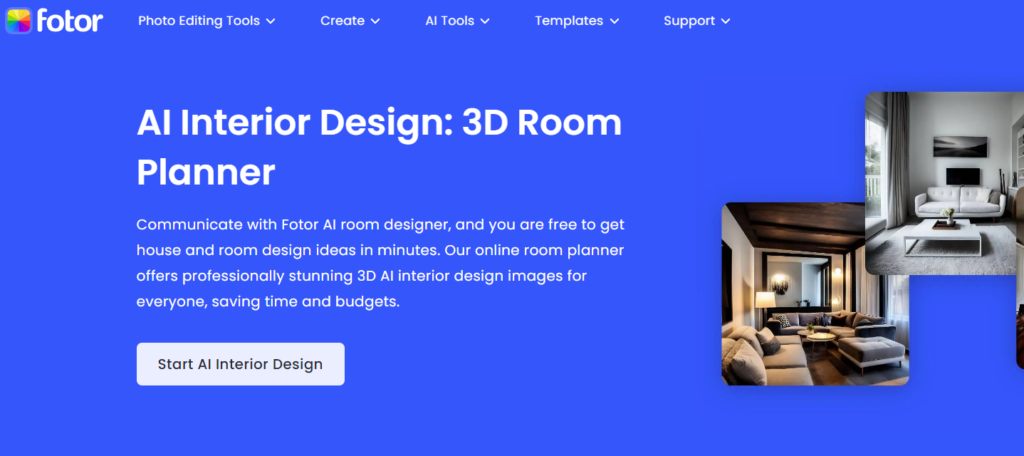 Are you tired of spending hours browsing through home design magazines and websites, trying to find the perfect inspiration for your dream house? Look no further! With Fotor AI Interior Design's 3D Room Planner, you can now communicate with their innovative AI room designer and get the instant house and room design ideas within minutes. Gone are the days of painstakingly creating mood boards or consulting expensive interior designers –Fotor ai interior design app has revolutionized the way we approach home decoration.
Using advanced artificial intelligence technology, this 3D Room Planner allows you to input your preferences and specifications, such as color schemes, furniture styles, and layout preferences. Within minutes, the AI room designer will generate multiple design options tailored specifically to your requirements. Whether you're looking for a cozy living room or a modern kitchen design, this tool has got you covered.
With Fotor AI Interior Design's 3D Room Planner, you can easily obtain house and room design ideas within minutes by interacting with the Fotor AI room designer.
Start your AI interior design now by optimizing your interior decor with uploaded images. With the help of AI technology, everyone can now enjoy a fast and cost-effective home design experience. Simply capture a picture of your room and decorations, and let the Fotor AI room planner automatically process and plan your interior room design based on your desired style. Click the button to begin your AI interior design journey today!
Zmo.ai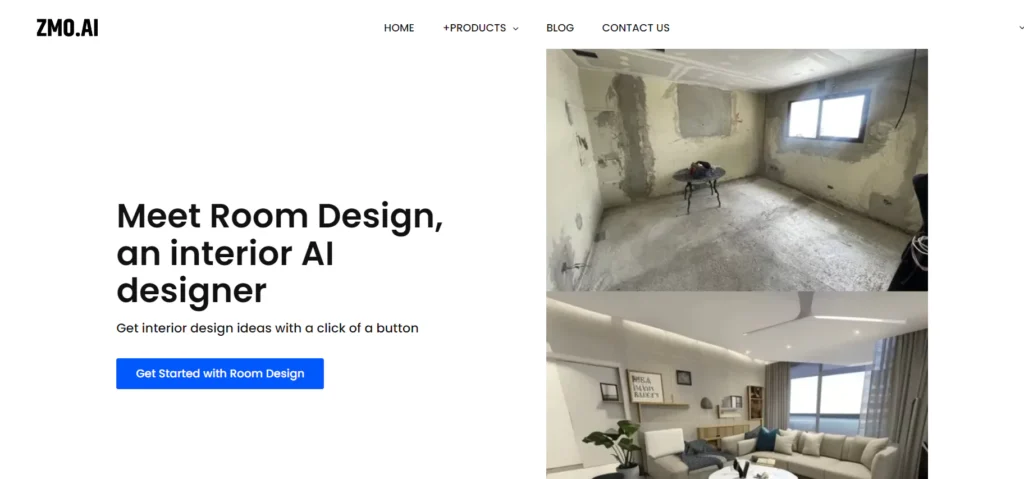 Introducing Zmo.ai Meet Room Design, one of the best ai for interior designers that is set to transform the way we approach interior design. Gone are the days of spending endless hours browsing through magazines and websites, trying to find inspiration for your dream living space. With just a click of a button, zmo.ai Meet Room Design brings you an array of innovative interior design ideas tailored specifically to your personal taste and style.
This cutting-edge AI technology takes the guesswork out of designing your perfect room. By analyzing your preferences and lifestyle choices, zmo.ai Meet Room Design generates customized suggestions that will truly reflect who you are and what you love. Whether you're looking for a cozy Scandinavian-inspired living room or a chic minimalist bedroom, this intelligent AI designer has got you covered.
Experience a whole new level of space transformation with AI, where room planning is completed within seconds.
Turn your dream home into a reality by effortlessly generating numerous interior design ideas for your room within seconds, all for free. Experience a tenfold increase in time and cost savings as you personalize the design to match your unique style.
RoomsGPT.io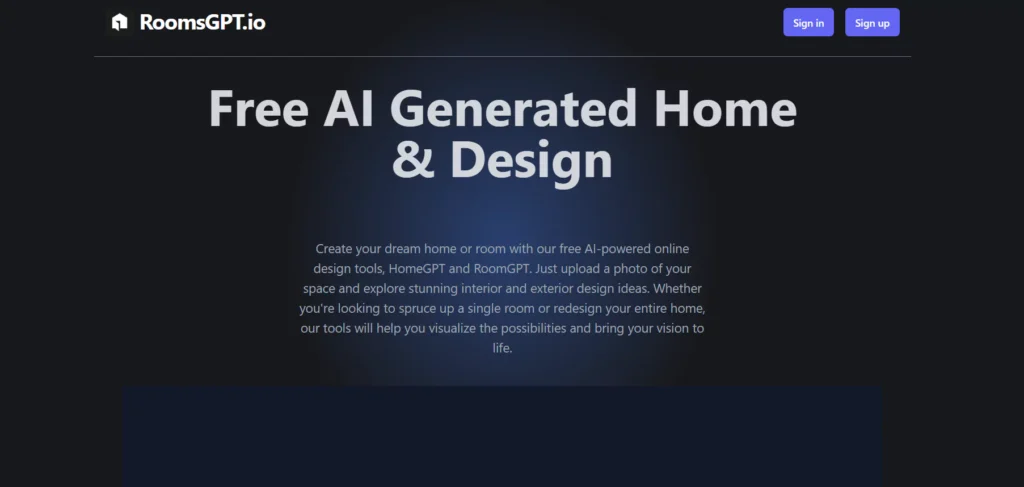 Looking to revamp the exterior of your home but don't know where to start? Look no further than RoomsGPT.io – HOMEGPT, an innovative platform for a house exterior design for free that allows you to effortlessly design and visualize the exterior of your dream home. With just a few simple steps, you can choose from a wide range of professional home designs or architects, ensuring that your vision comes to life.
The process is seamless and user-friendly. All you need to do is upload a picture of your existing home onto the platform and press generate. Within seconds, RoomsGPT.io – HOMEGPT will provide you with numerous design options that perfectly align with your preferences. Whether you're looking for a modern, minimalist look or a more traditional aesthetic, this powerful tool has got you covered.
Steps :
Choose your style
Choose Room style
Upload picture
Generate
FAQ
What is the AI tool for making house design?
Here are few AI tool for making house design which includes Homedesigns.ai,Maket.ai,Planner 5D ,Fotor AI
Which AI generator is best for architecture?
Homedesigns.ai,Maket.ai,Planner 5D ,Fotor AI are the best AI generators for Architecture
Is there a free interior design AI app?
Fotor AI,RoomGPT,AI room planner are free interior AI Apps available currently
Final Thoughts
AI home design generators have revolutionized the way we approach interior design. With their ability to quickly generate personalized designs based on specific preferences and requirements, these generators have made the design process more efficient and accessible for homeowners. By utilizing AI technology, individuals can now easily visualize their dream homes and make informed decisions before committing to any changes. Furthermore, these AI generators have also opened up opportunities for collaboration between designers and homeowners, allowing for a more cohesive and tailored approach to home design. As technology continues to advance, it is exciting to imagine how AI home design generators will continue to evolve and enhance our living spaces. Embrace the power of AI in your next home project and unlock the limitless possibilities that it offers.
Disclaimer: The information contained herein is of a generic nature only, and Toolsai.net is not, by means of this website or any part thereof, rendering professional advice or any recommendation of any AI Tools. We have just collected & shared AI tools in one place & blog as education. Every business is different and its need and not every tool fits every business. Before making any decision or taking any action that might affect you, your finances, or your business, you should make your own independent decision as AI is in the emerging stage, and some tools based on it may occasionally give incorrect results. Do not share sensitive information and read the terms and conditions of the respective tool. Your use of this website or any of its pages or links given is at your own risk and you assume full responsibility and risk of loss resulting from your usage in developing technology. Also, Read our Detail Disclaimer