10 Best AI Tools For Image Editing,software Enhancer for 2023
No matter your how good is your camera, you must always edit the pictures. AI is changing how photo editing tools work in a big way now that technology is in full swing. AI-based photo editing tools work well because they use strong algorithms that make measuring how good an image is easier.
We've found the best AI-based photo editing tools, so you don't have to look further. Our list of the 10 Best AI-Based Image Editing Tools In 2023 will give you all the information you need to find the best ones on the market.
Best AI-Based Image Editing Tools in 2023
Use your list of the best AI-based photo editing tools to make photos that will make people amaze.
1)Luminar Neo

In 2023, Luminar will be the best tool for editing photos with AI. The saying a picture is a value of a thousand words, is backed by a fast, strong tool, and is full of qualities. Your photos will look like a pro edited with AI's help, so you can use it even if you are new to photography. It has great templates for different photos, such as landscape, nature, fashion, beauty, etc., to make editing easier.
Features
The interface is comfortable and simple.
Enhance your photo with power of AI
Complicated Portrait retouching can be done with AI in few clicks
It has a variety of AI tools to choose from.
It comes with a sky substitute tool.
It has a lot of built-in features.
2)AutoRetouch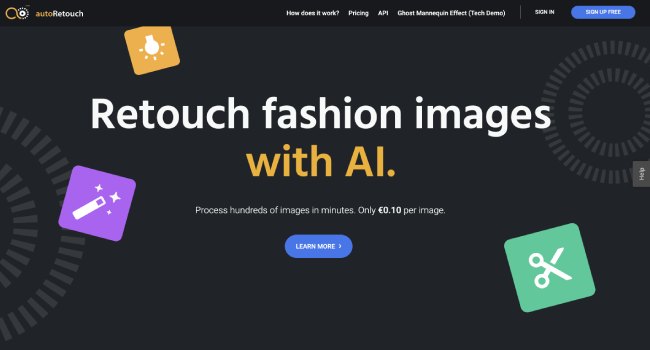 Autoretouch.com is a tool that lets you fine-tune images to meet different needs. You can save time by automatically editing hundreds of images with power of AI. By Autoretouch app through website you can also download your results in PSD format, which lets you keep working on them in Photoshop. It works best with many pictures at once and is a good choice for businesses using shared accounts.
Features
Adds shadows to the ground and fixes the skin.
Autoretouch automatic professional face retouching
It has great color palettes to choose from and matches the color exactly.
Autoretouch api is available for integration with Woo commerce/WordPress plugin
3)Adobe Photoshop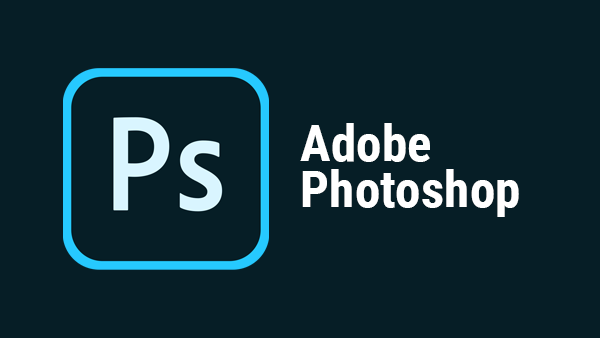 Adobe Photoshop is an editing program that uses AI and has been used by professional photographers for years. But now, people who love editing and photography also use this tool for fun. To keep up with the competition for the finest editing tools, Adobe has released a new set of AI tools that let users style photos at the root level.
Features
It has features that won awards.
Adobe has added Adobe Sensei AI which makes it most Advance photo editing tool
It is best for both experts and newcomers because it keeps getting better.
Power your creativity.
Easy collaboration
4)Topaz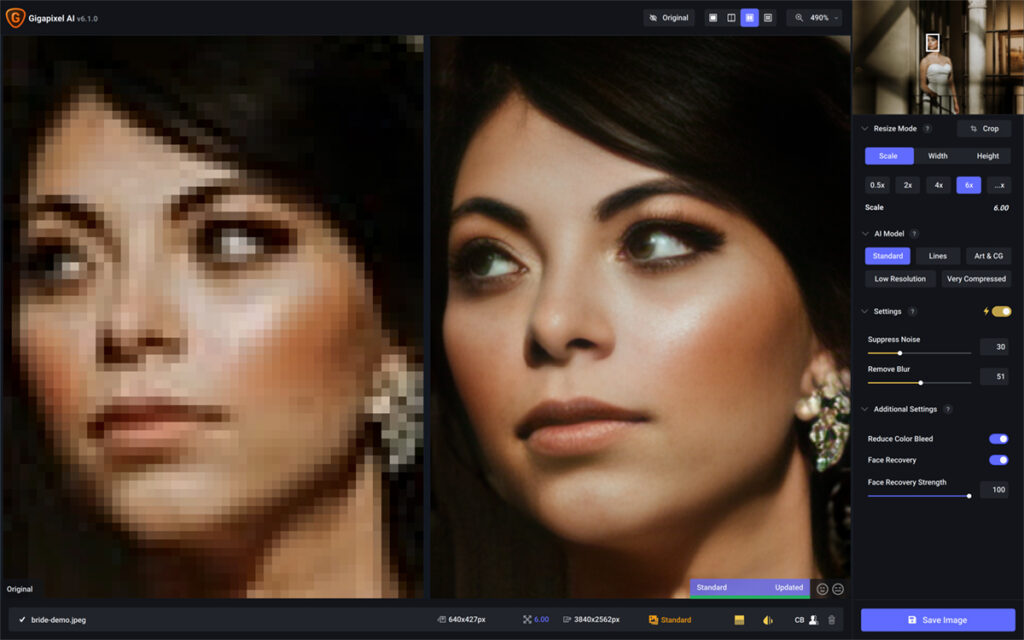 Topaz uses edge-cutting technology to improve the quality of the image. It also has a full fix of tools that you can use to improve the quality of the images and make them look even better. The AI-based editing tool works great as a plugin for eCommerce solutions. This tool is a layer-based editor with built-in artistic effects that improve results. Tools available are
Topaz Photo AI
Topaz Video AI
DeNoise AI
Sharpen AI
Gigapixel AI
Features
It adds all the right details.
It has a lot of filters to pick from and lets you work in layers to keep your workflow from getting in the way.
It has completed the process of editing more comfortably.
5)Remove. Bg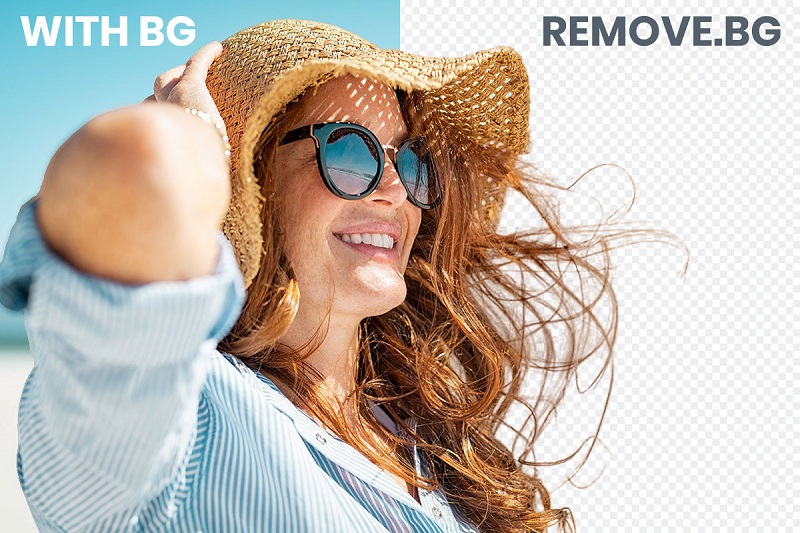 If you're a content creator, designer or marketer, then you know how much time and effort it takes to remove backgrounds from an image. It's a tedious task that can take up hours of your valuable time. Fortunately, all of that is about to change thanks to the revolutionary technology created by remove.bg. With just one click, you can now remove backgrounds from any image automatically in just 5 seconds.
Remove.bg uses advanced AI algorithms to analyze each image and identify the subject matter, thereby removing the background without any human intervention. This means you no longer need to spend countless hours using Photoshop or other editing software trying to cut out images manually. Remove.bg's clever AI does all the hard work for you.
Not only does this save time but it also allows you to focus on more important tasks such as creating engaging content for your audience or adding finishing touches to your designs. With remove.
Features
Drag-and-drop is a simple way to use it.
It's free to get rid of the background.
Make a PNG file out of any image.
Features that save time
6)Befunky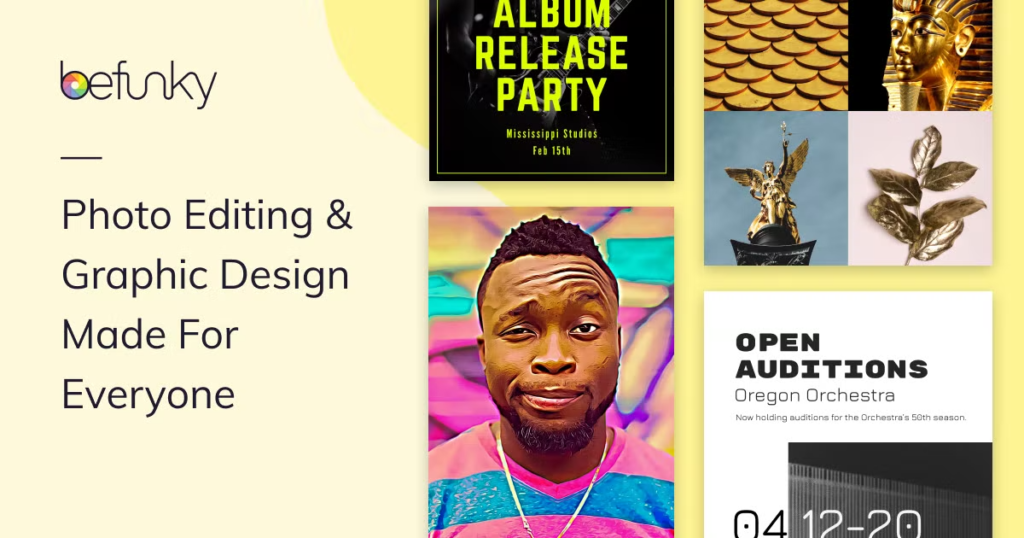 Befunky.com is an online photo editing tool that has incorporated Artificial Intelligence technology to help users transform their photos from ordinary to extraordinary. With a wide range of AI tools available, you can now take your creativity to the next level and produce stunning visuals in no time.
One of the most impressive AI features on Befunky.com is the "Smart Enhance" tool. This feature automatically analyzes your image and detects any imperfections, such as poor lighting or color balance issues. It then applies corrections in seconds, allowing you to achieve fantastic results with minimal effort. Additionally, there's the "Portrait Enhancer" which uses facial recognition technology to enhance portraits by removing blemishes and smoothing skin textures.
Another incredible feature of Befunky.com's AI technology is its ability to transform regular photos into vibrant works of art.
Photo Effects
Touch Up
Photo to Art
Background Remover
Photo enhancer
7)Hotpot.ai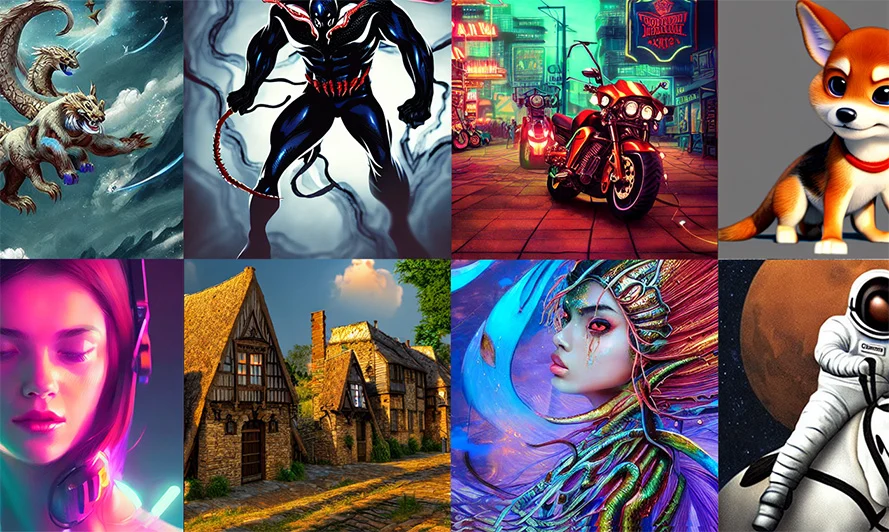 Hotpot is a revolutionary platform that offers AI helpers and an easy-to-use software for graphic design, image editing, and writing. With our advanced tools and features, you can create stunning designs and engaging content in no time. Our services include background remover, object removal, image enhancement, and more.
One of our most popular services is the background remover tool. With this feature, you can quickly remove backgrounds from your images with just a few clicks. Whether you want to add a new background or simply make the subject stand out more, our tool makes it easy to achieve professional-looking results. You don't need any special skills or knowledge to use this tool – simply upload your image and let the AI do the rest.
In addition to our background remover tool, we also offer object removal services that allow you to erase unwanted objects from your images seamlessly.
Art Generator
Headshot Generator
Photo Upscaler
Object Remover
Background Remover
Art Personalizer
Picture Colorizer
Picture Restorer
Face Enhancer
Color Generator
8)Autoenhance.ai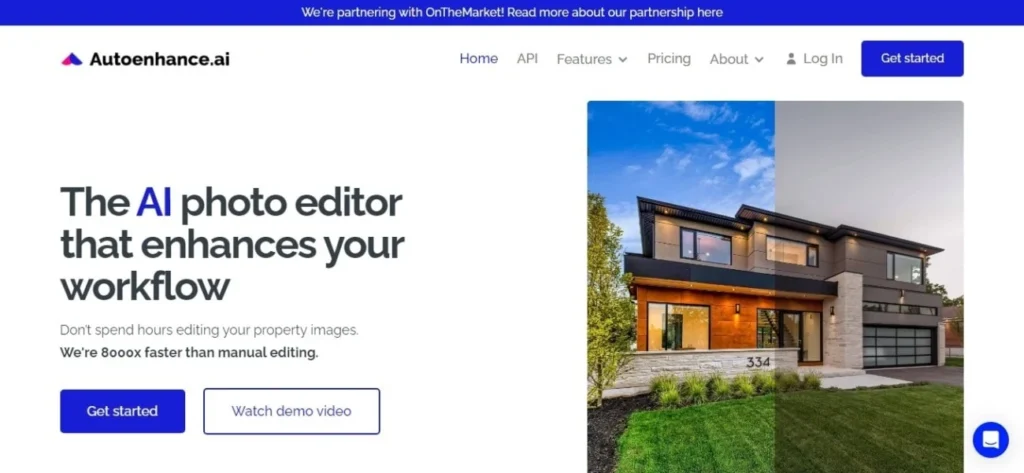 Autoenhance.ai is the ultimate AI photo editor that can help you enhance your workflow. With this innovative tool, you no longer have to spend countless hours editing your property images manually. Our platform is designed with advanced technology that can complete tasks at an incredible speed, making it 8000 times faster than manual photo editing.
Our software uses machine learning and artificial intelligence algorithms to analyze every aspect of your images and make necessary adjustments automatically. This means you can be assured of consistent high-quality output every time. Whether you are a real estate agent or a professional photographer, autoenhance.ai will transform your workflow by giving you more time for other important tasks.
By using autoenhance.ai for your photo editing needs, you will experience a range of benefits that go beyond faster turnaround times.
Sky replacement
Image relighting
360 enhancements
Perspective correction
HDR merge
RAW & JPG support
Contrast & brightness boost
White balance correction
Lens correction
Image sharpening
9)Imagen-ai.com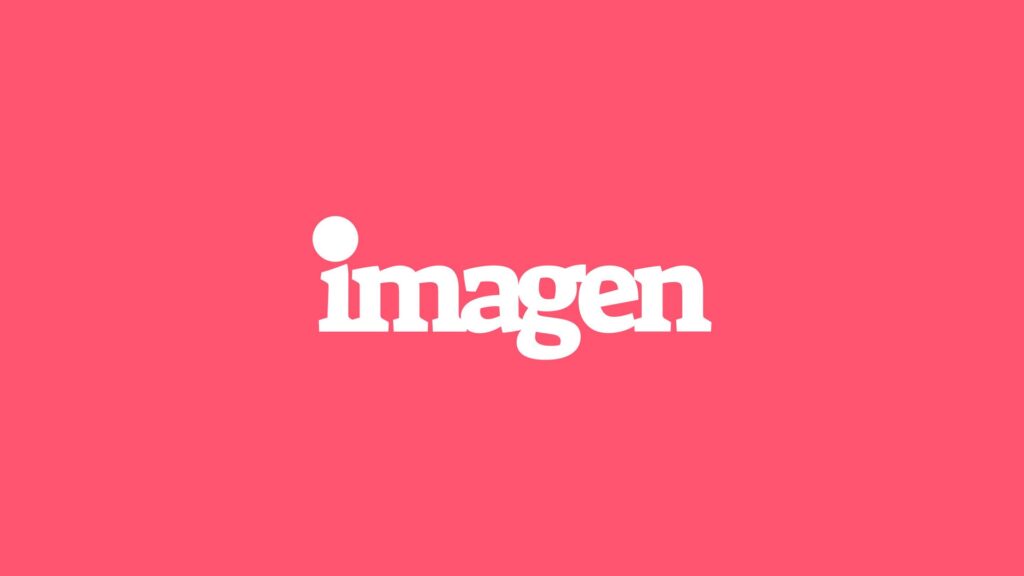 Imagen-ai.com is the newest AI-powered photo editing solution that has taken Adobe Lightroom Classic by storm. It's fast, efficient and learns your personal style with each edit made. Imagine having all of your favorite filters and presets at your fingertips, without the time-consuming task of scrolling through them one by one.
With Imagen-ai.com, you can make quick edits to your photos with just a few clicks. The software uses artificial intelligence to analyze your images and recognize patterns in color, tone and texture. This allows it to apply edits that are not only consistent with your personal style but also better than what you could achieve manually.
What sets Imagen-ai.com apart from other photo editing solutions is its speed. It takes just seconds for the software to analyze an image and suggest edits based on your preferences.
Spyne.ai

Are you tired of the same old boring car photos that don't do your inventory justice? Look no further than spyne.ai, the AI-powered photography and editing tool that is revolutionizing the online car sales industry. With its advanced technology, spyne.ai can capture stunning images of your vehicles from every angle and enhance them to perfection with just a few clicks.
But it's not just about pretty pictures – spyne.ai also helps improve online conversions by giving your customers a WOW experience. The high-quality imagery generated by this tool allows potential buyers to get an up-close look at even the smallest details of your cars, making them more likely to feel confident in their purchase. Additionally, spyne.ai's cutting-edge editing capabilities ensure that each photo showcases your inventory in the best possible light, further increasing its appeal to buyers.
How do I select the finest AI-based photo editing software?
Methodology
At first, we don't give much thought to picking a photo editing tool, yet it's important to know that picking an AI-based image editing tool is a personal decision.Because what works for one person cannot work for another, and because there are so many online options now, choosing online AI-based editing tools is even harder. But we can help you determine which photo editors to use! We'll give you a few tips on how to pick the finest AI-based photo editing tools.
Try to comprehend that photos have varying requirements.
It's clear that all photos are different and have different editing needs. So, you should carefully look at all the features the photo editor offers. Before you decide, you should figure out what you need and then make an informed choice.
A license to run on many devices
Photographers don't usually have a Mac and a Windows PC, so you should look for AI-based photo editing tools on both. Some tools may not work on some devices because their licenses don't allow them to.
How often are updates released?
Ensure that the tool users choose gets updates often. Updates are necessary to stay on top of the latest trends, fix bugs, and close security holes.
Now, because this is a new idea, there will be times when you have trouble with the tool. So, in the beginning, you might need some training and help. You don't think about customer service until you have a problem, but you should only think about it initially. Keep an eye out for an active forum or a section of the website that answers frequently asked questions.
Compatibility with RAW files
Some photographers have had trouble converting RAW files from a newly released camera, which may sound silly. So, some RAW converters aren't doing a very good job. Before you sign up for a tool, try it out first.
FAQ
Can you use AI to edit photos?
AI technology has the potential to revolutionize the way photos can be edited. With just a few clicks and commands, users are able to apply various edits that are precise and time-saving. Few tools are Luminar NEO, Topaz Labs Studio, Adobe Photoshop, Canava,Imagen ImagenAI
Is there a free AI Photo Editor?
FotorAI
Hotpot.ai
Lunapic
Canava
Autoenhance.ai
These are free AI photo Editor tools
Final Thoughts
AI tools for image editing are a powerful resource for any user looking to improve their overall image quality. From basic features such as cropping, sharpening and resizing to more complex tasks like color correction and noise reduction, these tools provide users with a variety of options to enhance their images in ways that would otherwise be difficult or time-consuming. Additionally, with the help of AI, users can quickly make accurate adjustments without having to learn complicated software.
Disclaimer: The information contained herein is of a generic nature only, and Toolsai.net is not, by means of this website or any part thereof, rendering professional advice or any recommendation of any AI Tools. We have just collected & shared AI tools in one place & blog as education. Every business is different and its need and not every tool fits every business. Before making any decision or taking any action that might affect you, your finances, or your business, you should make your own independent decision as AI is in the emerging stage, and some tools based on it may occasionally give incorrect results. Do not share sensitive information and read the terms and conditions of the respective tool. Your use of this website or any of its pages or links given is at your own risk and you assume full responsibility and risk of loss resulting from your usage in developing technology. Also, Read our Detail Disclaimer