7 Best Academic writing AI tools in 2023
Writing can be a daunting task for even the most experienced of authors. Academic writing is an especially complex area, requiring high levels of technical knowledge, as well as high standards of accuracy and precision. In recent years, Artificial Intelligence (AI) has been making strides in the world of academic writing – with AI tools being developed to aid researchers and students in this domain.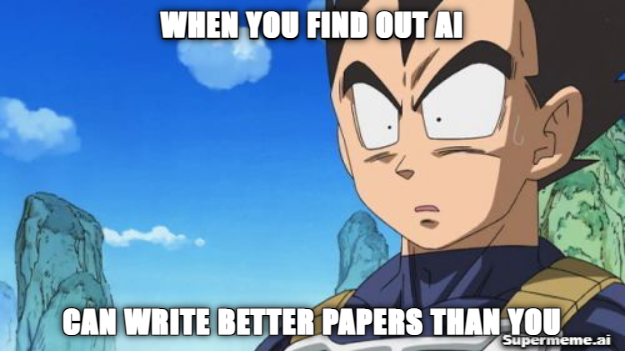 Academic writing is an essential skill that every student must master. However, it can be challenging to write papers that are well-structured, concise, and error-free. Fortunately, free AI writer for academic writing AI tools can help students improve their academic writing skills and produce better-quality papers.
Another advantage of using AI tools for academic writing is that they can assist with research. Many AI-powered platforms have a built-in database of academic articles and journals, which allows users to quickly find relevant sources for their papers. This not only saves time but also ensures that students are using credible sources in their work.
1)Chat GPT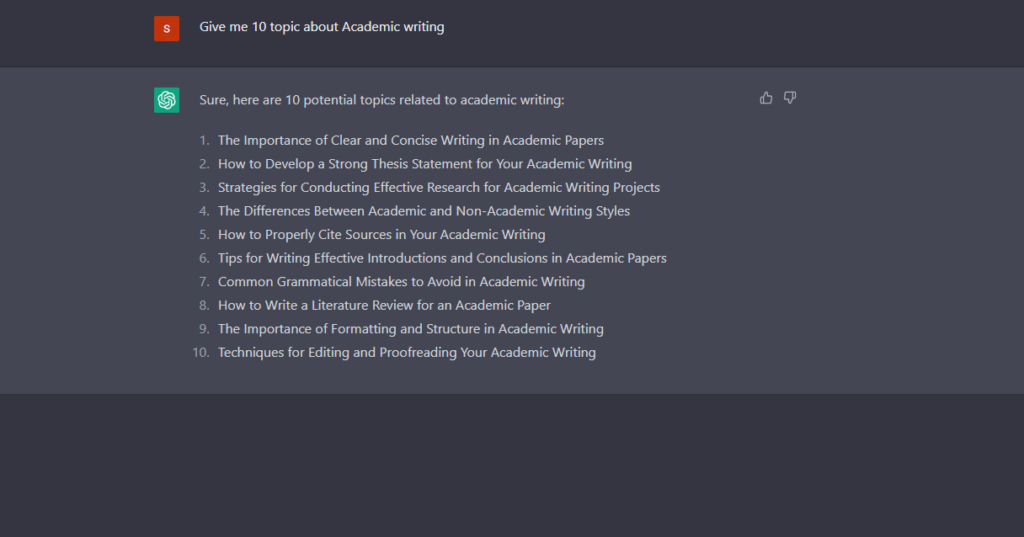 Academic writing is a complex and challenging task that requires extensive research, critical thinking, and strong writing skills. However, with the advent of advanced technologies such as Chat GPT by OpenAI, academic writing has become more accessible and efficient than ever before. Chat GPT stands for "Generative Pre-trained Transformer" and is a powerful language model that can generate human-like text based on the input it receives.
One way in which Chat GPT can be utilized in academic writing is by generating concise summaries of lengthy research papers or articles. Students and researchers often struggle to summarize their findings effectively within the word count limitations imposed by their universities or journals. In such cases, Chat GPT can help them quickly generate a summary without losing any critical information or context from the original text.
Firstly, Chat GPT is a powerful tool that can be used to generate ideas for writing assignments. This system works by asking questions or inputting prompts, which then allows the user to generate a variety of different ideas based on their preferences. Whether you are looking for inspiration to write an essay or want some fresh ideas for your next blog post, Chat GPT can help.
Secondly, Chat GPT can be used to improve writing fluency and coherence. This powerful tool allows students to input their written work and receive invaluable feedback on how to improve it. As an AI-powered writing assistant, Chat GPT has the ability to recognize sentence structure and grammar errors, as well as provide suggestions for better word choice.
Another advantage of utilizing Chat GPT is its ability to enhance overall coherence in writing.
2)Caktus.ai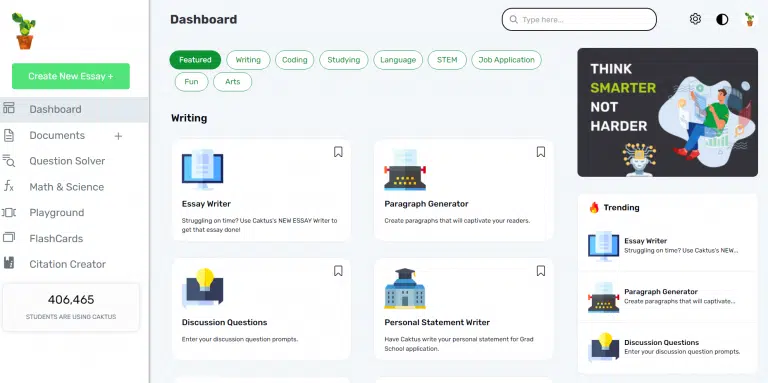 Academic writing is an essential part of any student's journey. It is a way to express ideas, present research findings and showcase knowledge in the respective field. However, academic writing can be challenging and time-consuming for many students. This is where caktus.ai comes in as an innovative solution.
Caktus.ai is revolutionizing the world of academic writing by providing a range of services that help students improve their writing skills quickly and efficiently. With its advanced algorithms, caktus.ai analyzes the text for grammar mistakes, punctuation errors, sentence structure problems, and even plagiarism issues. By using caktus.ai tools, students can save time on proofreading while producing high-quality papers that meet academic standards.
Additionally, Caktus.ai offers personalized feedback to students on ways to improve their writing style based on their individual needs.
3)Copy AI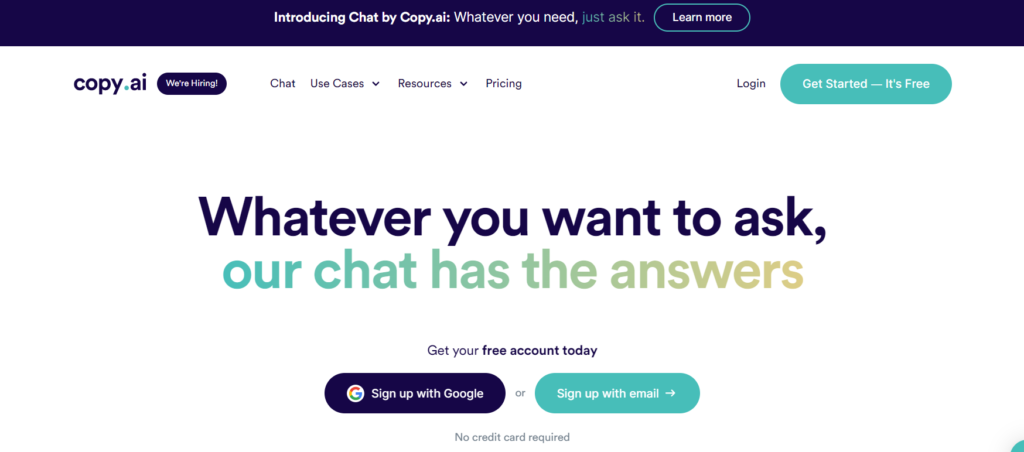 Academic writing is an essential skill that every student needs to master. It plays a crucial role in their academic journey, from research papers to essays and dissertations. However, for many students, writing can be a daunting task, especially when they lack the necessary skills or are pressed for time. Fortunately, there is now a revolutionary tool called Copy AI that can help students improve the quality of their academic writing.
Copy AI is an AI-powered platform designed to assist writers in crafting high-quality content quickly and efficiently. With its advanced algorithms and natural language processing capabilities, Copy AI can generate ideas, structure content logically, and provide suggestions for improving sentence structure and grammar. This innovative tool takes the guesswork out of writing by providing students with valuable insights on how to create compelling content that meets academic standards.
Paragraph Writer
Paragraph rewriter
Sentence rewriter
4)Writesonic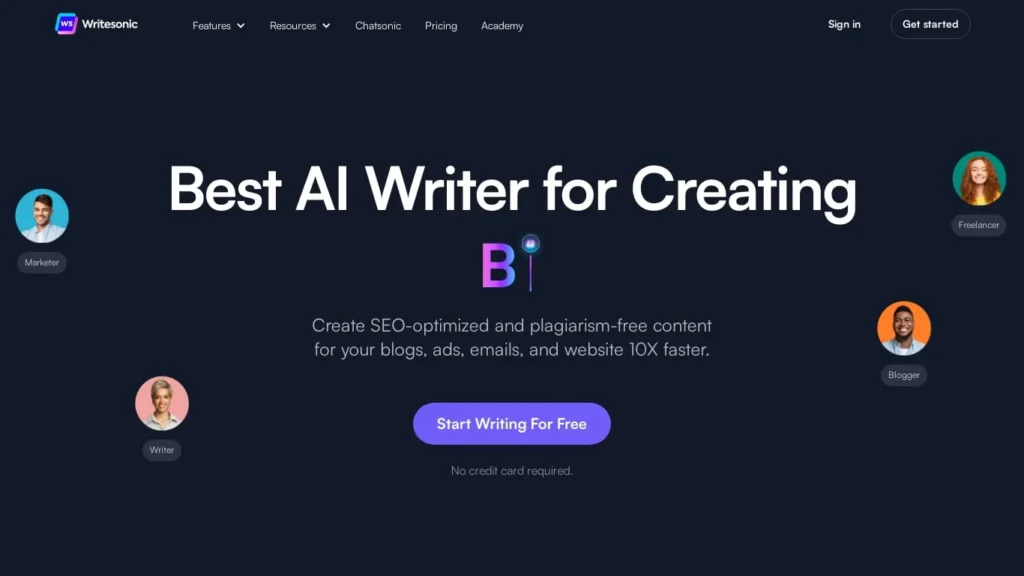 Writesonic is an AI-powered platform that is revolutionizing the world of academic writing. With its advanced algorithms and natural language processing capabilities, Writesonic is quickly becoming the go-to tool for students, researchers, and academics looking to streamline their writing process. In this article, we'll take a closer look at how you can use Writesonic to enhance your academic writing.
Step 1- Start by choosing the type of content you want to create from the list of options on the dashboard. Whether it's an essay, research paper, or thesis proposal, there's a template available for every type of academic writing. Once you've selected your desired format, input your topic and any additional instructions.
Step 2- Next, select one of three modes: creative mode generates ideas using prompts; compose mode provides pre-written sentences to get started with or, edit mode which helps in refining already written content.
You can start from research and complete your project very easily
5)Paperpal.com

Are you tired of writing academic papers that just don't seem to hit the mark? Do you wish there was a way to improve your chances of success? Look no further than paperpal.com. Our platform offers real-time language suggestions that are tailored to your specific subject area. With paperpal, you'll experience the future of academic writing.
Our cutting-edge technology takes the guesswork out of crafting top-notch papers. No matter what discipline you're studying, we've got you covered. From English literature essays to scientific research articles, our language suggestions will help take your writing from good to great. Plus, with our easy-to-use interface, getting started is simple and straightforward.
Say goodbye to hours spent poring over style guides and grammar books – with paperpal.com, everything is at your fingertips.
6)Paperade AI

Paperade AI is the first platform in the world that leverages millions of academic papers and research studies for commercial use. This AI-powered platform is designed to help individuals, researchers, students, and professionals in various fields access relevant content easily. This technology has been developed by a team of experts who understand the ever-evolving landscape of data science and how it can impact organizational goals.
One of the key advantages of Paperade AI is that it saves time and effort when searching for relevant information. With its advanced algorithms, users can search through millions of academic papers using specific keywords or filters such as date range, author name, or journal type. What's more, this platform provides an easy-to-use interface which means anyone can use it regardless of their technical skills.
Moreover, Paperade AI also provides insights into trends and patterns within academic literature across different industries.
7)Writefull.com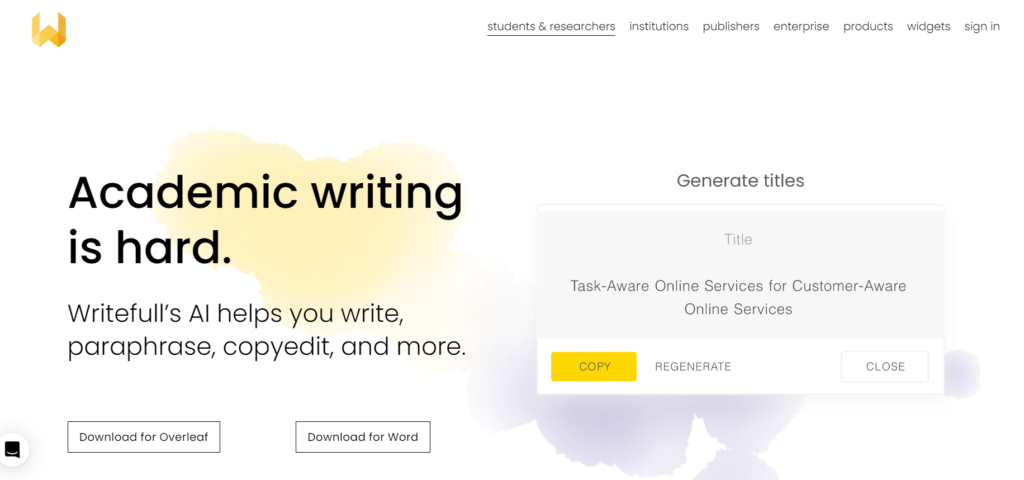 Writefull.com is an innovative writing assistant that provides a range of AI-powered tools to help you write, paraphrase, copy edit, and more. With language models trained on millions of journal articles across various academic disciplines, Writefull is specifically designed for those who engage in academic writing regularly. Whether you're a student or a professional researcher, this unique platform can provide valuable support at every stage of the writing process.
One of the standout features of Writefull is its ability to suggest phrases based on the context of your text. This feature allows you to avoid repetition and improve the flow and clarity of your writing quickly. Additionally, the platform's AI-powered algorithms can identify common grammatical errors and recommend corrections in real-time. The software also has powerful paraphrasing capabilities that allow users to rephrase their text without sacrificing meaning or coherence.
For research writing
Widgets to help you write
Fast and secure
FAQ
Which AI writing tool is the best?
AI writing tools for academic writing
Chat GPT
Caktus.ai
Copy.AI
Writesonic
Paperpal.com
Paperade AI
Writefull.com
JasperAI
Simplified
Which AI is best for research paper writing?
Paperade AI
Bit.ai
GanttPRO
Google Scholar
Scrivener
Elink.io
Final Thoughts
AI tools for academic writing are a great resource for students and professionals alike. With these tools, students can learn to write better, faster, and more efficiently. Professionals can use them to help craft their manuscripts and other documents. AI tools also make it easier to detect plagiarism and provide feedback on spelling and grammar errors. This is why using AI-driven academic writing tools is becoming increasingly popular amongst academics.