10 Best AI tools for presentation and Design slides in 2023
AI tools for presentation is a hot topic in the industry now, let us dive in and check what these tools have to offer us. The ability to create compelling presentations is a valuable skill in any professional context. Whether you are looking to increase your marketing ROI, deliver an effective speech, or simply look for improvements on the current presentation design process; artificial intelligence (AI) tools offer a broad range of solutions and opportunities. In this article, we will explore 10 AI-driven tools that can help you create stunning presentations quickly and efficiently.
AI presentations
Can AI make PowerPoint presentations? To Create Presentations that are time-consuming or boring. But not anymore! Meet the AI Presentation Generator that creates your presentation for you in a few minutes.
Imagine your boss wants an Urgent presentation or you want to present a great piece of your work before management, normally many of us face problems like these
If I say that these problems have solutions that to in a few steps with these AI tools for Presentation, yes you heard it right. You can be the next Superhuman with these AI tools. (check other AI Tools with our toolsai.net- AI Tools Directory all AI tools and websites in one place)
How AI Presentation Tools work and create your Professional Presentation?
I used to prepare Presentations in the old traditional way. After I discovered this AI presentation maker, creating presentations became effortless and fun. Now I create 10 times more than before! There is 5 step process that need to be followed for AI tools for ppt presentation depending on the tools you are choosing.
First Select from a variety of AI power Templates
Add or export your data AI will smartly adapt it.
Initiative Controls Makes edits simple
Just put the logo and branding with AI auto-suggested colors Kit
Share, Collaborate or Present your work
Whether you're a student or professional, AI tools can help to create stunning presentations with minimal input from the user.
AI-based presentation tools are designed specifically for creating a presentation. By giving access to data and content, it can quickly generate slides with images, charts, graphs, and more that are tailored specifically to your need
The software can also suggest layouts that are optimized for viewing on different devices like computers and smartphones. Furthermore, it makes use of natural language processing to understand written text and give recommendations based on its analysis.
Top 10 AI Tools for Presentation
Let us Check AI presentation maker free or paid.
1)Presentation.AI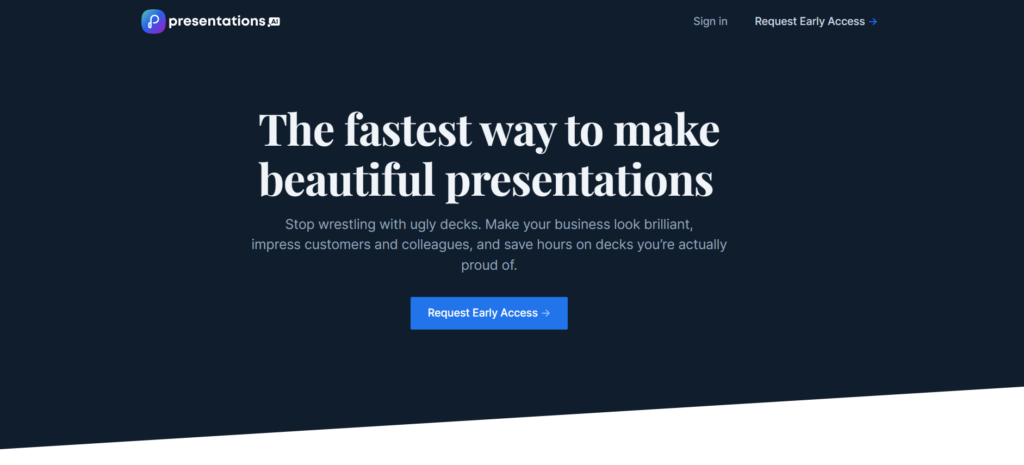 Presentation AI is the fastest way to create stunning slides by using powerful presentation software. Presentation software offers an array of features that help users craft eye-catching visuals in a fraction of the time spent creating standard PowerPoint decks. From high-resolution photos and graphics to easy-to-use templates and customizable layouts, professional presentation designers can turn even the most basic ideas into amazing slideshows that will wow any audience. And with today's advancements in technology, these tools ai presentation ppt are more accessible than ever before! With just a few clicks of your mouse, you can build an attractive deck that will impress customers and colleagues alike. Just set up your workspace you are ready to go.
Try Now↗️
Features
Create a High-quality Design data integration that saves hours of work with the power of AI
Choose from Amazing Templates in your workplace
Choose from millions of photos, videos, and elements AI also auto-suggests from the library
Add Visual display Interactive Graphs
Easy Collaboration and building teams
Track presentation, You can assign tasks or get feedback
Works Everywhere
Why to Consider?
Super Fast Creation of presentation from start to publish or share
Watch your thoughts become reality in remarkable ways, in an immersed setting, aided by AI technology that handles style, color, animation, and layout. No stress.
Content creation tools offer powerful customization, and the ability to personalize as per requirements distinctively fit your particular brand and identity.
Integration with PowerPoint
Pricing
Starter Currently FREE
Pro $399
Gold Price on request
2) Beautiful.AI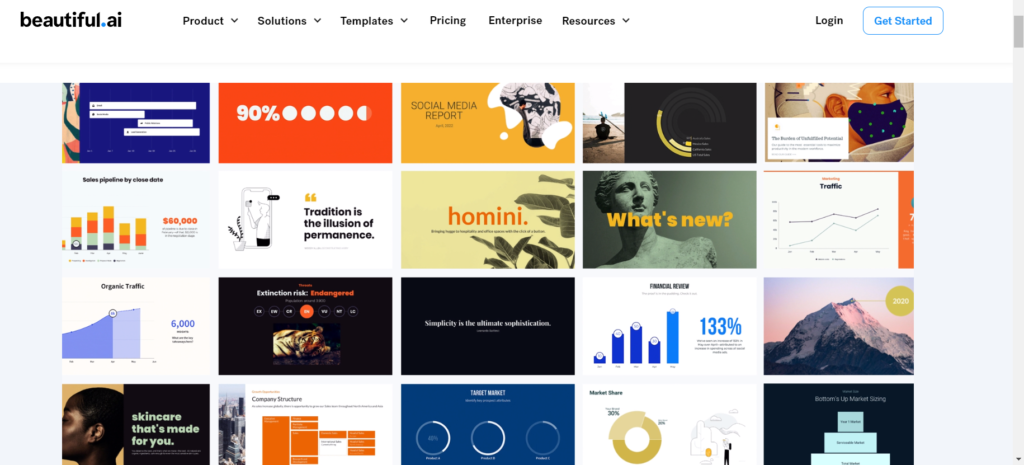 Presentations are essential for making an impression, whether in the workplace, school, or other organizations. However creating a professional-looking presentation can be challenging and time-consuming. Fortunately, Beautiful.ai is the first presentation maker who is an expert deck designer – so you don't have to be! This AI-driven platform uses intuitive templates and powerful analytics to make it easy to produce amazing presentations in a fraction of the time. No experience necessary!
Beautiful.ai's automated design process helps users create stunning slideshows quickly and easily by combining their own images with dynamic graphics, data visualization tools, and industry-leading layouts. Additionally, users can customize their content without worrying about getting lost in endless menus—Beautiful. ai takes all of the guesswork out of deck design so you can focus on your message instead of spending hours formatting slides.
Try Now↗️
Features and how to create a presentation with Beautiful.ai?
One of the most solid features of Beautiful.ai is the Designer bot which is recommended by toolsai.net.
Using DesignerBot, you can quickly fill out text boxes or upload images in your workspace and watch as it automatically generates a stunning presentation right before your eyes. It's simple – no design knowledge is required! With its intuitive user interface, anyone can use DesignerBot to create captivating visual elements that showcase their content in the best light possible. Plus, it takes just minutes to generate entire presentations – saving you time and effort otherwise spent on designing from scratch.
Go from idea to editing in seconds
Creative writing
Change tone
Text to Image
Summarization
Watch the above Video to create a presentation with Beautiful.ai
Why to Consider?
Designer Bot does the heavy lifting and designs your presentation you can focus on data
Let beautiful.ai enable you to go from idea to editing in seconds.
Analytics available
Collaborate with teams
Pricing
Free Trial Available
Pro 12$/Month
Team 50$/Month/User
Enterprises Contact for price
3)Design.AI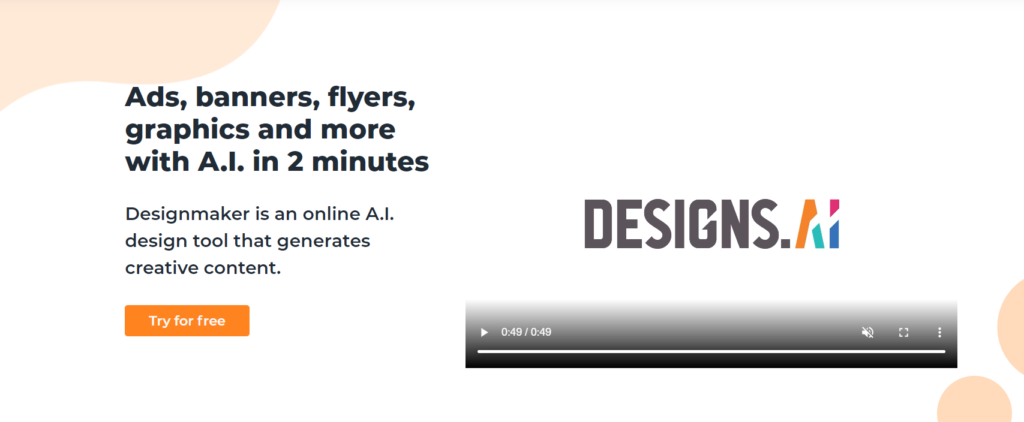 Designs.AI is an AI graphic design program that's also considered a presentation builder. We have Design AI at the top of our list as it can be used to create videos, speeches, and presentations. Users can use their Design Maker feature to create AI-based presentations.
Designs.AI is a revolutionary new graphic design program that can be used to create stunning presentations. It's an AI-powered tool that anyone can use, regardless of their design experience or knowledge. The software has the ability to automatically generate a professional-looking presentation in minutes and users can customize it however they like with just a few clicks.
Try Now↗️
Features
Presentation Slides with Clicks from millions of Images for the power of AI
Our Designmaker lets users create their own posters for free. It has over 20,000 templates.
It may appear to be a difficult task to create a superb resume with or no work experience, but don't panic! Designs.ai has all the tools you need to start the job with your elegant resume. With the help of our advanced A.I. technology, you can now very easily create a fantastic resume for your perfect position.
Need a flyer that displays your services and products? Our user-friendly service at Designs.ai has you covered. Using artificial intelligence, we enable you to craft attractive flyers right away.
Video Maker
Banners
YouTube thumbnails with the power of AI
Many more
Things to Consider
Design.ai is an Agency-as-a-Service cloud platform that allows users to create, edit, and scale content by using artificial intelligence technology.
All our ready-made projects that use our creative AI tools can be published for both your organization's promotional usage and client resale. You are able to sell your creations as a service to your clients as well. However, you can't repackage or resell single assets found within the platform.
Pricing
Free Trial Available
Basic 29$/Month
Pro 69$/Month
Enterprises Price on Demand
4)Slidesai.io
Slideai.io ↗️ tool, you can quickly create professional slides from the text. Say goodbye to tedious slide creation. Let the program write the outline and presentation content for you. AI automatically creates the outline for your presentation as well as the content within each slide. All you have to do is provide us with your desired text and watch as our AI generates perfectly formatted slides in an instant. This eliminates the need for manual work when creating presentations, saving you hours of preparation time.
Try Now↗️
Features
Easy to Start by Adding Your Text
Integration with Unsplash royalty-free image platform
Google Slides integration is available
Microsoft PowerPoint (Integration coming soon)
Things to consider
Simple Interface
Affordable pricing
Free to start with (3 presentations a Month)
Pricing
Basic Free
Pro 10$/Month
Premium 19$/Month
5)Motionit.ai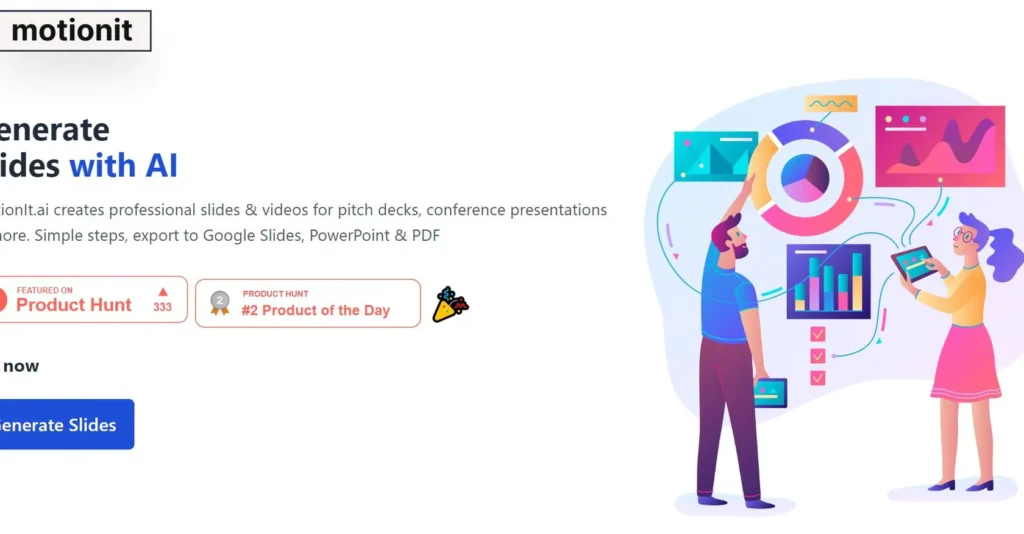 MotionIt.ai is revolutionizing the presentation game with its simple, easy-to-use platform that helps you create professional slides and videos for pitch decks, conference presentations, and more. This innovative software has made it easier than ever to create high-quality visuals without having to hire a professional designer. All you have to do is upload your text, choose a design template, edit the visuals, and export it into Google Slides, PowerPoint, or another format of your choice within minutes.
Try Now↗️
Technology
Features
Text to Image
Premade Templates
Generate Videos
Startup pitch decks
Conference presentations
GPT 3
Things to Consider
Featured on Product hunt
#2 Product of the day
Pricing
1 Side = 1$
6)Kroma.AI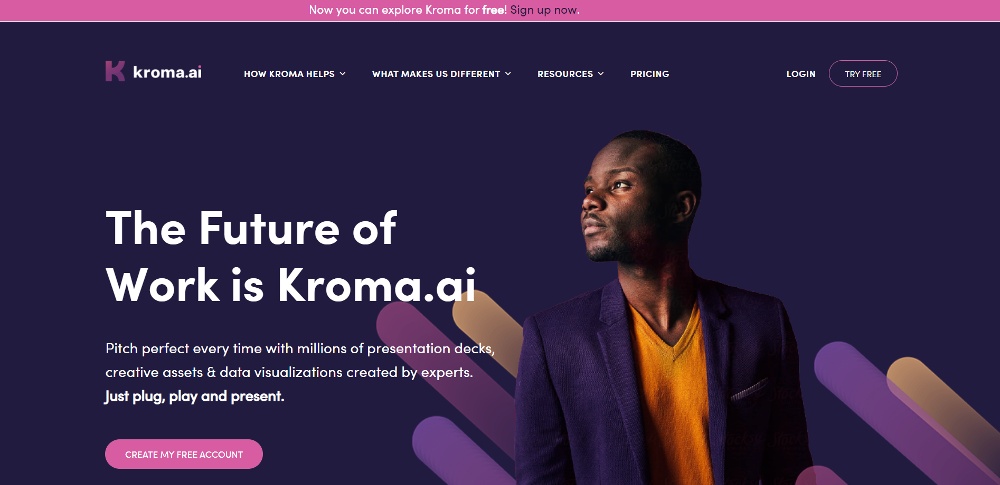 Kroma.AI is the perfect platform for anyone who needs to deliver a powerful presentation. With millions of professionally created presentation decks, creative assets, and data visualizations crafted by experts, Kroma.AI makes it easy to plug any content into your existing slides in just minutes.
The AI-powered design tool provides users with access to an expansive library of resources and features that can help them quickly create polished, engaging presentations without sacrificing quality or time. With a variety of customizable themes and templates available, Kroma.AI ensures that all content will be optimized for every device and display size. Plus, advanced analytics allow users to track engagement levels within their presentations so they can make sure their message gets across effectively!
Try Now↗️
Features
Kroma.ai helps expert growth companies fine-tune their pitches to investors and offer more convincing presentations.
Kroma.ai provides a simplified way for you to quickly show your idea, launch plan, budget proposal, and all other ideas you are considering. Focus on your idea and we'll handle the templates.
Data visualizations don't have to be complex. Plug and play. Input data. Swap colors. Add your logo. DONE!
Speed up the B2B sales cycle
Things to consider
Created by Industry Experts
Kroma.ai has helped thousands of companies raise money for their businesses with these decks and pro templates
There is a Kroma.ai expert deck for presentations, pitches, templates, profiles, investing timelines, and much more. There are decks on all these subjects that you can take advantage of to improve your presentation skills as an entrepreneur or investor.
Used by Businesses like Apple, Deloitte, eBay, Samsung, and many more.
Pricing
Explorer-Free
Premium-49$/Month
Explorer 1699$/Year
7)Slidebean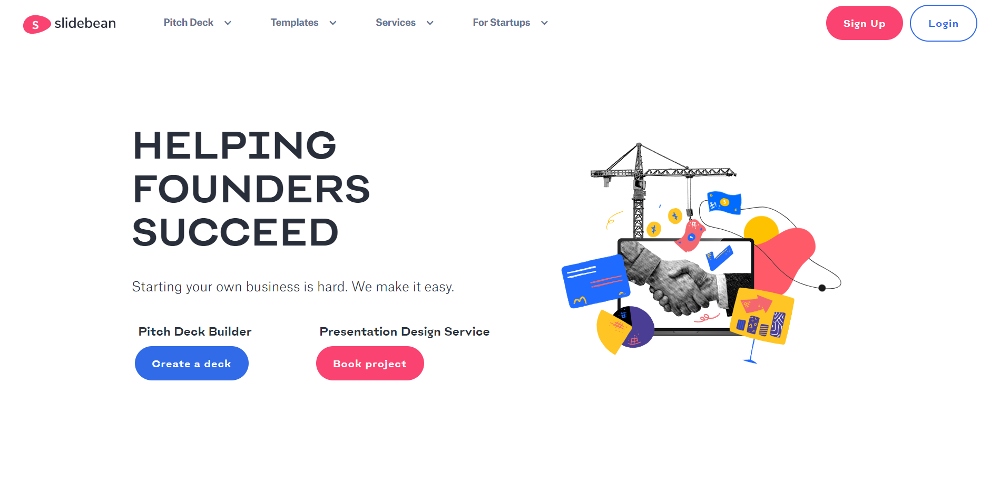 Slidebean is another presentation tool with artificial intelligence that is ideal for those who want to revamp their pitch decks or make other presentations for business purposes. Although you could choose to craft your own slides or write your own presentation, Slidebean offers presentation design with their AI Design option so you can have a variety of alternatives from which to choose.
Try Now↗️
Features
Pitch Deck templates
Pitch Deck Builder
Investor Finder & CRM
Design Service
Startup Lesson
Financial Model Templates
Pricing
Basic -Free
All Access $228 Yearly
7)Deck Robot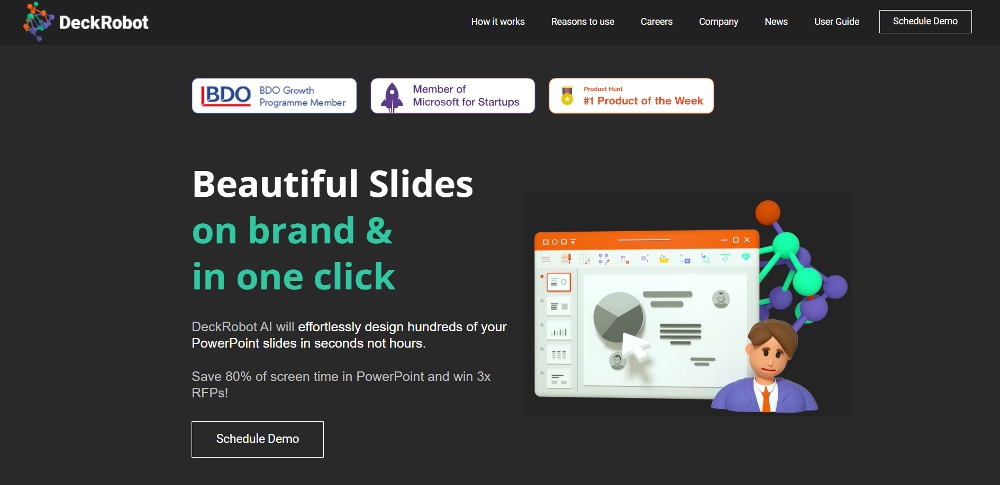 Have Deck Robot save your PowerPoint presentation creation time with their AI. With Deck Robot, you can upload your draft for PowerPoint, and on the platform for drafting we will prepare it to your tastes. Aside from that, they can also redesign your old branded PowerPoint into your new colors, for free.
Try Now↗️
Pricing
If you are interested in subscribing to Deck Robot, you must go through Deck Robot to schedule a demo with them.
8)PowerMode
Powermode ai is in beta mode
Startup culture is always changing, and entrepreneurs are constantly striving to stay ahead of the curve. Enter PowerMode, a revolutionary AI-powered co-founder who will help you ideate and pitch your startup.
PowerMode is designed to be a versatile tool for entrepreneurs, providing its users free AI presentation maker with tailored advice on how to approach their business idea in order to achieve success. It offers free AI presentation templates with creative insights based on data analysis and predictive modeling tools that can help identify the right market opportunities and strategies for success.
Try Now↗️
Pricing
Currently, it is Free
9)Pitch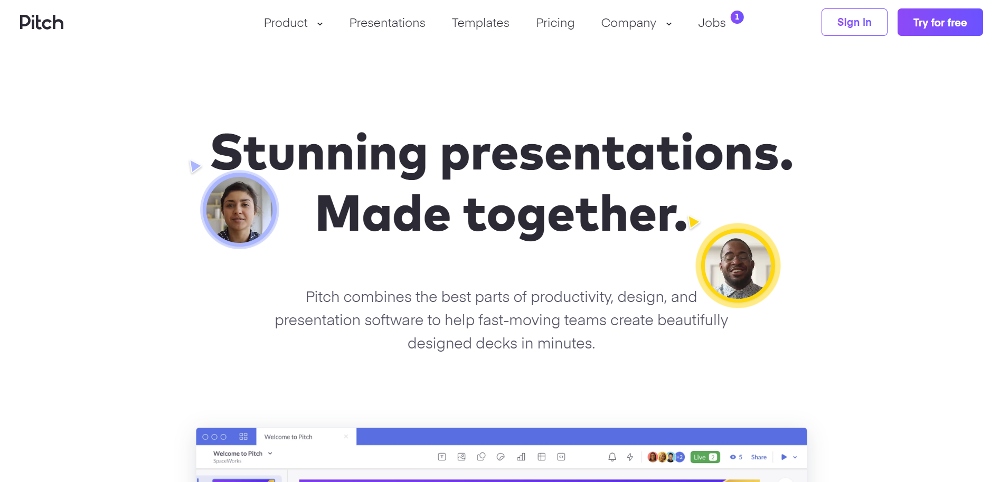 Pitch is one of the most popular presentation tools out there in the market. It offers a user-friendly platform that allows anyone to create stunning presentations with ease. With its wide variety of features, including templates, animations, and text styles, Pitch makes it easy to design eye-catching slides.
You can build presentations from scratch here or use one of their well-developed templates that come preloaded with beautiful designs and color schemes for any purpose. You can also customize these templates easily according to your preferences. Additionally, you are able to add text boxes and shapes as needed without having previous design experience.
Moreover, Pitch has an attractive collaboration feature that lets users share their work with others in real-time so they can make changes together quickly and efficiently.
Try Now↗️
Pricing
Starter-Free
Pro-8$/Month
Enterprise-Price on demand
10)Powerpresent.ai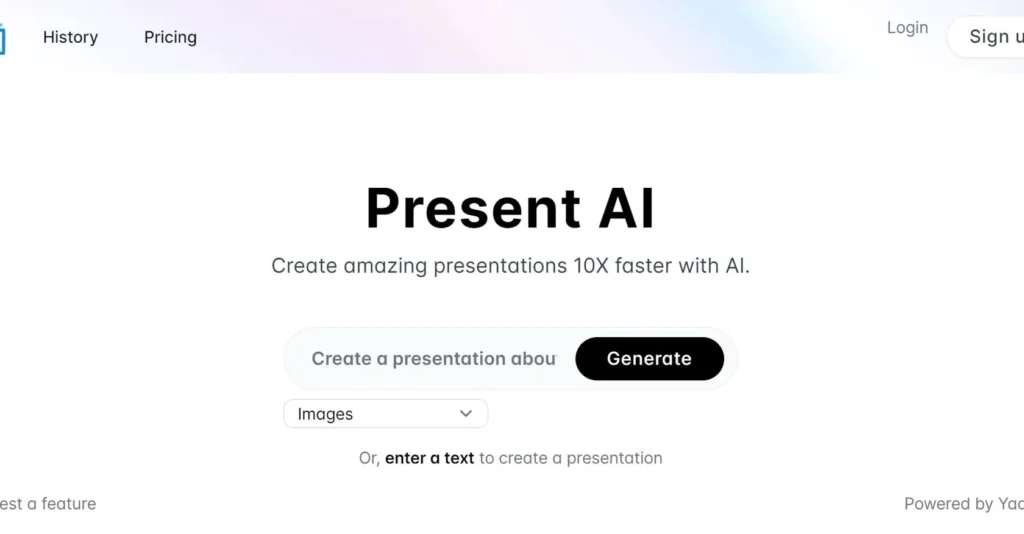 Nowadays, creating a great presentation requires tons of energy and time. However, with the help of Artificial Intelligence (AI) technology, you can now create amazing presentations quickly! AI offers a variety of visuals to choose from including Low Poly, Cyberpunk, Surrealism, Anime, Realism, and M. With these features at your disposal you can easily pick the visuals that best suit your presentation and craft an engaging story for your audience.
The use of AI helps to save time by automating tedious tasks such as finding images or graphics for slides. All you need to do is simply enter a keyword or phrase related to what you want your visuals to look like and the AI will generate relevant results in a jiffy! Furthermore, it also allows users to customize their visuals according to their preferences – giving them more control over their work.
Try Now↗️
Templates Styles available
Low Poly
Cyberpunk art style
Surrealism art style
Anime art style
Realism art style
Memphis Design art style
Fantasy art style
Cartoon art style
Pricing
1$ pay-as-you-go
You can pay 10$ for 15 presentations with a credit pack
Final Thoughts
AI tools for presentation have the potential to revolutionize the way we create and deliver presentations. By leveraging AI to help with designing slides, creating visuals, and synthesizing content, users can save time and energy while creating more effective presentations. With AI tool for creating presentations, anyone can become a masterful presenter. As AI technology continues to develop and improve, the possibilities of what it can do in terms of presentation design are endless.
FAQ
Which AI tool creates presentations?
There are many tools such as
1)Presentation.AI
2)Beautiful.AI
3)SlidesAI.io
4)MotionIT.ai
5)Kroma.AI
and many others you can browse more tools from Toolsai.net-Largest AI Tools Directory
Which AI tool makes PPT?
There are many AI Tools which makes PPT such as Beautiful.ai, Presention.ai, slides.ai,MotionIt.ai and many others which you can read above.
What are Free AI presentation maker?
There are Top 5 free online presentation Makers
1)Presentation.AI-With Starter option you can start for free
2)Slidesai.io-Basic Free
3)Beautiful.ai-Free trial available
4)Slidebean-Basic Free
5)Powermode-Free
You may Read:-