15 Best AI tools for animation 2023 Crazy Software's
The world of animation is growing and evolving rapidly, as technology continues to take leaps and bounds in terms of advancement. Artificial Intelligence (AI) has been a major part of this evolution, with AI tools now being used to create powerful visual effects and animations. In recent years, the use of AI tools has skyrocketed in the animation industry and it will continue to be a huge influence for years to come.
The animation industry is on the brink of a revolution – and it's all thanks to the introduction of Artificial Intelligence (AI) tools. Animators, video game developers, and other creatives in the field are rapidly discovering innovative ways to use AI technology to produce stunning visuals faster than ever before.
In 2023, AI tools for animation will be indispensable for professionals looking to create impactful content in a fraction of the time. With sophisticated algorithms that can learn from their surroundings, AI-driven programs can generate realistic backgrounds and characters with a few simple commands. Plus, since these systems are built on adaptable frameworks, animators have more control over their creative process – allowing them to tweak settings quickly as needed throughout production.(More AI tools at toolsai.net-AI Tools Directory)
Best AI tools for animation
1)Plask.ai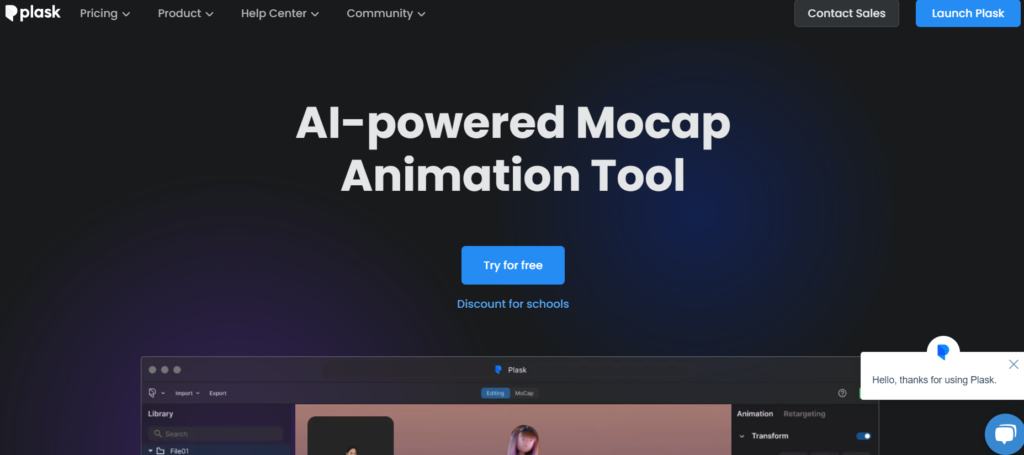 Plask.ai is an AI-powered mocap animation tool that is revolutionizing the way in which animation content is created. This cutting-edge technology uses motion capture to create complex animations in a fraction of the time required for traditional methods. Plask.ai eliminates the need for manual keyframing, allowing animators to focus on creating higher-quality content faster and more efficiently than ever before.
The AI powered engine behind Plask.ai can accurately identify body movements and facial expressions from multiple actors at once, translating them into realistic life-like animations with just a few clicks of a button. With its intuitive user interface and powerful tools, it enables users to quickly create stunning 3D avatars with lifelike facial expressions and human gestures for virtual reality applications, gaming experiences, or any other type of digital media project imaginable.
2)Creative Reality Studio (D-ID)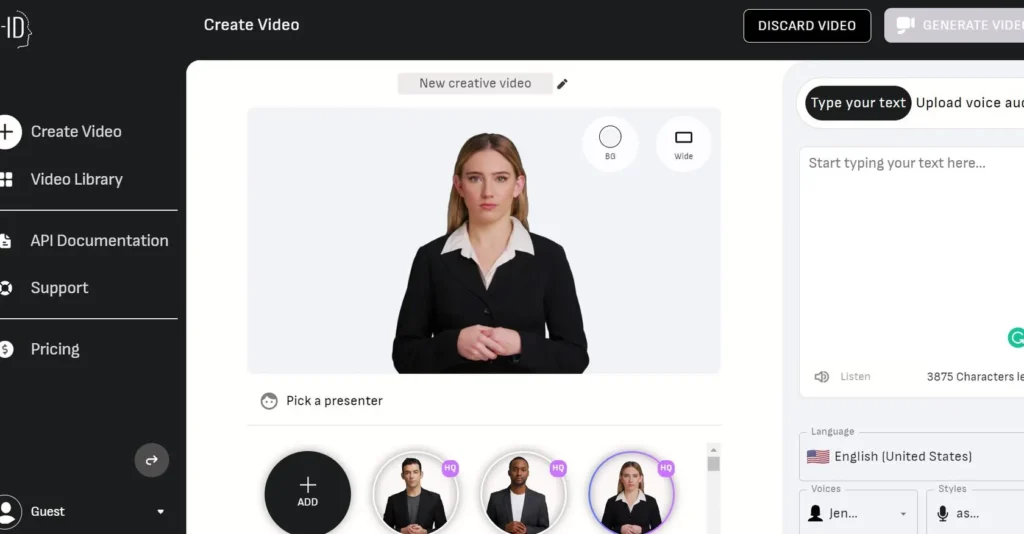 Creative Reality Studio (D-ID) is the world's first platform to combine GPT-3, Stable Diffusion, and D-ID's unique face animation technology. This revolutionary platform enables users to create their own virtual reality videos with ultra realistic 3D avatars. With Creative Reality Studio, users can generate stunning 3D animations that recreate real life settings or create an entirely new one from scratch.
The GPT-3 algorithm in Creative Reality Studio allows it to generate natural language across a variety of topics and provides accurate facial expressions for the 3D models. The stable diffusion technology incorporated into this platform eliminates artifacts for a smooth transition between frames in the animation. This ensures that any generated video looks as if it were recorded with a real camera.
3)cascadeur.com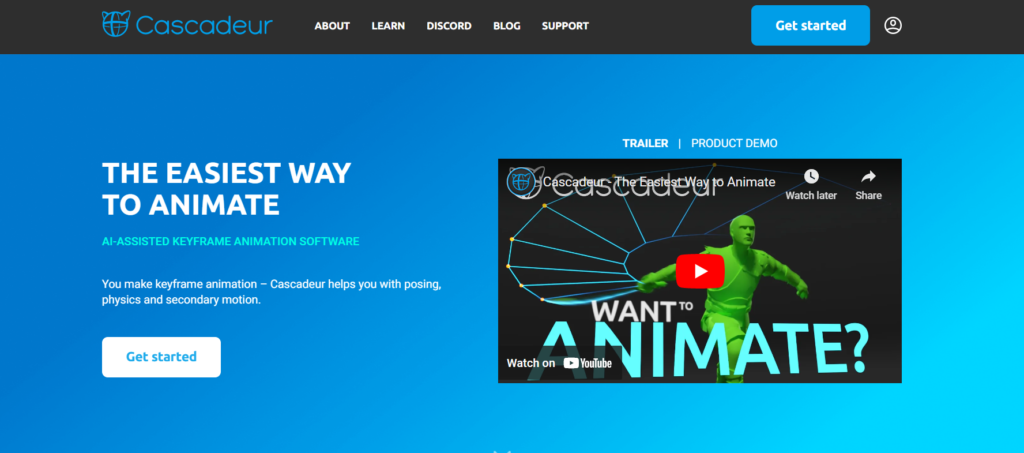 Cascadeur.com is a revolutionary new animation software that makes it easier than ever for animators to create AI-assisted keyframe animation. This game-changing platform allows animators to quickly create animations without having to manually animate every frame. With Cascadeur's user-friendly interface and intuitive design, animators of all levels can create high-quality animations with ease.
Cascadeur is a revolutionary 3D keyframe animation software that allows users to animate humanoid or other characters from scratch. The software is user-friendly and intuitive, allowing anyone – even those with no experience in animation – to quickly create high-quality animations. With Cascadeur, you can take control of your character's movements by setting keyframes along its timeline. You can also customize the motion and timing of your character's actions with intuitive tools and precise controls. Additionally, Cascadeur provides powerful tools for advanced animators, such as support for skeletal rigging and facial expressions. All of this combined makes Cascadeur the perfect tool for creating stunningly realistic animations without having to rely on expensive third-party plugins or services.
4)Radicalmotion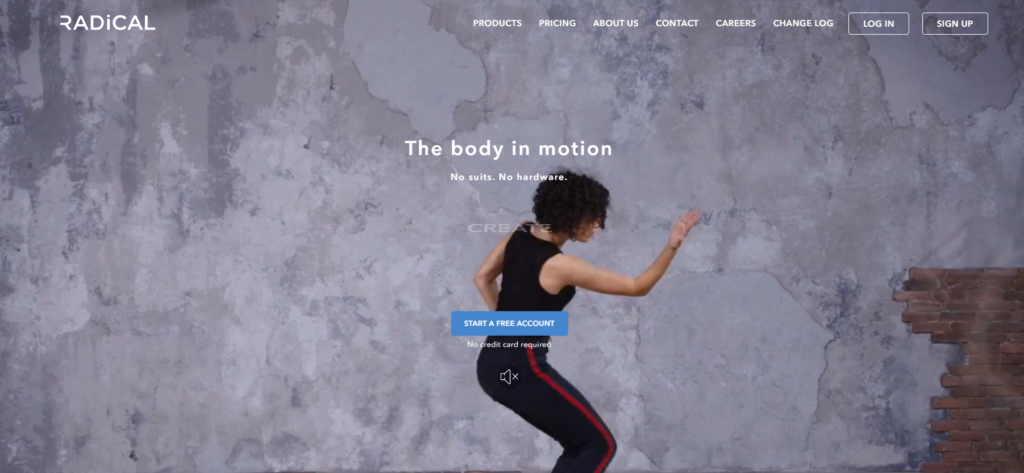 Radicalmotion is an amazing new technology that allows businesses and individuals to create realistic 3D human virtualizations in real-time from anywhere. It's a revolutionary way for people to communicate with each other, enabling them to create life-like avatars of themselves within seconds. With Radicalmotion, users can customize their avatars with special features such as eye color, facial expressions and clothing options, allowing them to become whoever they want.
These avatars can then be used for a variety of purposes including marketing campaigns, customer support, remote meetings or even just for fun! The possibilities are endless with Radicalmotion – you can personalize the avatar according to your exact needs and preferences while also enjoying the convenience of being able to work remotely from any location with an internet connection.
5)Squiglit.com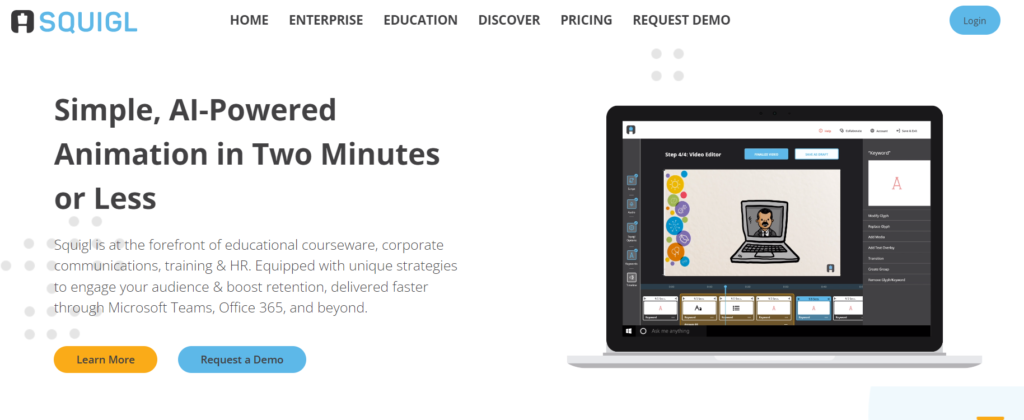 Squiglit.com has revolutionized the way we create animations. Using artificial intelligence (AI) technology, the platform allows users to create unique, high-quality animations in just two minutes or less. Squigl utilizes AI and natural language processing (NLP) to quickly generate compelling visuals that engage viewers and communicate concepts clearly and creatively. The platform is ideal for educational courseware, corporate communications, training videos, infographics and more.
Squiglit makes animation creation simple and accessible; no prior experience or design skills are necessary. It requires only basic input from the user—a script or storyboard outline—and uses AI to automatically generate a fully animated video with engaging visuals such as motion graphics, images, text and music tailored to your content.
6)convert.leiapix.com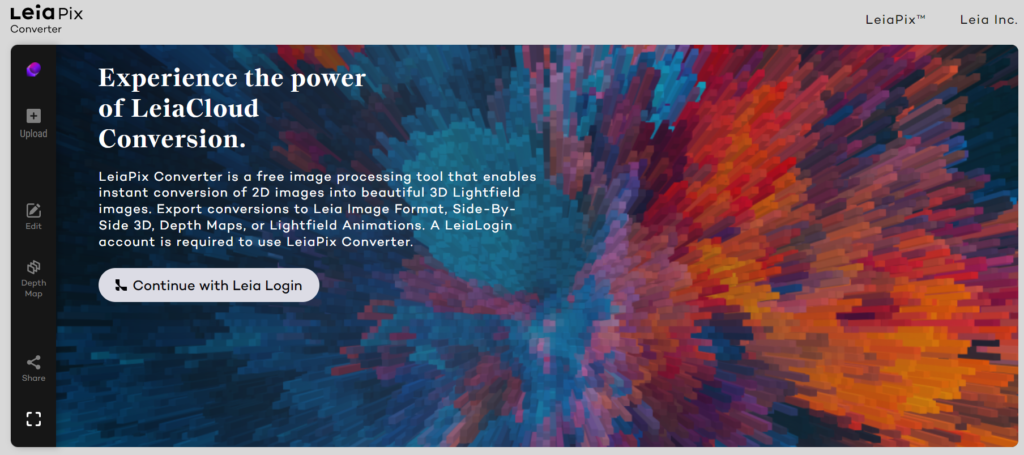 LeiaPix Converter is a powerful and free image processing tool that helps convert traditional 2D images into beautiful 3D Lightfield images with Artificial Intelligence (AI). Using the latest developments in AI, this innovative software helps bring photos to life instantly. This technology enables users to create stunning 3D visuals from simple two-dimensional pictures – bringing images to life in an entirely new way. With its sophisticated image recognition technology, LeiaPix Converter can detect features on 2D images and transform them into realistic 3D representations automatically. Its intuitive user interface makes it easy for anyone to use, regardless of technical ability or creative background. Best of all, it's totally free! The unique combination of advanced AI and real-time processing make this software one of the most powerful tools available today when it comes to creating stunning 3D visualizations.
7)Krikey.ai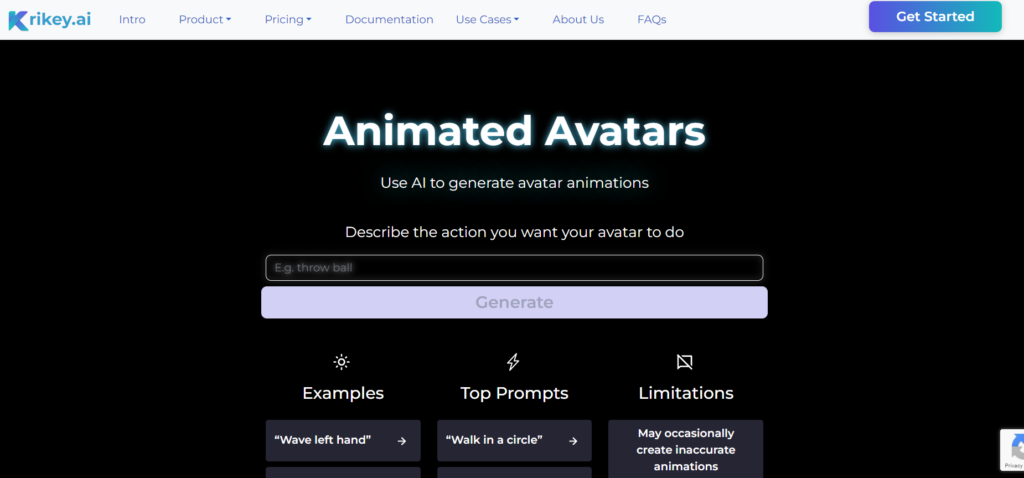 Krikey.ai is revolutionizing the way people create avatar animations. With AI-driven tools, users can easily generate realistic avatar animations with a few clicks of a button. Krikey.ai's technology helps users create dynamic and lifelike avatars that come to life and perform any action they desire – from dancing to walking or even playing sports.
Krikey.ai makes creating avatar animations simple and intuitive for non-experts in computer graphics or animation software. The user can simply describe the action they want their avatar to do, and Krikey.ai does all the heavy lifting for them by generating lifelike movements based on their input commands. The AI-based system automatically creates smooth transitions between poses, resulting in natural-looking motions that look as though they were created by experienced animators instead of computers!
Exporting AI Animations
Editing AI Animations
AI Animations in Mobile Augmented Reality
8)Synthetik.com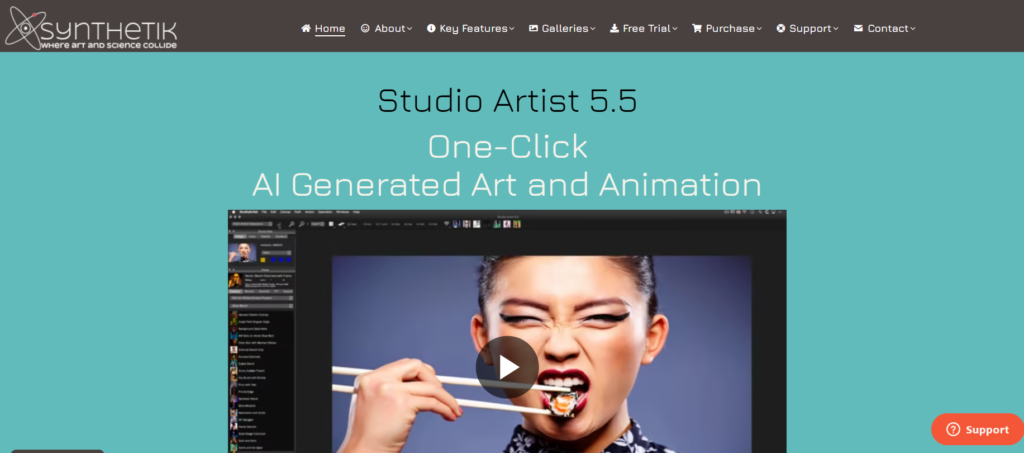 Synthetik.com is revolutionizing the art and animation industry with its state-of-the-art AI generated art and animation technology. The innovative website creates art and animations from scratch, using one click of a button to generate top quality creative content. With Synthetik's advanced Artificial Intelligence platform, users can experience an entirely new level of creativity and speed when producing visuals or motion graphics. After selecting the desired visual style, users are able to customize their creations in real time with various control sliders and options. Once complete, they can access the high resolution file directly from the site for easy sharing or download on any device. Synthetik offers an unparalleled level of convenience compared to traditional methods that require complex software packages or third party vendors – all at a fraction of the cost!
AI Assistance
Animation
Photography
NFT
9)Deep Nostalgia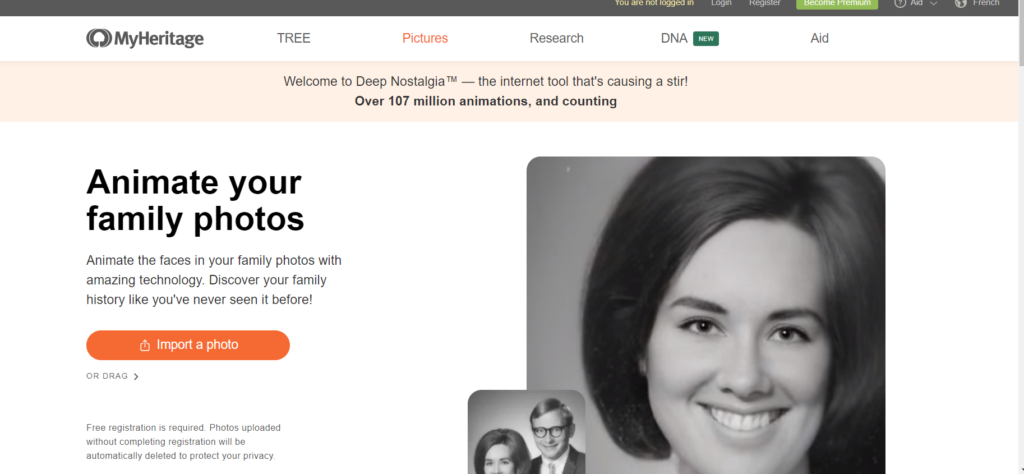 Deep Nostalgia Animate your family photos. Is your family photo album feeling a little static? With the latest technology, you can now turn your static images into vivid animations of your loved ones. Using Deep Nostalgia by MyHeritage, you can animate the faces in your family photos and bring them to life in amazing ways. You will be able to watch as they move and make expressions that were captured decades ago.
If you're looking for a unique way to explore and share your family history, Deep Nostalgia is the perfect tool for you! It uses powerful AI-based technology to take still images from any period in time and create realistic animations that look like videos. And with its easy-to-use interface, anyone can quickly get started animating their own historical photos with just a few clicks of a button.
Build your family tree
Find out what makes you unique
Search billions of documents
10)Deepmotion.com
Deepmotion.com has revolutionized the way motion capturing and reconstruction is done, completely changing the game for animation professionals and creators everywhere. Their AI-powered platform allows users to capture full-body movement, including facial expressions, using a single camera that anyone can access from their computer's webcam. This breakthrough technology makes even complex motion sequences easy to record accurately in real time.
The software also eliminates expensive equipment requirements while still delivering great quality results with ultra-high fidelity animations that look as real as any captured by traditional methods. What's more, Deepmotion's user interface simplifies the entire process so that any user – regardless of skill level – can use it with ease and confidence. It doesn't take an expert animator or engineer to create stunningly realistic scenes; just about anyone can do it now!
11)Audio2Face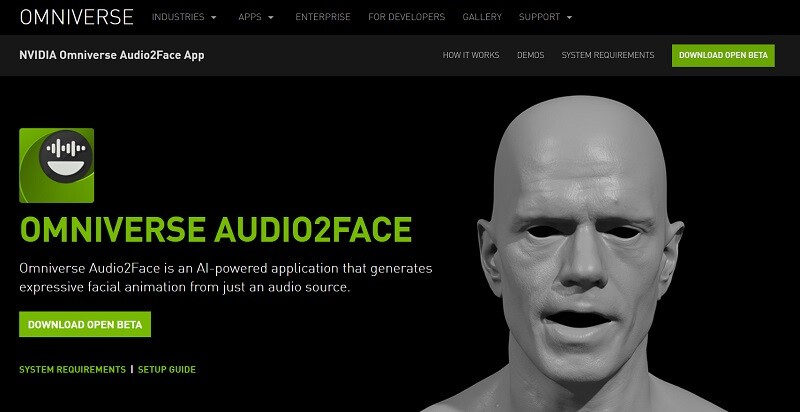 Audio-to-Animation Made Easy With Generative AI: Omniverse Audio2Face beta is a new revolutionary way of animating 3D characters in real time. Created by NVIDIA, the reference application simplifies the process of creating animations from audio inputs, making it easier and faster for creators to bring their ideas to life. At its core, Audio2Face uses generative adversarial networks (GANs) – two neural networks that compete against each other to create realistic facial expressions from audio inputs. Utilizing GANs gives the application an edge when it comes to synthesizing realistic facial expressions that are tailored for different scenarios, like speaking or singing.
The application also takes advantage of NVIDIA's AI platform, Omniverse Kit and RTX GPUs which helps accelerate animation creation.
12)Elize.AI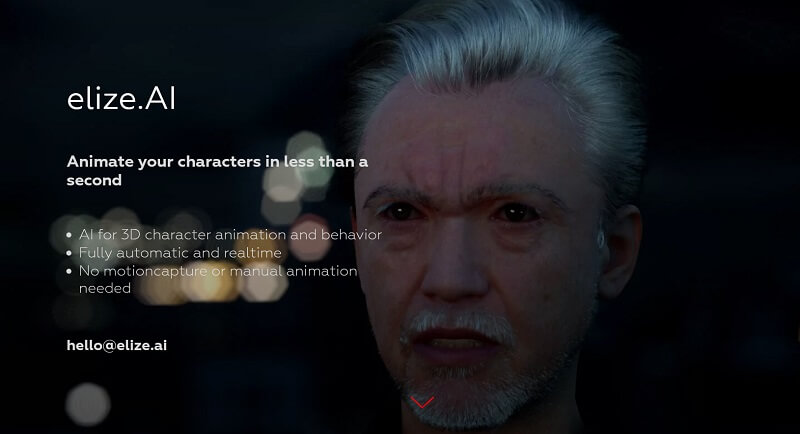 Elize.AI is a revolutionary new AI-driven platform that enables users to create 3D characters and animate them in real time with no motion capture required. This powerful technology allows animators, filmmakers, game developers and content creators to bring their creations to life with unprecedented speed and accuracy.
The animation process is simple: upload your character model into elize.AI's intuitive platform and the AI will automatically generate realistic poses for your character in less than a second. Using cutting-edge deep learning algorithms, elize.AI can recognize the movement of objects from natural inputs such as video footage or sound recordings and then translate that information into lifelike movements for your 3D character models – all without having to set up any kind of motion capture system or manually animate each frame of the performance. With elize.
13)Pixcap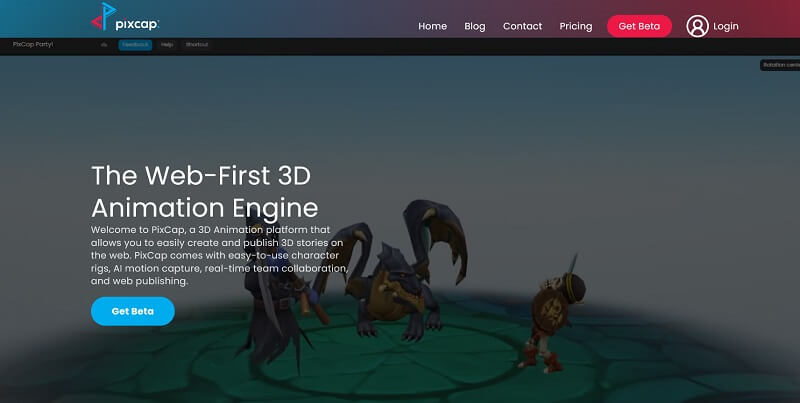 Pixcap is a revolutionary 3D animation software that gives animators the power to create dynamic and realistic character animation up to five times faster than ever before. This user-friendly platform allows users to quickly animate characters in a variety of ways, from adjusting body positions and facial expressions to changing lighting, camera angles and more. By combining intuitive tools with a powerful engine, Pixcap allows users to animate their characters faster and easier than ever before!
Using Pixcap is simple; all users need is one click to get started. Once they have selected their desired character type, they can customize each aspect of their project by selecting various poses or making small adjustments like adding different clothing items or hair styles. With Pixcap's advanced features, users can even add background music or sound effects for an added layer of realism.
15)Rawshorts.com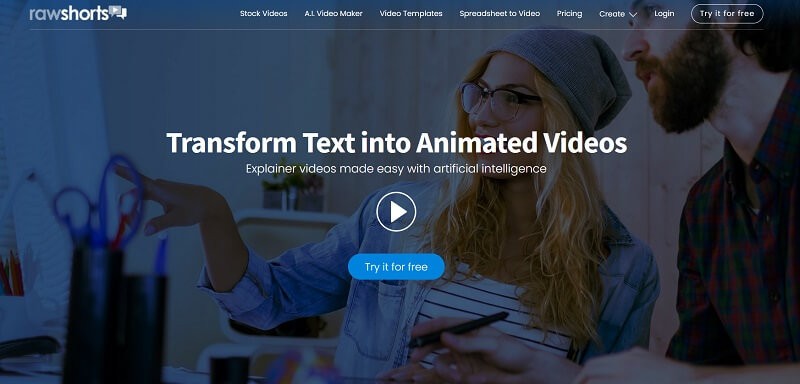 Rawshorts.com is a revolutionary new platform that uses artificial intelligence to help users quickly and easily turn text into engaging, animated explainer videos. With the click of a button, users can transform their ideas into professional-quality explainer videos suitable for use in presentations, marketing campaigns and more. The platform's smart AI algorithms adapt to each user's style and preferences, allowing for personalized video content without requiring any complicated video editing software or tools.
In addition to its ease of use, Rawshorts also offers unlimited customization options so users can tailor the look and feel of their video content to fit their brand identity or personal style. Whether you're looking for an eye-catching intro animation or want to modify your existing animations with new fonts or colors, the platform makes it easy to create compelling visual stories out of raw text in just a few
minutes.
Final Thoughts
Animation is becoming more accessible to all types of creators thanks to the advances in AI. With the right tools, you can create an animated masterpiece without spending a lot of time or money. The best AI tools for animation are easy to use and allow for a great degree of customization. Whether you are a beginner or an experienced animator, these tools will help take your creations to the next level. Ultimately, AI tools not only make animation more efficient but also more creative and dynamic than ever before.
FAQ
Can AI be used for animation?
Recently, AI technology is being used more and more in animation production. AI animation software works by taking computer generated images such as 3D models or motion capture data and adding life-like movements, facial expressions, and other nuances that lend realism to the animation. With advanced AI algorithms, these programs can create detailed animations without any manual input from an animator.
What AI tools do you use for Animation?
There are lot of tools available currently for Animation Choice of tools depends upon what you want to achieve. If you want to animate a avatar DID is one of the best tool, other tools like Getrad.co,Squiglit,Deepmotion,Audio2face can be used for AI animation.You can browse more tools from toolsai.net -AI Tools Directory