10 Best AI tools for YouTube -Build, grow in 2023
Creating YouTube Video daily is enjoyful task but you may feel burnout some or other day, Like every Youtuber I had been struggling with Video topics for my niche or for creating videos for my Youtube channel. Between finding the right images, editing them together in an interesting way and then adding the audio to match – it was always a hassle! Then I discovered AI tools for YouTube, and wow – what a difference they made! With just a few clicks of my mouse, I could quickly create almost any type of video imaginable. With the help of AI tools one can brainstorming idea, titles, tags to publishing video.
As the demand for content continues to grow, more and more people are turning to YouTube for their video needs. With an ever-increasing number of individuals creating and sharing videos, the need for AI tools has become more pressing. AI tools can help make the creation process easier, faster, and more efficient by providing users with powerful automation capabilities.
YouTube's Initiative for emerging AI
YouTube's new leader, Neal Mohan, issued his first letter to YouTube creators to lay out the company's upcoming priorities. YouTube is adding artificial intelligence (AI)-powered tools for video creators.He also provided an update on his 2023 game plan. One of the main plans is to work on generative AI and support multiple formats, such as Shorts and podcasts, among other things.
Benefits of AI tools for You Tube
These AI tools can help us by completing following task with power of Artificial Intelligence
Generating Video Ideas
Video Titles
Script to make Video Viral
Tags
Analyzing Compitation
Text to Video
Video editing
Voice editing/Cloning
You Tube Thumbnail Maker
(For other tools You can Browse from AI tools list :-toolsai.net AI Tools Directory)
Top 10 AI tools for YouTube Videos
We have Chosen these AI tools on the basis of there different Use Cases so the one can make You Tube Video from scratch to publishing with the help of AI tools.
1)Creatowise.com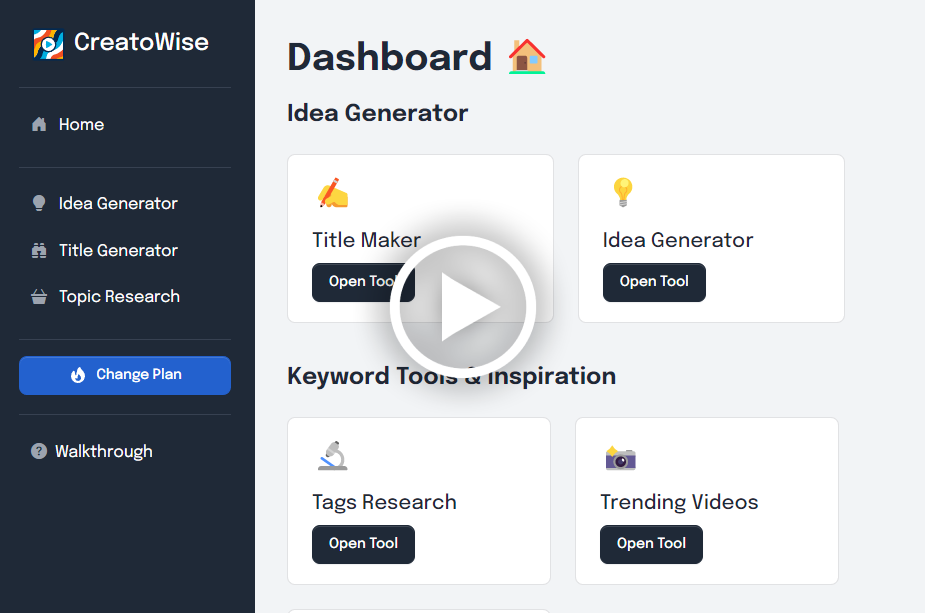 Creatowise.com is the ultimate tool for YouTube channel growth powered by GPT 3. There state-of-the-art AI tools are designed to help you generate viral video ideas, discover trending keywords, and optimize your video titles with ease. With there easy-to-use dashboard and comprehensive tutorials, anyone can take their YouTube channel to the next level in no time!
There AI tools allow you to quickly identify topics that will resonate with your audience and create powerful video titles that capture attention. You can also leverage there keyword analysis tool to find new target words that increase engagement and search visibility. Plus, there creative brainstorming feature lets you uncover fresh content ideas that keep viewers coming back for more. With Creatowise.com's AI tools, growing a successful YouTube channel has never been easier!
Title Maker
Idea Generator
Tags Research
Trending Videos
2)Vidiq.com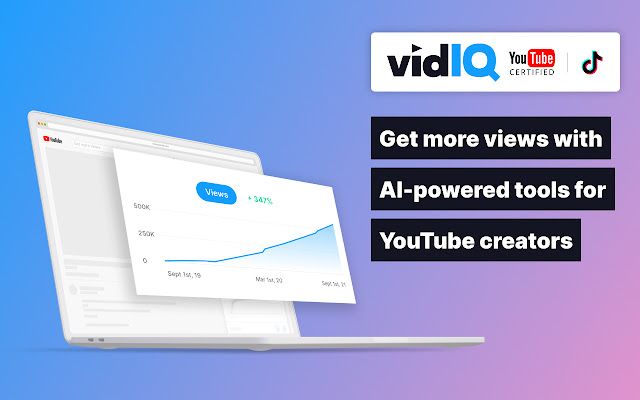 Vidiq.com is a powerful tool for content creators to optimize and analyze their videos on YouTube. It provides an all-in-one solution for optimizing video titles, descriptions, tags, annotations, thumbnails and more. With Vidiq's proprietary score system it helps content creators understand the actual performance of their videos against competitors in order to maximize views and engagement from audiences.
Using Vidiq's suite of insights and analytics, users can benchmark the success of their videos against industry standards by tracking key metrics such as views, likes and comments over time. Additionally it offers insights into each individual video's potential reach based on search engine optimization best practices applied to title tags and description text. This helps content creators make informed decisions when creating new content or improving existing ones by gaining valuable feedback on what works best for viewers.
Youtube Videos Potential reach
Videos viewability & SEO
Share of voice
hashtags tracking
keyword tracking & performance evaluation
Vidiq chrome extension
Vidiq is having a chrome extension where you can directly install from chrome store
3)Pictory.ai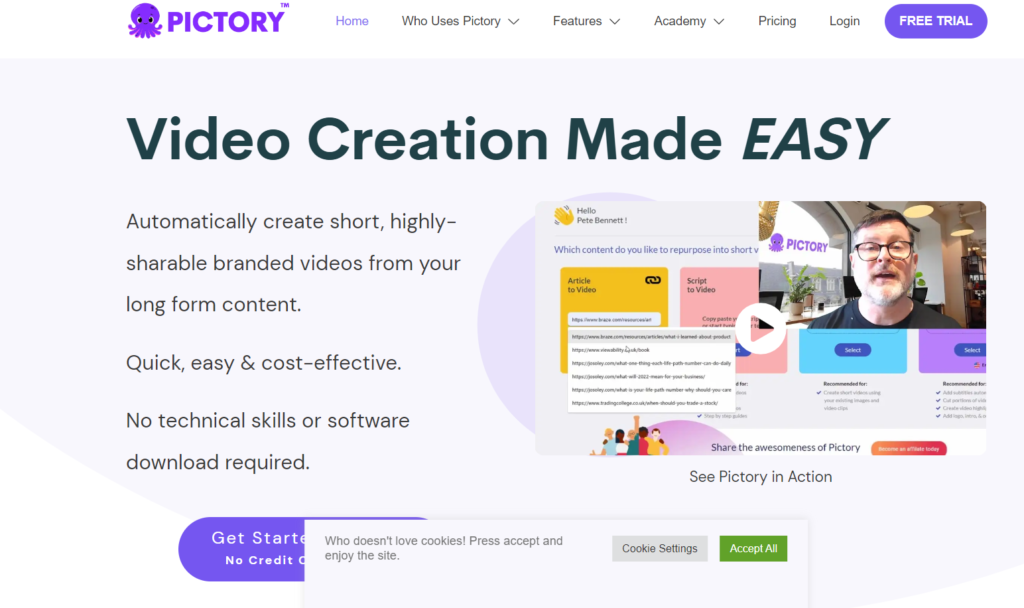 🏷️Use code "toolsai" to get 20% off on plans exclusive for toolsai.net readers
Pictory.ai is revolutionizing the way that businesses create and share branded videos. With a simple click of a button, you can quickly generate short, high-quality videos from long form content such as articles and podcasts. This automated video creation process offers an easy and cost-effective solution for businesses to reach their target audiences with engaging content that stands out amongst competitors.
The AI powered platform helps users take control of their digital storytelling by quickly transforming written or spoken words into visually interesting videos that are easily digestible on social media platforms. As well as offering powerful customization options, Pictory's AI technology offers additional benefits through its ability to identify the key points in your long form content, saving time and resources when creating videos for marketing purposes.
Script to Video
Blog to Video
Edit Video Using Text
Create Video Highlights
Auto Caption Videos
Auto Summarize Long Videos
4)Synthesys.io

Synthesys.io provides an innovative and exciting new platform for monetizing Youtube Videos with text-to-speech AI technology. With Synthesys, you can quickly and easily create stunningly realistic AI voices to narrate your videos. This means that even if you don't have the resources to hire professional voice actors, you can still earn money from your Youtube channel through ad revenue or subscription fees.
The Synthesys platform is easy to use and requires no technical knowledge or coding experience. You simply choose a language and accent, then upload the script of your video in plain text format. The Synthesys AI will automatically convert it into a realistic sounding voiceover narration that complements the visuals onscreen. You can also customize certain features such as pitch, speed and tone to give your video a unique sound that speaks directly to its audience.
Create AI Branding Videos
Create AI Explainer Videos
Create AI Training Videos
Create AI Education Videos
Create AI Presentation Videos
Create AI Videos
5)Fliki.ai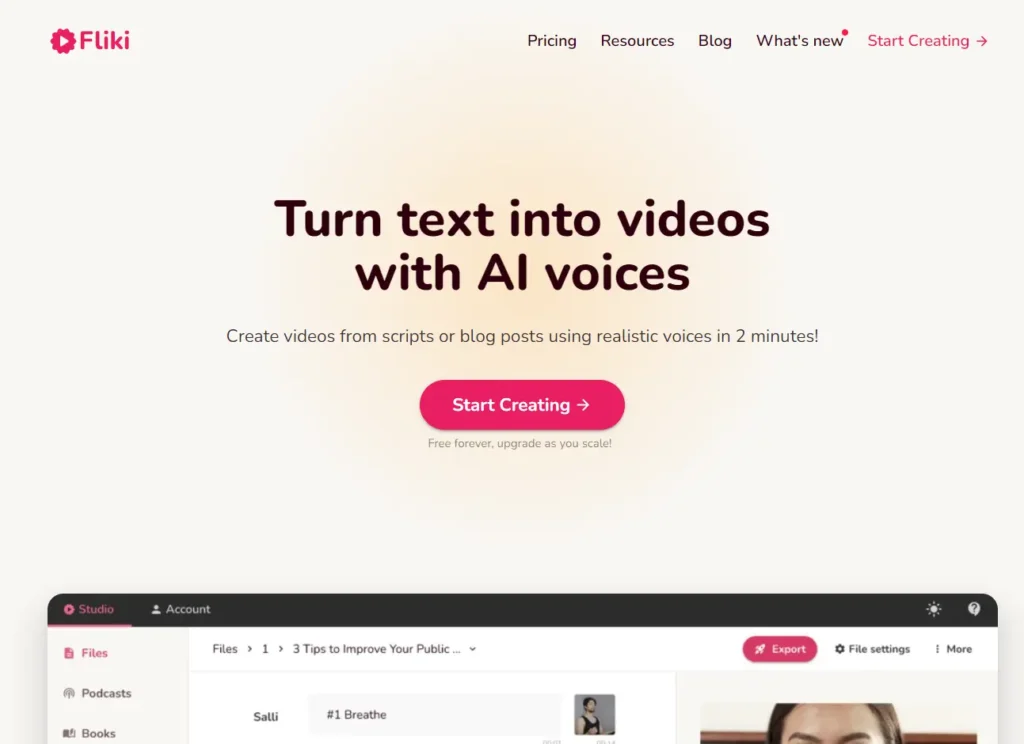 Fliki.ai is the latest AI platform that allows users to create videos from scripts or blog posts using real-time voice recognition. With this cutting edge technology, users can quickly and easily create engaging videos for any purpose, such as marketing, training and education. Unlike traditional video editing software, Fliki.ai is powered by powerful algorithms that enable it to understand natural language and produce high quality video content in a fraction of the time required by traditional methods.
The platform works by taking written text – either directly entered into the system or imported from existing blogs or scripts – and converting it into a spoken narration through real-time voice recognition technology. This eliminates the need to manually record audio or hire professional voice actors, allowing users to quickly create captivating videos with their own unique voices.
AI Video Maker for YouTube
Voice-over creator
Realistic Voice Cloning with AI
Text-to-speech with AI
6)Textcortex.com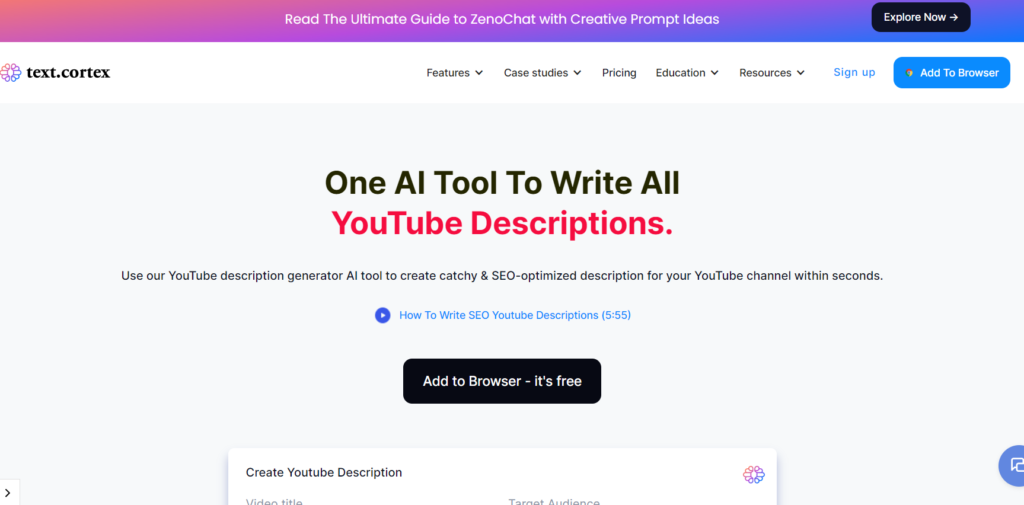 Creating the perfect YouTube description and script can be a daunting task. That's why textcortex.com is proud to present its AI tool, which is designed to make writing YouTube descriptions easy and efficient. Unlike other tools, textcortex.com offers an all-in-one solution that covers every aspect of creating compelling descriptions for your videos; from keyword optimization to crafting catchy phrases that draw in viewers.
The AI tool utilizes natural language processing (NLP) technology to generate SEO-optimized You tube scrip that increases the chances of getting more views on your videos. Plus, you can customize each description with voice commands or by manually entering keywords for maximum flexibility and control over the process. With this feature, you can easily create unique descriptions for each video quickly and easily – no extra work needed!
Textcortex.com chrome extension is available
7)InVideo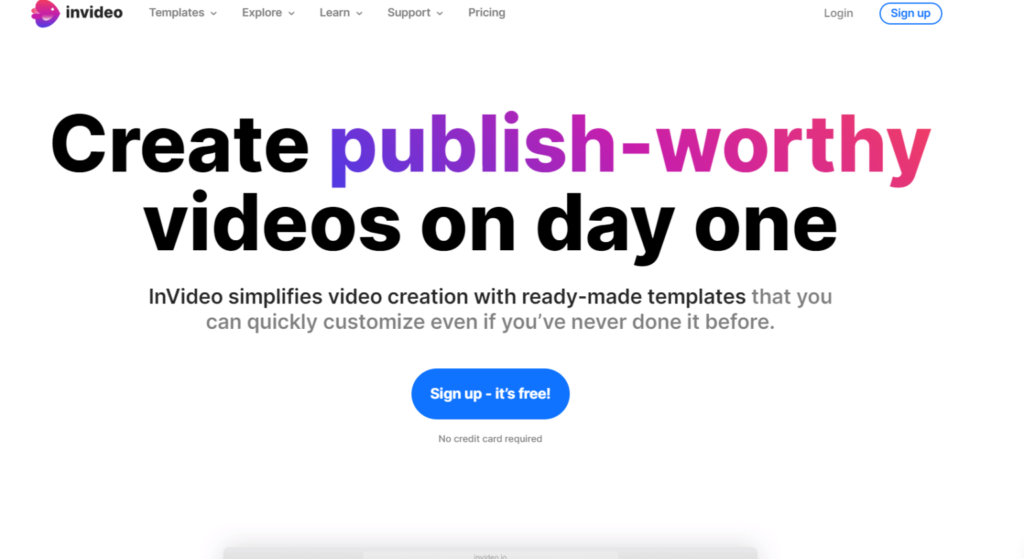 InVideo is an online video creation platform that allows users to create stunning videos with ease and in a short amount of time. With no design skills needed, InVideo makes it possible for anyone to create professional-looking videos that could be used for virtually any purpose. Through its simple drag-and-drop interface, users can quickly select from a wide array of templates, add text and visuals, customize their own branding elements, and share their finished product instantly.
InVideo's user-friendly tools make creating high quality videos easy. Within just 15 minutes, users are able to craft unique videos with background music tracks and various other features included in the platform. They even get access to a library of free images and videos that they can use in their creations without worrying about copyright issues. Invideo chrome extension is available at chrome store.
Youtube Video Editor
Invitation Maker
Intro Maker
Outro Maker
Video Ad Maker
Video Maker
Youtube Intro Maker
8)Resemble.ai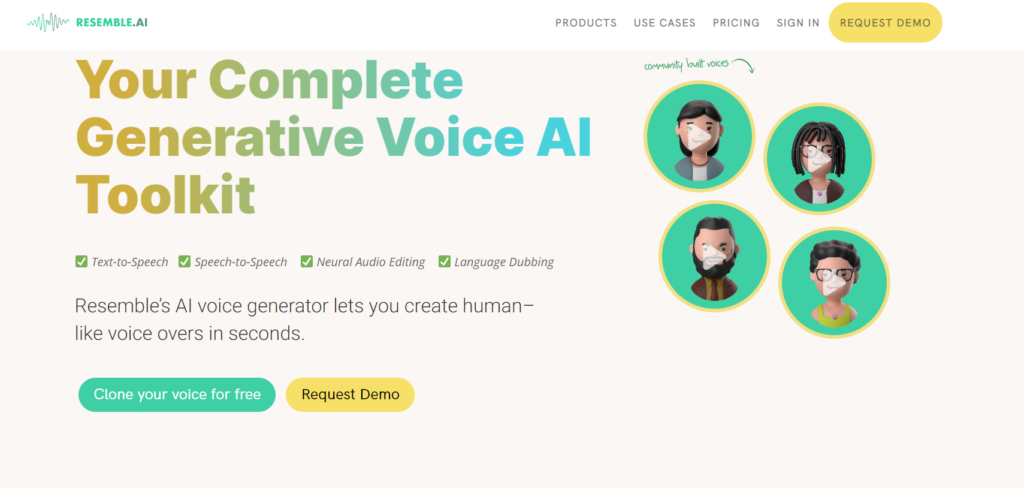 Do you need to create a professional-sounding voice over quickly? Resemble.ai has the perfect solution for you! Resemble.ai's AI voice generator is an innovative technology that can generate human-like voices in just seconds. With this cutting edge technology, you can quickly and easily create high quality audio content for your projects without spending hours upon hours creating it from scratch.
The AI voice generator is easy to use and intuitive – all you need to do is provide some text input and select from several customizable settings, such as language, gender, accent, and tone of voice. The system then does the rest of the work for you by generating a unique and lifelike audio file that can be used for any project or purpose. Plus, with its advanced text-to-speech (TTS) capabilities, Resemble.Resemble AI chrome extension coming soon.
Voice Cloning
AI Voice Marketplace
Digital Characters
Resemble Fill
9)Hotpot.ai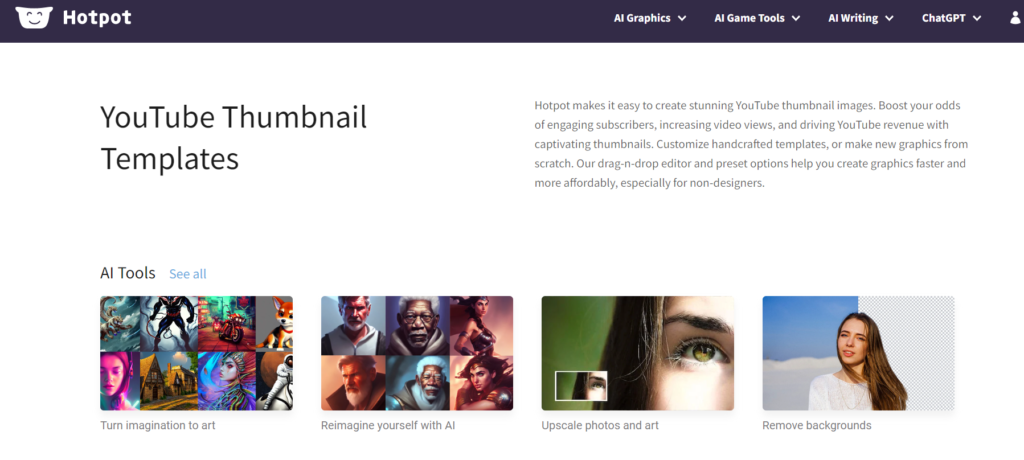 Hotpot.ai's latest feature is here to revolutionize the way you create stunning YouTube thumbnail images. With Hotpot, creating engaging thumbnails is now easier than ever before – boosting subscribers, increasing video views and driving more engagement with your content.
The process of creating a thumbnail image for your videos has often been a lengthy task, requiring hours of design work in order to achieve the desired outcome. But now with Hotpot, you can easily create professional-looking thumbnails in a fraction of the time it would take manually. From selecting from over 500 professionally designed templates to customizing fonts and colors with just a few clicks – there are endless possibilities for quickly creating stunning thumbnails that will draw viewers into your videos.
10)Simplified.com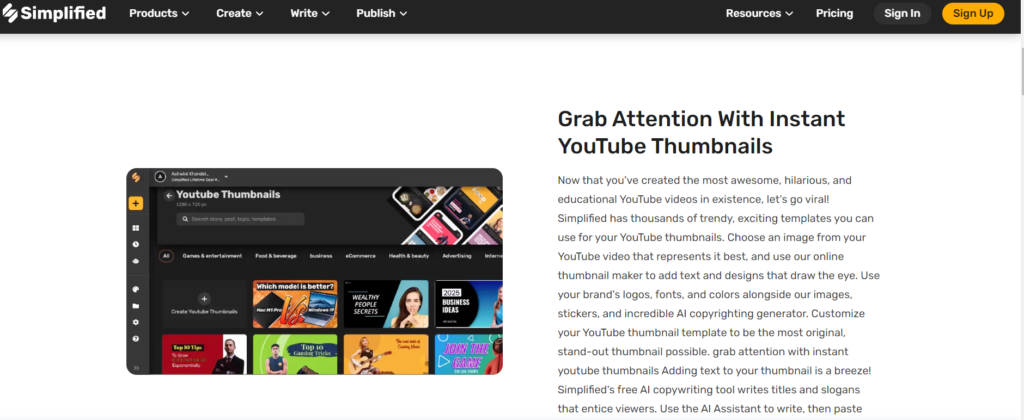 Creating attention-grabbing thumbnails for YouTube videos can be a challenge, but with Simplified.com's new instant YouTube thumbnail service, it just got easier! In minutes, users can create custom thumbnails to ensure their videos stand out in the overcrowded marketplace.
Simplified.com' is Ai tool for youtube thumbnail which has intuitive user interface and extensive library of templates, creating eye-catching thumbnails has never been simpler! Their collection of preloaded backgrounds and dynamic text options make it easy to customize your design without any graphic design experience. And with the ability to upload your own images and brand logos, you can truly make your video stand out from the rest.
You don't have to spend hours tweaking every detail; simply select a template that resonates with you or upload your own image and you're ready to go! With Simplified.Simplified.com chrome extension is also available .
Final Thoughts
AI tools for YouTube are an effective way to optimize and automate the process of managing a successful YouTube channel. Not only do they help save time and resources, they also allow the content creator to focus on creating quality videos that will engage viewers and bring more traffic to their channel. AI tools can be used to research keywords, analyze video performance, and track audience growth. They can also be used to customize thumbnails and banners as well as automate tasks like scheduling videos for optimal viewership.
Disclaimer: The information contained herein is of a generic nature only, and Toolsai.net is not, by means of this website or any part thereof, rendering professional advice or any recommendation of any AI Tools. We have just collected & shared AI tools in one place & blog as education. Every business is different and its need and not every tool fits every business. Before making any decision or taking any action that might affect you, your finances, or your business, you should make your own independent decision as AI is in the emerging stage, and some tools based on it may occasionally give incorrect results. Do not share sensitive information and read the terms and conditions of the respective tool. Your use of this website or any of its pages or links given is at your own risk and you assume full responsibility and risk of loss resulting from your usage in developing technology. Also, Read our Detail Disclaimer