13 AI tools for video creation 2023 -Best generators
The development of artificial intelligence (AI) has revolutionized the way video creation is done. The capability to create videos with AI tools has made it easier for individuals and businesses alike to create beautiful, professional-looking content quickly and efficiently. There are numerous AI tools available that offer features such as automated video editing, text-to-speech conversion, image recognition, facial detection, and more.
AI tools for video creation are becoming increasingly popular as businesses take advantage of the revolutionary technology to create visually stunning and informative videos. AI-powered video creation tools boast a range of features, such as automatic editing and content generation, that make it easier than ever before to create high-quality videos quickly and easily. With these powerful tools, businesses can save time and money while still creating engaging and meaningful videos that inspire their target audiences.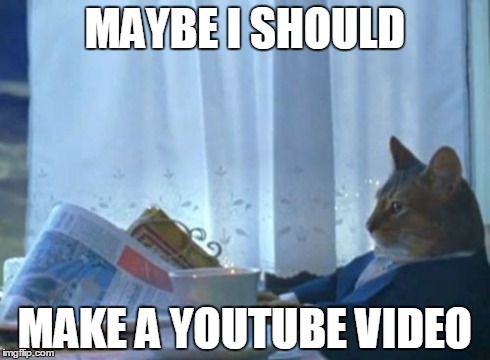 By leveraging AI technologies such as natural language processing, machine learning, and computer vision, businesses can use these intelligent systems to identify patterns in vast amounts of data for more accurate analytics about their audience's preferences. This information allows them to develop customized video content tailored specifically for their target audience. Additionally, through automated editing functions such as color correction or audio mixing, users can produce professional quality videos with minimal manual effort.
1)Fliki.ai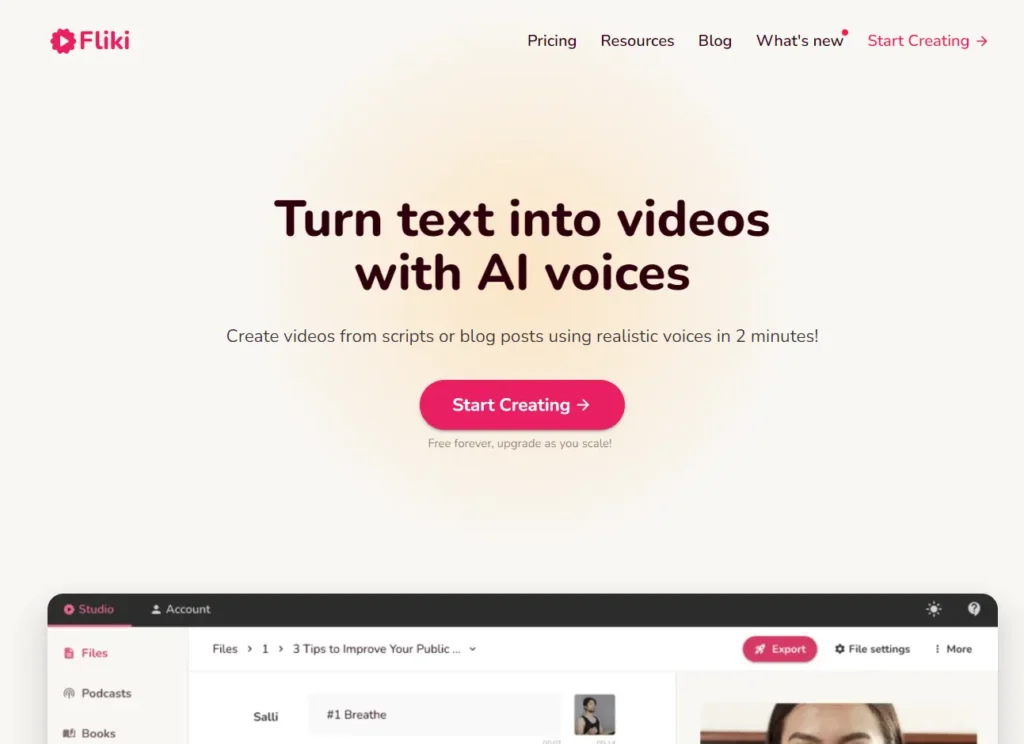 Fliki.ai is an artificial intelligence platform that allows users to create videos from scripts or blog posts using real-time voice recognition. This AI technology is designed to give online content creators a powerful tool to quickly and easily produce engaging, high-quality videos without the need for expensive production equipment or software. With Fliki.ai, anyone can turn their written words into compelling video content in just minutes and with minimal effort.
Using Fliki.ai's intuitive interface, users are able to customize their videos with music, images, transitions and other creative elements – all from the convenience of their own computer or mobile device. The platform also offers a range of voice options so users can select the best one for their project, as well as advanced editing features that make it easy to fine tune the final product before sharing it online. Best of all, Fliki's features
Turn text into videos with AI voices
Transform blog articles into videos
Lifelike Text to Speech Voices
Create videos in 75+ languages
2)Synthesia.io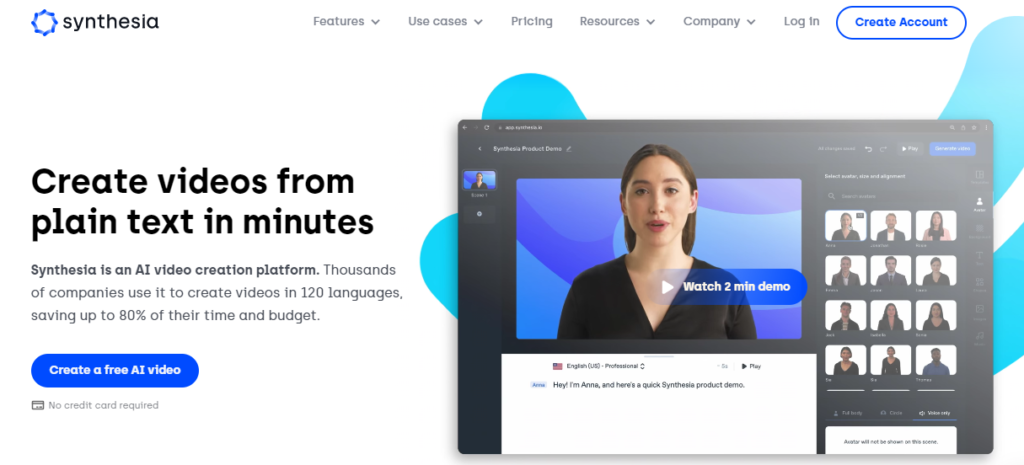 Synthesia.io is a revolutionary new concept in video production. Now, you can easily create professional-looking videos from plain text in minutes with this new tool. Synthesia.io uses advanced technologies and natural language processing to generate high-quality videos that look like they were created by an experienced video editor or motion graphics artist.
Whether you are a small business wanting to produce marketing materials quickly and cost effectively, or a large enterprise needing to rapidly create product demonstrations, Synthesia.io has you covered with its simple yet powerful interface that makes creating videos easy and fast. With just a few clicks, you can turn your text into beautiful visuals that will capture viewers' attention and help engage them with your message or product story.
85+ Video Avatars
120+ Languages
55+ Templates
Custom Avatars
PowerPoint to Video
Text to Video
AI Video Generator
Online Video Maker
Use Cases
Training Videos
How-to Videos
Marketing Videos
3)Deepbrain AI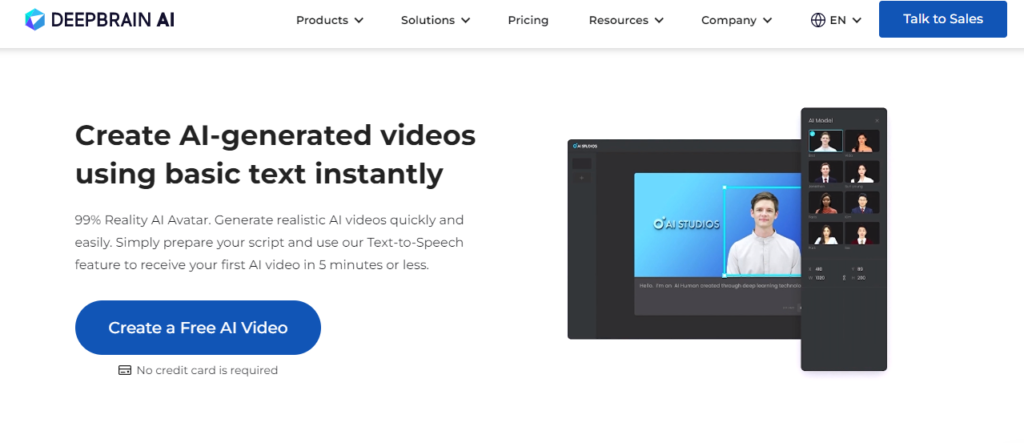 Deepbrain AI is a revolutionary new technology that allows users to create AI-generated videos using basic text instructions. With Deepbrain, the possibilities for video creation are endless. The user provides their own unique vision and then the AI takes it from there, doing all of the work behind creating a captivating visual experience.
Deepbrain's deep learning algorithms analyze the user's input and then generate an appropriate response in real time. It can take any simple text instruction and turn it into a compelling video that conveys the desired message. It also automates many of the steps involved in producing videos such as editing, sound design and special effects – allowing users to focus on what matters most: getting their message out there.
Deepbrain AI is revolutionizing how people create videos online and giving them more control over the outcome without sacrificing quality or creativity.
Enhance Customer Experience With Interactive AI Humans
Create AI-generated videos using basic text instantly
Use 100 AI avatars from your company's AI Studio, which use 100 native AI avatars. The AI Studios provide AI avatars from varied backgrounds, all of which are available in 55 languages.
4)Steve.AI

Steve.ai is the world's first AI tool to create animation videos using natural language processing, artificial intelligence and machine learning technology. Developed by a team of industry experts from top-tier universities, Steve.ai offers an intuitive platform for users to quickly and easily create stunning animations without needing any prior coding knowledge or experience. With Steve.ai, businesses can now create professional animated videos that look and sound as if they were created by high-priced animators in a fraction of the time!
Users can upload their own images or use Steve.ai's library of royalty free images to customize their video with text, music, voice overs and more – all while having the AI software do the rest! The user friendly interface makes it easy for anyone to start creating amazing animations in no time at all!
Invitation Video Maker
Corporate Video Maker
Add Text to Video
Lumen5 Alternative
Explainer Video Maker
Promo Video Maker
Product Video Maker
Marketing Video Maker
Educational Video Maker
Blog to Video
Animated Video Maker
5)Runwayml.com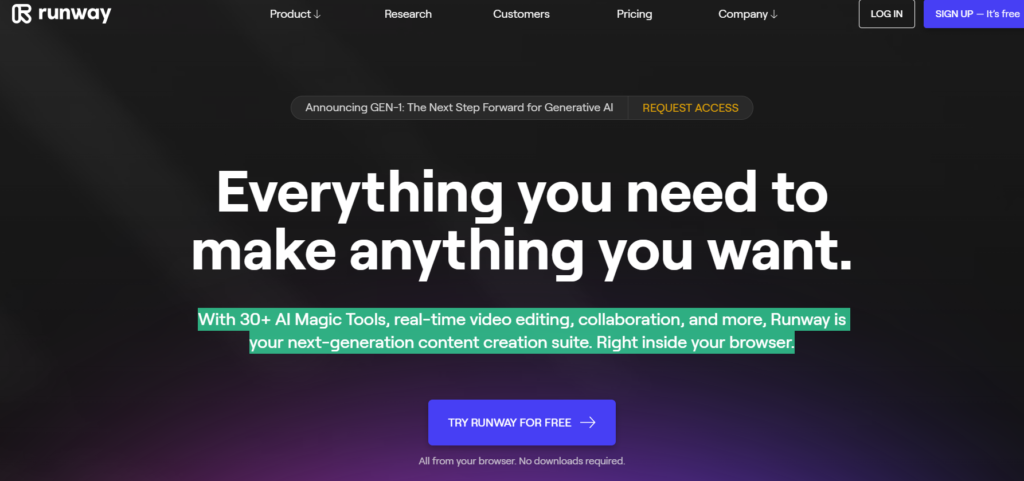 Runwayml.com is a revolutionary platform that makes video editing possible in real-time with the use of 30 artificial intelligence magic tools. RunwayML offers an extensive library of AI-enabled tools such as object segmentation, neural style transfer, text animation and much more to help bring creative ideas to life.
The platform is designed for both professionals and non-professionals who want to create stunning visuals or videos in no time. With just a few clicks, users can easily create amazing content for their projects in minutes instead of hours or days it would take them otherwise. The comprehensive collection of AI tools available on RunwayML allows everyone from beginners to experts to craft perfect visuals quickly and painlessly – no coding or special skills required!
Video Editing
Green Screen
Inpainting
Motion Tracking
6)Flexclip

Are you wondering how you can create artificial intelligence videos without spending a fortune? With FlexClip's free AI video maker, creating an AI video is now easier than ever! The user-friendly platform allows anyone to generate an AI video with ease. All it takes is just a few simple steps.
FlexClip's comprehensive library offers access to millions of royalty-free stock footage, photos and audio clips for your convenience. Simply upload your own materials or choose from the existing media in the library to personalize your project. The intuitive editing suite grants you plenty of options to tweak your content until it looks perfect and even lets you add animated transitions and texts. After that, the integrated artificial intelligence technology will work its magic, automatically detecting facial expressions and generating synchronized lip movements on all actors in the clip!
7)Pictory.ai
🏷️Use code "toolsai" to get 20% off on plans exclusive for toolsai.net readers
Are you looking for an easier way to create short, highly-sharable videos to promote your brand? With Pictory.ai, you can quickly and cost-effectively transform your long form content into professional, branded videos. Pictory ai is the ideal solution for businesses that need to create engaging video content without any technical skills or expensive equipment.
Pictory.ai allows users to combine text, images and music in order to create high quality videos in minutes. It's easy to use interface makes it simple for anyone – regardless of their level of technical expertise – to produce impressive results. The platform also features a range of customization options so you can ensure your video perfectly reflects your brand's identity. Best of all, with Pictory's automated workflow you can have multiple videos ready for publishing within a single day!
Key Features
Script to Video
Blog to Video
Edit Video Using Text
Create Video Highlights
Auto Caption Videos
Auto Summarize Long Videos
8)Elai.io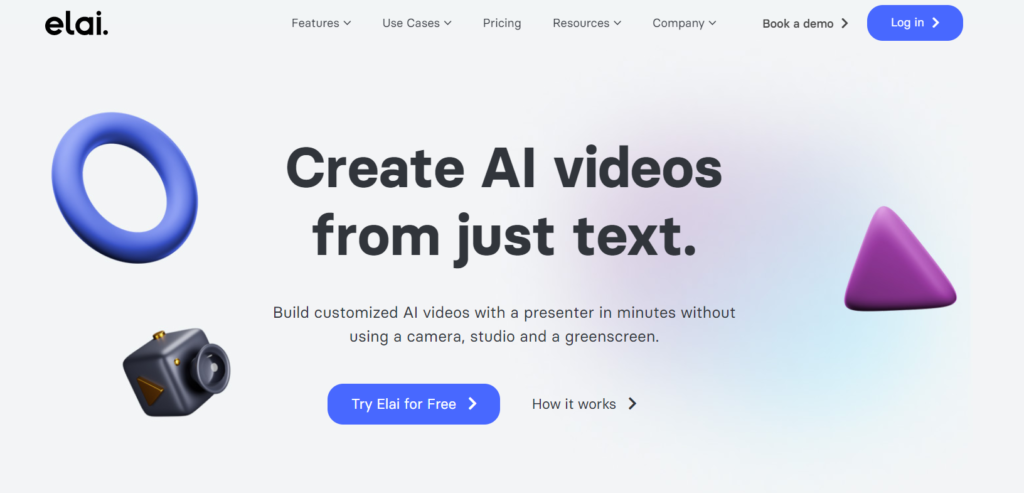 Elai.io is an innovative platform that provides users with the ability to create AI videos from just text. The platform allows users to build customized AI videos with a presenter in minutes without using a camera, studio and greenscreen. Elai.io makes use of natural language processing and artificial intelligence technologies to allow customizations such as facial expression changes and body postures adjustments. With Elai.io, all you need is text and you can quickly turn it into an engaging video with a presenter talking directly to the viewer.
The user-friendly interface of Elai.io eliminates the need for expensive equipment or skilled technicians, making it easy for anyone to create their own AI-driven videos right away without any special training or technical skills required.
Key Features
AI Avatars
Cartoon Avatars
Custom Avatars
Languages
URL to video
PPT to Video
Auto Translations
Online video maker
9)Invideo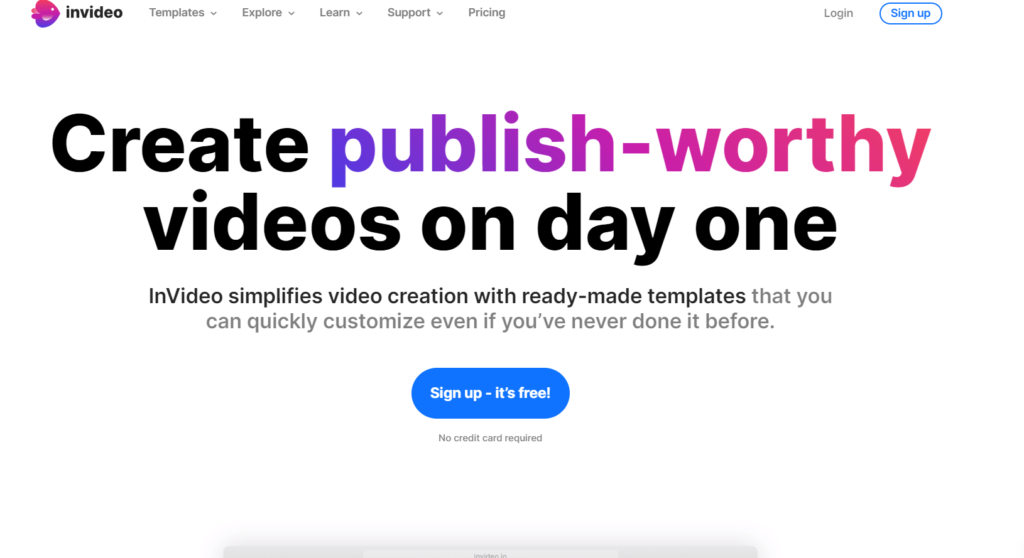 InVideo has made it easier than ever to create videos with its range of ready-made templates. With InVideo, users can quickly customize the template to their specific needs without any prior experience in video creation. Designed for both experienced and novice creators, InVideo's easy-to-use platform allows anyone to quickly create beautiful professional-looking videos.
The process of creating a video starts with selecting the right template. With everything from product demonstration videos to Instagram stories available, users can choose the style that suits them best and customize it accordingly. Thanks to intuitive tools like drag and drop elements, adding animation and text is quick and easy. The library also offers millions of royalty free images so users do not need to worry about copyright infringement when making their content.
Key Features
Youtube Video Editor
Invitation Maker
Intro Maker
Outro Maker
Facebook Ad template
Slideshow Maker
Video Ad Maker
Video Maker
Youtube Intro Maker
Facebook Video Ads Maker
10)AIVO AI
AIVO ai is your one-stop solution for automatically turning content into a storytelling video. This innovative technology allows users to create professional quality videos without any prior video production experience. With AIVO, users can quickly and easily generate videos that are engaging and informative, making it the perfect choice for businesses looking to produce high-quality content on a budget.
AIVO takes all the hard work out of creating videos from raw content. With its AI powered engine, AIVO can quickly identify text structure and automatically apply formatting such as text size, background music, and transitions to match the tone of the story. Furthermore, users have access to a library of stock images and backgrounds that they can use in their videos with just the click of a button.
12)Lumen5.com

Lumen5.com is the world's leading video creation platform, enabling businesses, marketers, and entrepreneurs to create engaging videos quickly and easily. There intuitive software offers a range of features to help you grow your brand and drive demand with video content at scale.
With Lumen5's online creator, users can quickly assemble professional-looking videos from existing media such as images, text, audio clips, or even their own pre-made clips. It also provides access to there ever-growing library of stock footage for enhanced visuals. Plus, there AI technology saves time by automatically suggesting transitions and layouts for each scene in the video.
Whether you're creating videos for marketing campaigns or internal communication purposes, you'll benefit from the ease of use and flexibility that Lumen5 has to offer – no prior editing experience required!
13)Design.AI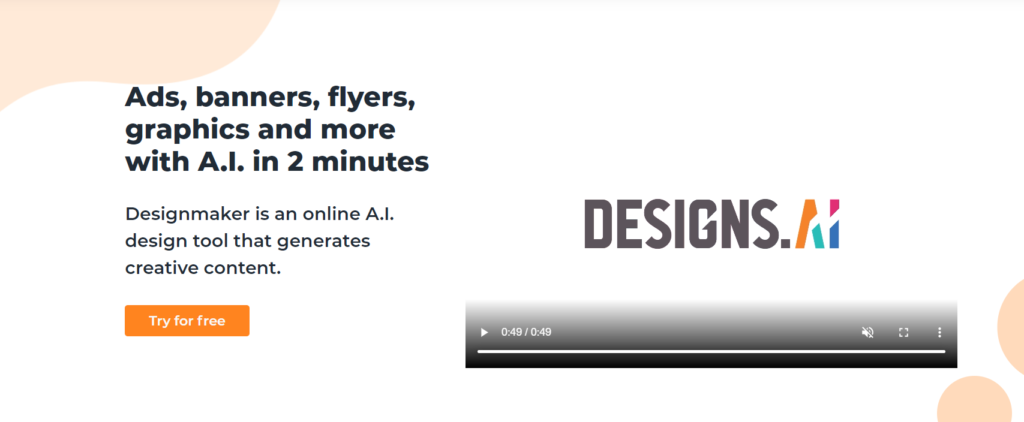 If you are looking for an AI video generator option, Designs.ai is an excellent choice. This online platform offers a wide range of customizable video templates that will help you create amazing videos for all types of projects. With its easy-to-use AI tools and intuitive drag-and-drop interface, Designs.ai takes the time and hassle out of creating videos.
Designs.ai offers a variety of video templates to choose from including explainer videos, promotional videos, educational tutorials, corporate presentations and more. All the templates can be customized to fit your specific needs with no coding or design experience required. You can also add music and sound effects to give your videos the perfect touch. In addition, Designs.
Logomaker
Videomaker
Designmaker
Speechmaker
Copywriter
Final Thought
AI video creation is projected to grow over the next few years as more and more companies adopt it as a valuable tool. AI-powered video generators can help businesses save time, money, and resources while delivering high-quality content that can engage their audiences. There are already several excellent AI video generators available now, each offering different features and benefits. As the technology advances however, 2023 promises to be an exciting year for AI-powered video tools with even more advanced capabilities coming soon.
FAQ
What are free AI video generator?
Following are Free AI text to video generator
1)Steve.ai-Free 3 videos/Month
2)Flexclip-Free plan available
3)Elai.io-1 Min free credit
4)Movio.la 1 Min free credit
these are few AI video generator apps with some limitations
Which are Best AI video generator?
Fliki.ai,Pictory,Synthesia.io,Deepbrain.ai,FlexClip are best AI Video generators in 2023.You can browse more AI tools at toolsai.net-AI Directory
Disclaimer: The information contained herein is of a generic nature only, and Toolsai.net is not, by means of this website or any part thereof, rendering professional advice or any recommendation of any AI Tools. We have just collected & shared AI tools in one place & blog as education. Every business is different and its need and not every tool fits every business. Before making any decision or taking any action that might affect you, your finances, or your business, you should make your own independent decision as AI is in the emerging stage, and some tools based on it may occasionally give incorrect results. Do not share sensitive information and read the terms and conditions of the respective tool. Your use of this website or any of its pages or links given is at your own risk and you assume full responsibility and risk of loss resulting from your usage in developing technology. Also, Read our Detail Disclaimer