7 Best AI tools for Architects in 2023
The world of architecture is constantly evolving, and with the introduction of new AI tools for Architects, this evolution can be seen more rapidly than ever before. AI tools are changing the way that architects design, manufacture, and construct projects. These tools give architects the ability to increase productivity while reducing costs at the same time. With AI tools, architects are able to generate designs faster than ever before, allowing them to focus on other aspects of a project such as budgeting or sustainability initiatives.
In today's world, of Artificial Intelligence (AI) we are witnessing powerful AI architecture tools. AI can help architects envision projects in ways that were previously impossible, allowing them to create unique designs and improve their workflow. From generating visuals to calculating construction costs, AI tools are revolutionizing the architecture profession.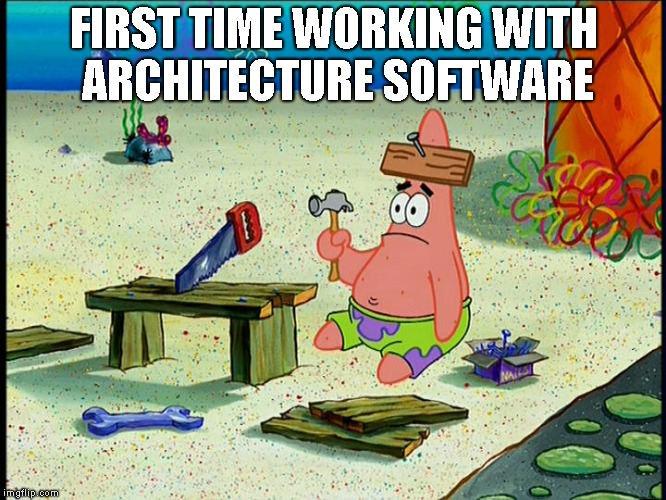 Using AI-enabled software, architects can quickly visualize the look and feel of a proposed project before ever breaking ground. They can also use AI to generate accurate 3D models of existing structures instead of relying on blueprints alone. This technology helps designers save time and money by reducing unnecessary design changes during the construction process. (For more AI Tools –Toolsai. net-Largest AI Tools Directory)
AI is also changing how architects measure space on-site as well as calculate material costs offsite. With accurate measurements at their fingertips, professionals have more control over budgets and timelines while eliminating human error from the equation entirely.
Key Uses AI for architects:-
If you wonder why do architects need AI? Here are some key uses for Architects
In Pre design-Architects typically spend weeks, months, or even years planning a project, always making numerous changes along the way. Architecture AI can reduce the amount of time to fast-track it to several hours or even minutes.
Urban Planning-Artificial intelligence is going to soon allow architects and their clients to make building designs surprisingly early on in the planning phase. Cities will be able to make roads and city blocks immediately thanks to AI, and data concerning traffic flow and other realities will be updated in real-time.
Construction-AI systems are used for observing construction and worksite activities in order to detect potential issues and flaws. It also sends safety alerts to supervisors during work to maintain appropriate priorities and keep worker morale at its peak.
Top 7 AI Tools for Architect
Following are AI Architecture generator tools let us check them out
1)Maket.ai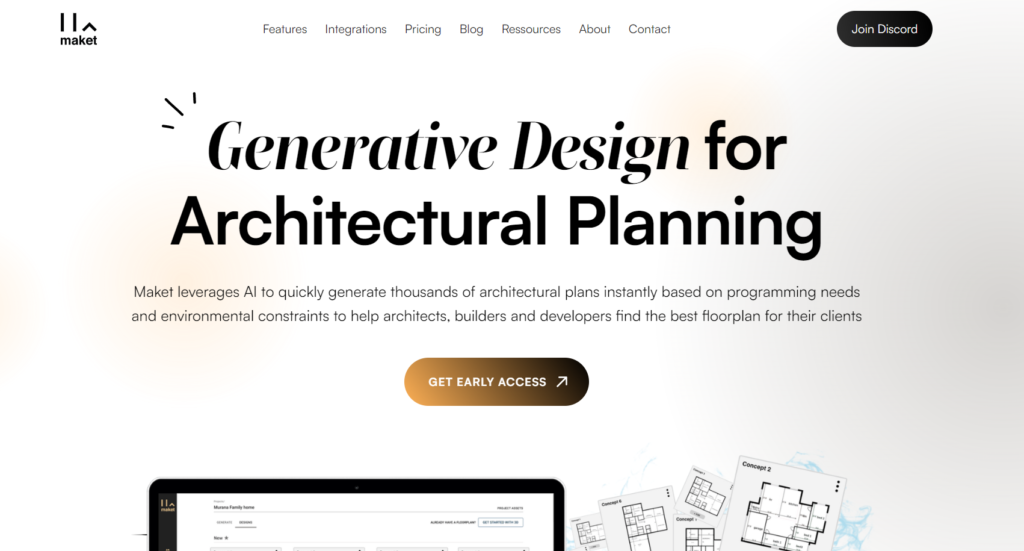 When it comes to designing and creating architectural plans, the process can be time-consuming and laborious. Now, thanks to maket.ai, architects and design engineers have an automated solution that makes the process faster and more efficient than ever before.
Maket.ai is an AI-based software platform specifically created for architectural designers looking to generate thousands of plans instantly based on their client's needs and environmental constraints. With advanced algorithms able to recognize patterns in data, Maket is a powerful alternative that makes traditional plan generation methods like hand drafting obsolete. In addition, Maket's cloud-based architecture enables users to collaborate on projects in real-time from any device with an internet connection.
For those looking for a modern way to quickly create high-quality architectural plans while saving both time and money, Maket is the perfect solution!
2)Arkdesign.ai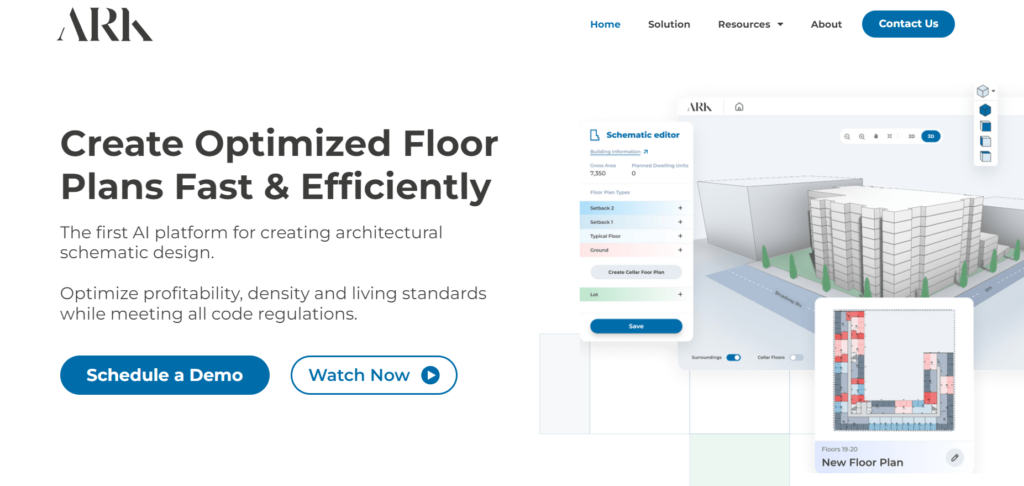 ArkDesign.ai is revolutionizing the way architects create floor plans with its revolutionary AI platform. This innovative software allows architects to quickly and efficiently create optimized schematic designs that are tailored to their specific project requirements. With ArkDesign's powerful tools, users can generate detailed floor plans based on profitability, space utilization, energy efficiency and more – giving them the ability to make sound design decisions before ever putting pencil to paper.
The platform offers advanced features such as automated cost estimation and smart 3D rendering that enable architects to develop accurate estimations faster than ever before. It also has a robust library of pre-made templates so users can quickly get up and running without having to start from scratch each time. Whether you're a beginner or an experienced designer, ArkDesign provides all the tools you need for creating beautiful, functional designs that meet your project goals in less time than traditional methods.
Create Optimized Floor Plans Fast & Efficiently
Designing at Machine Learning Speed
Design faster and smarter
Generate More Profit
3)ARCHITEChTURES
ARCHITEChTURES is an AI-powered web tool that helps residential building designers reduce design time and make more informed decisions. The platform enables users to generate highly customized designs within minutes, creating detailed plans that incorporate building regulations, zoning requirements, and other site criteria. ARCHITEChTURES also offers access to a library of pre-designed components, helping streamline the design process even further.
The user interface is highly intuitive and provides a range of helpful features such as smart object placement, instant feedback on rule violations, material selection advice, cost estimation tools, and 3D visualizations. This allows architects to quickly understand their project's potential while making faster decisions that are tailored specifically to their needs and budget. Overall, ARCHITEChTURES simplifies the process of designing residential buildings for architects at all experience levels.
4)DALL-E 2

The OpenAI organization has developed DALL-E 2, an AI-powered image creator intended to impact the way architects produce and scale their designs. The AI enables architects to quickly generate visuals with only a text or keyword input. Using this technology, the term "A skyscraper" can be used as the inspiration for a new rendering in as little as five minutes.
5)Midjourney

Midjourney is the latest AI-driven text-to-image generator that has taken the internet by storm. It's been hailed for its ability to create hyper-realistic environments and its accessibility for architects, designers, and other creatives. Launched in mid-2022, it operates on similar underlying technology as Stable Diffusion, which allows users to gain insight into their ideas in a virtual setting.
The platform offers a variety of user services including 3D rendering of existing photos or sketches and real-time previewing of projects using natural elements such as water, rocks, and vegetation. For example, midjourney can be used to design complex landscapes within minutes with no manual editing required. Furthermore, it provides an innovative way to generate photo-realistic images from scratch without having any prior knowledge or experience with 3D modeling software.
6)Spacemaker

Spacemaker is a revolutionary cloud-based AI software that empowers architects, urban planners, and real estate developers to make smarter decisions faster. By leveraging its advanced artificial intelligence (AI), Spacemaker helps users design better buildings while saving time and money.
With Spacemaker, architecture teams can quickly test out different designs in order to identify the best projects with the highest potential for success. Thanks to its intuitive interface, users can easily collaborate on projects from anywhere with an internet connection. Designers can also leverage the platform's powerful visualization engine to explore alternative scenarios in 3D, giving themselves a better understanding of their project's implications.
By using Spacemaker's predictive analytics capabilities, architects and urban planners are able to optimize their projects' performance across various criteria such as energy efficiency or cost savings without sacrificing quality or design creativity.
7)Sidewalklabs.com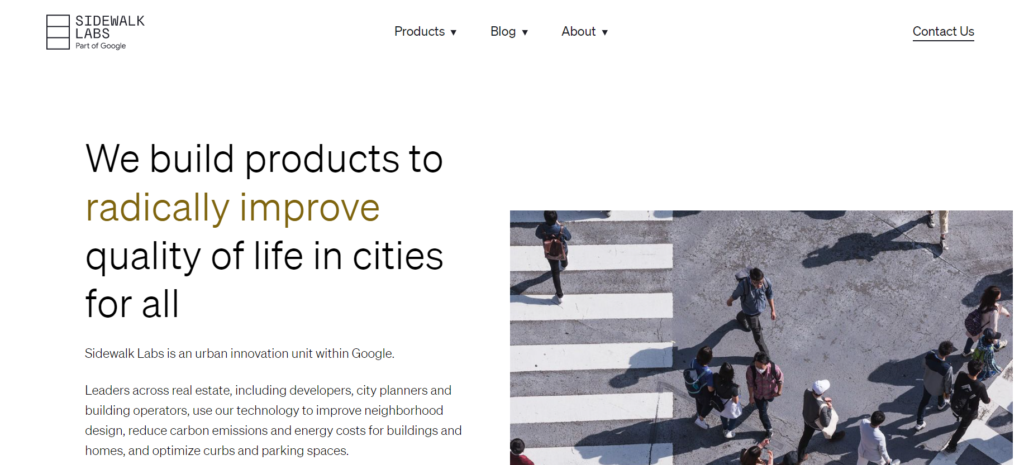 Sidewalklabs.com is the go-to site for city planners, architects, developers, and even citizens who want to see the latest in urban innovation. The website was created by Google's Alphabet Inc., with the goal of making cities smarter and more efficient. Sidewalklabs provides a comprehensive view of cutting-edge technology, tools, and research that can help urban areas become more livable.
The site features a wealth of information on topics ranging from transportation to energy efficiency to housing affordability. It also offers practical advice on how to use these technologies in order to make cities more sustainable and equitable. Additionally, Sidewalklabs serves as a platform for cities around the world to collaborate on projects that will improve their communities.
FAQ
Which AI is best for Architecture?
One of the most popular and best AI technologies used in architecture is Generative Design tools like Maket.ai, Dall e,Midjourney,fotor.ai, Arkdesign.ai, and a few others. This technology utilizes algorithms to generate thousands of design options based on specific parameters such as material use, environmental factors, and structural requirements. It helps architects explore various designs quickly and efficiently while also considering constraints that would otherwise go unnoticed without this technology. Another popular AI option for architects is Augmented Reality (AR), a technology that enables users to visualize designs in real-time environments virtually. AR allows architects to immerse themselves in their creations and gain better insight into how they will look once constructed.
How is AI used in architecture?
One way AI is used in architecture is through generative design. The generative design allows computers to come up with thousands of possible solutions for a problem based on a set of constraints given by the architect. These designs are optimized for specific goals such as energy efficiency or material usage. This technology allows architects to consider more options than they would be able to manually and helps them make data-driven decisions.
Another use of AI in architecture is through building information modeling (BIM). BIM involves creating digital models of buildings that hold all relevant information about the project from start to finish.
What is the AI tool to create floor plans?
Maket.ai is an AI tool that creates floor plans in a matter of minutes. It is designed to assist architects, real estate agents, and property managers in their daily workflow by simplifying the process of creating floor plans. Maket.ai uses computer vision algorithms to analyze images of spaces and generates accurate 2D or 3D floor plans. The tool can also create furniture layout options for clients to choose from.
Will AI replace Architects? What is the future of AI in Architecture?
While this current use of AI technology can be helpful to some extent, it's unlikely that it will completely replace architects anytime soon. This is because architecture involves more than just designing a building or structure; it also requires knowledge of local building codes and regulations and an understanding of structural engineering principles such as load-bearing capacities and seismic resistance requirements. Additionally, architects must take into account the needs and desires of their clients while creating a functional yet aesthetically pleasing space. Therefore future of AI in Architects is bright and once technology advances these tools will become more perfect and will be helpful to Architects but can't replace humans completely.
Final Thought
AI tools for Architects offer a huge range of benefits to the Architectural industry. Architects can now access cutting-edge technology, streamline their workflow and create innovative designs with less effort than ever before. Moreover, they have the advantage of being able to cost-effectively simulate their projects in order to test them prior to undertaking construction. Furthermore, these tools allow Architects to focus on creating designs that are both visually appealing and structurally sound. This is only the beginning of AI for architecture we will witness more AI tools for Architecture in the near future.
Disclaimer: The information contained herein is of a generic nature only, and Toolsai.net is not, by means of this website or any part thereof, rendering professional advice or any recommendation of any AI Tools. We have just collected & shared AI tools in one place & blog as education. Every business is different and its need and not every tool fits every business. Before making any decision or taking any action that might affect you, your finances, or your business, you should make your own independent decision as AI is in the emerging stage, and some tools based on it may occasionally give incorrect results. Do not share sensitive information and read the terms and conditions of the respective tool. Your use of this website or any of its pages or links given is at your own risk and you assume full responsibility and risk of loss resulting from your usage in developing technology. Also, Read our Detail Disclaimer
Best AI paints visualizer before painting homes 2023
Best AI Architecture floor plan generators in 2023
7 Best AI Interior Design Tools