Top 15 AI Tools for Business in 2023
I can't believe my eyes! I had heard so much about AI tools for business, but to actually experience them in action is simply amazing. The emergence of artificial intelligence (AI) tools has revolutionized the way businesses operate. Right from Business idea, AI tools for business name generator ,Productivity, business operation, business analysis to Marketing AI have something to offer.AI tools provide businesses with the ability to automate processes, collect and analyze data quickly, and make decisions based on predictive analysis. It has enabled businesses to reduce costs while increasing efficiency, productivity and customer satisfaction. Whether you are solopreneur, content creator or Big or small businesses, today are increasingly leveraging AI tools to gain a competitive edge in their respective markets.
AI tools for business with AI-based solutions can provide businesses
With insights into customer behavior and preferences
It can help automate processes and make decisions based on data
Businesses are able to take advantage of AI tools in order to increase efficiency and productivity while reducing costs.
Furthermore, AI systems can unlock new opportunities by providing accurate predictions about the future trends in their industry.
With AI tools for Accounts and Finance you can save manpower and time on repetitive work.
Effective Smart AI based Marketing
AI Based Customers support with AI Bots
Social Media and Branding
Overall, AI tools offer businesses a number of advantages that cannot be achieved using traditional methods alone or requires much of time, money or other recourses. This is the reason AI tools are quickly becoming the new norm for businesses recently and trend will go on in near future.
(For more AI Tools –Toolsai.net-Largest AI Tools Directory)
Let us check 15 best free and paid ai tools for business
AI Tools for Business
1)Chat GPT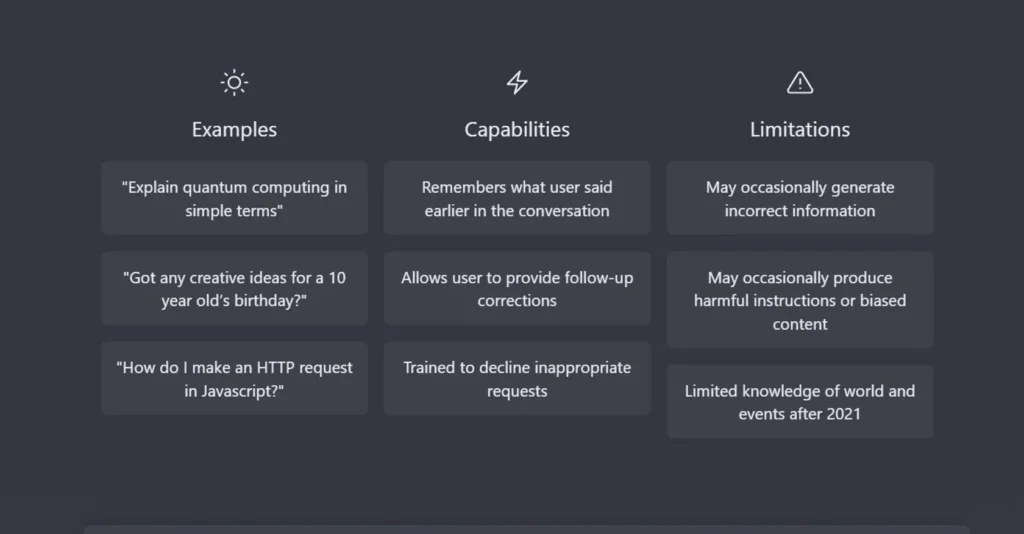 ChatGPT is a chatbot that uses natural language processing (NLP) technology to understand customers' questions or concerns and respond in real-time. This automated system can handle most customer queries quickly and accurately, allowing businesses to save time and money while still delivering excellent customer service. Furthermore, ChatGPT provides data analytics capabilities so that companies can track how customers interact with their chatbot over time for further insights into their customers' needs.
It can help businesses boost their sales. It's able to engage with potential customers, provide them with product or service information and even guide them through their purchasing journey.
Recover Outstanding Money:-ChatGPT helped a design firm recover $109,500 from a client who refused to pay to Mr. Isenberg described how he used a ChatGPT script to draft a scary email to obtain the brand's interest rather than hiring a lawyer.(Source livemint)
Market Research
ChatGPT can be employed to train employees on numerous topics related to workplace policies, procedures, and products, thus saving time and money while ensuring that all employees have consistent and accurate information regarding these topics.
Content Creation
Drafting Ads
Language Translation
Business Plan
Currently Chat GPT is available for Free along with paid version of 20$/month
2)Notion AI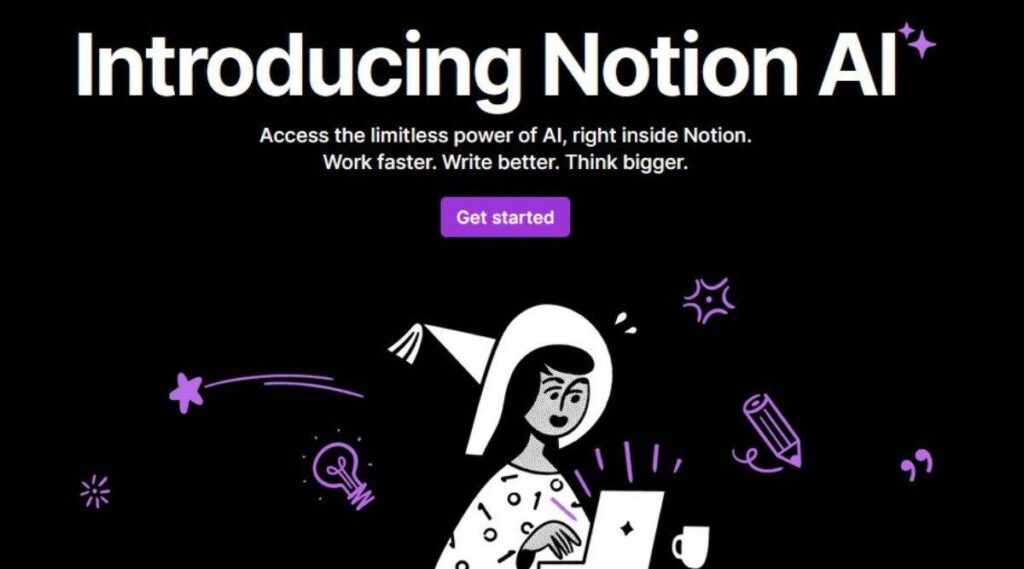 Notion AI is a revolutionary artificial intelligence (AI) designed to give its users the power of productivity. It has been developed to help individuals write, edit, summarise and brainstorm ideas more effectively. With Notion AI, users will be able to unlock their full potential and become more productive than ever before.
The unique features offered by Notion AI include powerful text editing tools, automated summarisation capabilities and a comprehensive brainstorming feature that can help develop creative solutions quickly. Notion AI even provides real-time feedback on its users' work, so they can always have an eye on their progress. This feature also encourages collaboration between team members by providing suggestions for ideas that could be further built upon or rejected altogether.
Ask your doubt
Brainstorms Ideas
Summarize Meetings and documents
Act as personal Editor
Pricing
Free
Paid Version 10$/Month
3)Cody AI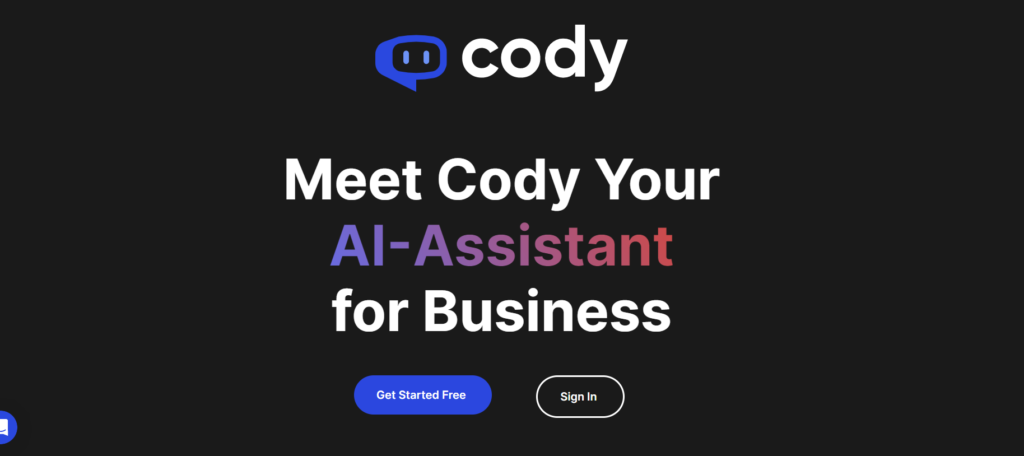 Meet Cody Your AI-Assistant for Business is a like ChatGPT plus it can learn your procedures, your company, and your staff. Use Cody to help your employees answer questions, help them complete creative work, troubleshoot issues, and collaborate on ideas.
Instant Answers To Your Business Questions
Teach It What It Needs To Know
Upload Any Document & Build Your Knowledge Base
Boost Employee Efficiency
Provide Support & Troubleshoot Issues
Brainstorm Ideas & Give Suggestions
4)Taskade AI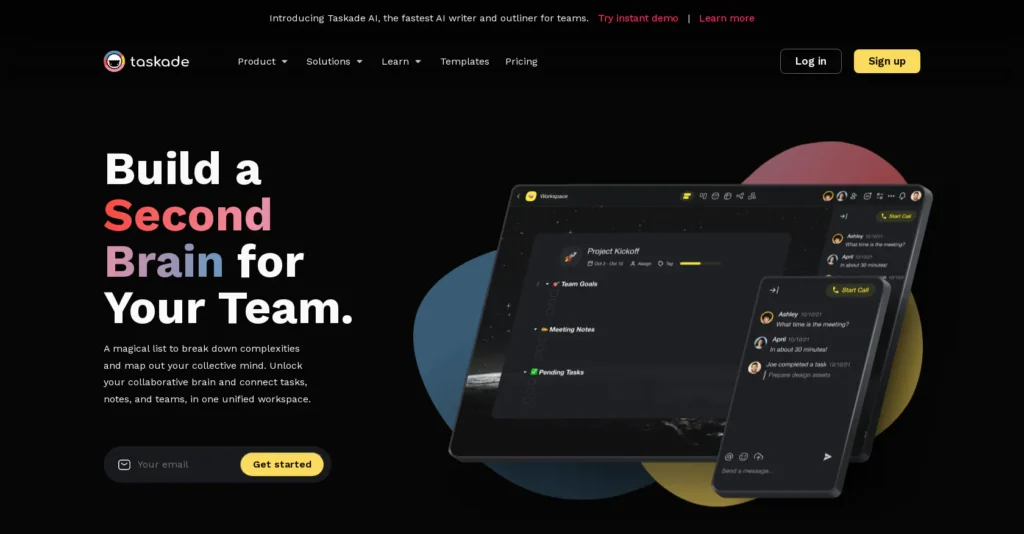 In a world where employees need to talk and coordinate remotely, across time zones, complications arise with each new tool employed to perform the job. At Taskade, we believe that the future of work is remote, asynchronous, and real-time. And using one unified workspace is key to teamwork, remotely. Taskade brings your team tasks, comments, and communications into a single united location.It has five powerful tool at one place which are alternative to many tools
Tasks and Projects-which will replace Trello, Asana,Monday
AI Content Writer – which will replace ChatGPT, Copy.ai, Jasper and other AI writers.
Notes and Docs-which will replace Notion, Google Docs, Obsidian.
Mind Maps-which will replace Miro,Lucidchart,Whimsical
Video and Chat-Slack,Zoom
An excellent platform to improve your workflows.
5)INDY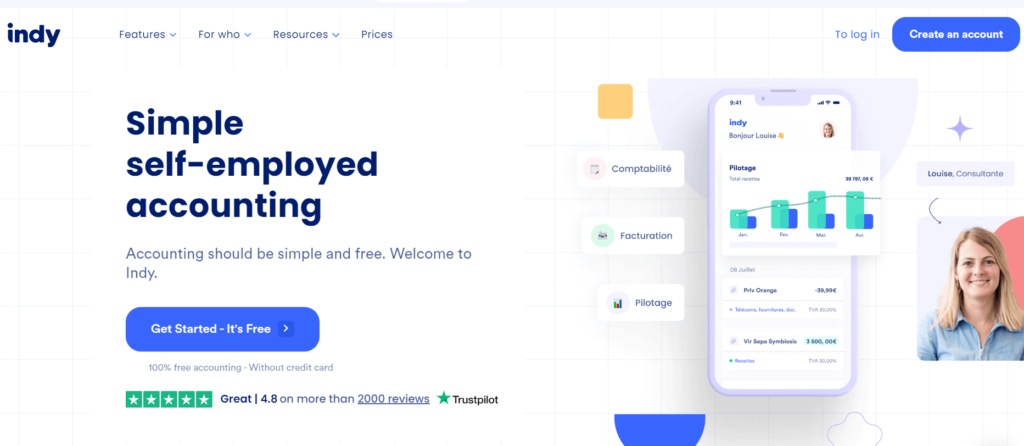 Indy, an application based on artificial intelligence, allows freelance professions, companies, and entrepreneurs to take on those accounting tasks that are time consuming, up to time-and-a-half faster than standard computer software. Indy is more affordable and less time consuming than typical accountants and allows the creation of income statements and financial statements by one-fifth.
Both your financials and accounting are managed completely online, without input or calculations in only ten minutes a month.
With Indy, you can automate your accounting, manage your receipts, bill your clients, and handle the tasks for zero dollar per month.
6)Beautiful.AI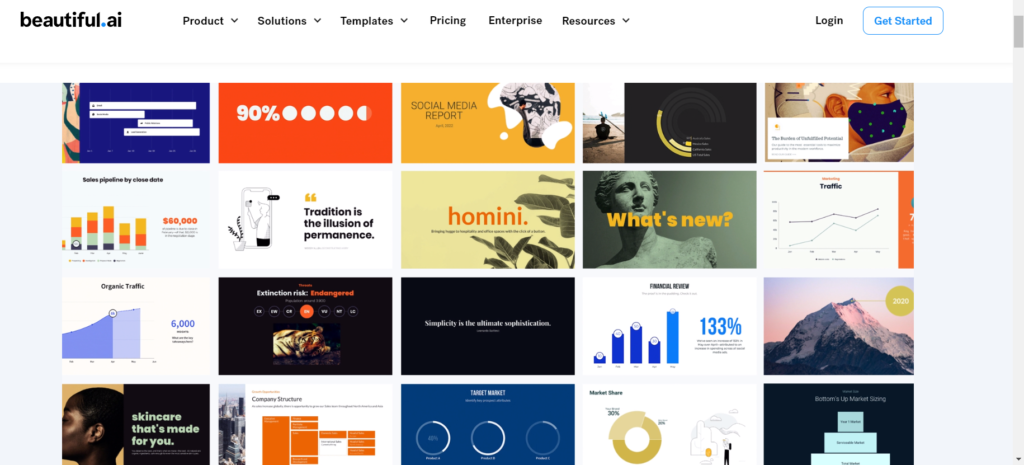 Beautiful.ai has revolutionized the presentation design process with its automated design platform. Using Beautiful.ai's automation, users can quickly and easily create stunning slideshow presentations without needing to be an expert in graphic design or hiring a professional designer.
Their automated process allows users to combine their own images and photos with dynamic graphics tailored to each user's specific needs. With Beautiful.ai, users can choose from a range of pre-designed templates that are easily customizable, giving them complete control over the look and feel of their slideshows while leveraging automated processes for efficiency and speed. This helps to save users time while ensuring they're creating beautiful presentations that reflect their brand standards and values.
Pricing:-
Pro 12$/Month
Team 50$/Month
Enterprises price on request
7)IngestAI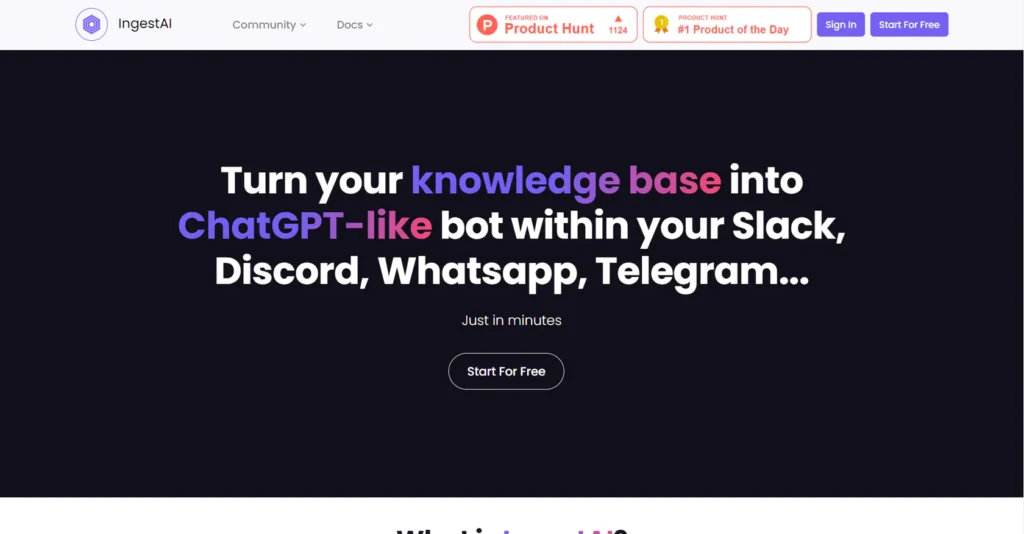 IngestAI is revolutionizing the way businesses build and deploy AI-driven chatbots. With its new ChatGPT-like bot feature, companies can quickly create intelligent bots that answer on queries based on uploaded knowledge bases like technical documentation. This advanced technology utilizes natural language processing (NLP) to understand user queries and respond with accuracy and speed. IngestAI's patented AI engine contains pre-trained models that allow developers to quickly configure the bot so it can be used right away for customer service inquiries or support requests. Furthermore, by leveraging machine learning algorithms, this technology allows users to continually improve their bots as they receive more data and feedback from customers. With its cutting edge features, IngestAI provides a quick yet impactful solution for businesses looking to automate customer service operations with powerful chatbot capabilities.
This AI tools for customer service is compatible with Slack, Discord, Whatsapp, Telegram, and more. It takes minutes to get started and supports uploading Knowledge-base files such as Markdown, TXT, Word, Excel, PowerPoint, Notion and Confluence. It provides accurate AI Chatbot-generated answers to questions about materials related to the subject. People can use it to help answer questions about their products, services, etc.
Featured on Product Hunt ,#No1 product of day
Pricing
Free to start 3 bots 1k request,10 Mb Dataset size
Starter 39$/Month
Pro 89$ /Month
Business 480$/Month
8)Noty.AI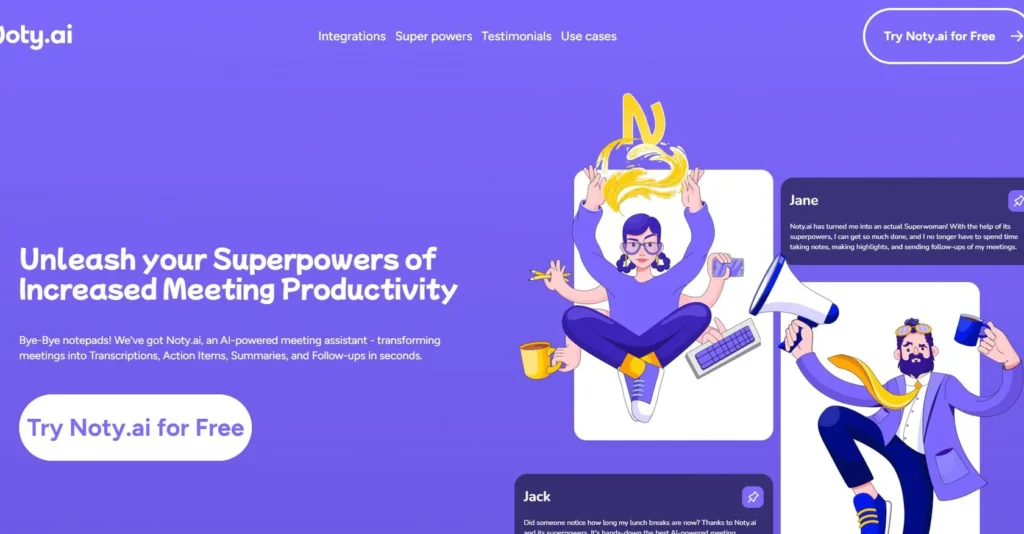 Noty AI meeting assistant is transforming the way people use Google Meet. It offers a comprehensive set of features to make meetings more efficient, including real-time transcription and one-click actionable tasks. Noty helps users take notes in real time, so that nothing important is lost or forgotten. It also allows for easy creation of tasks and follow ups after the meeting, so no detail slips through the cracks and keeps everyone on track.
At its core, Noty AI provides an intelligent, intuitive interface for keeping up with meetings and staying organized. Users can easily generate summaries from meeting transcripts that are automatically saved in their Google Drive accounts for future reference. Furthermore, natural language processing (NLP) technology helps users understand conversations better by creating contextually relevant questions to ask during a meeting as well as providing key insights after it concludes.
Pricing
Hero Free 1 User
Super Hero $14.99
Enterprises- Price on demand
9)Robin AI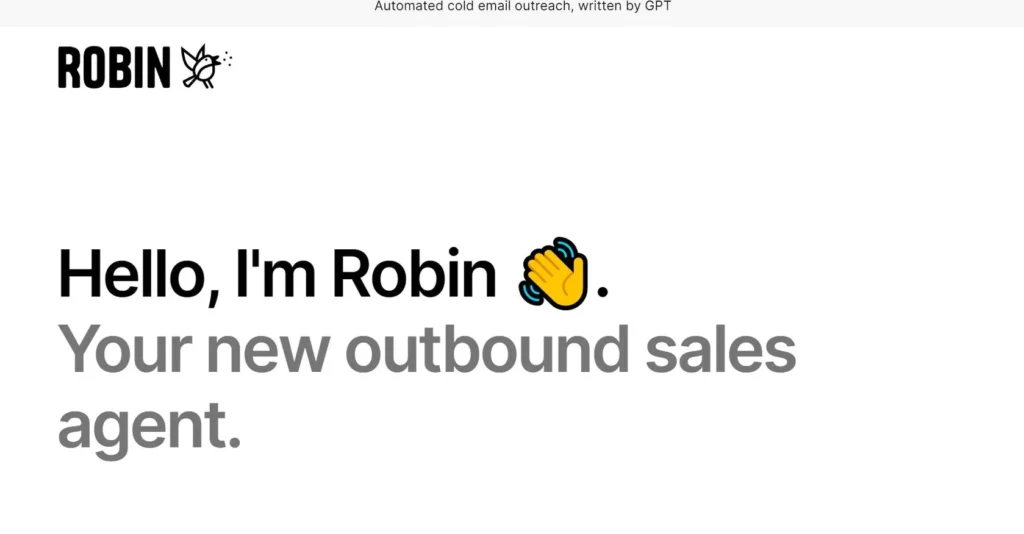 Robin AI offers a new platform that uses artificial intelligence to automate top-of-the funnel marketing for small business. With Robin AI, you can easily and consistently communicate with leads, carry out market research, and send outreach in automation – all without the services of a human sales assistant.
Robin AI provides replies to emails using lead content from your email address, you simply need to forward the email to Robin and it will create response emails with objection language that match your specification, as well as setting a meeting between your assistant and the lead for the sales team to take over.
Currently need to Joint Waitlist
10)Namelix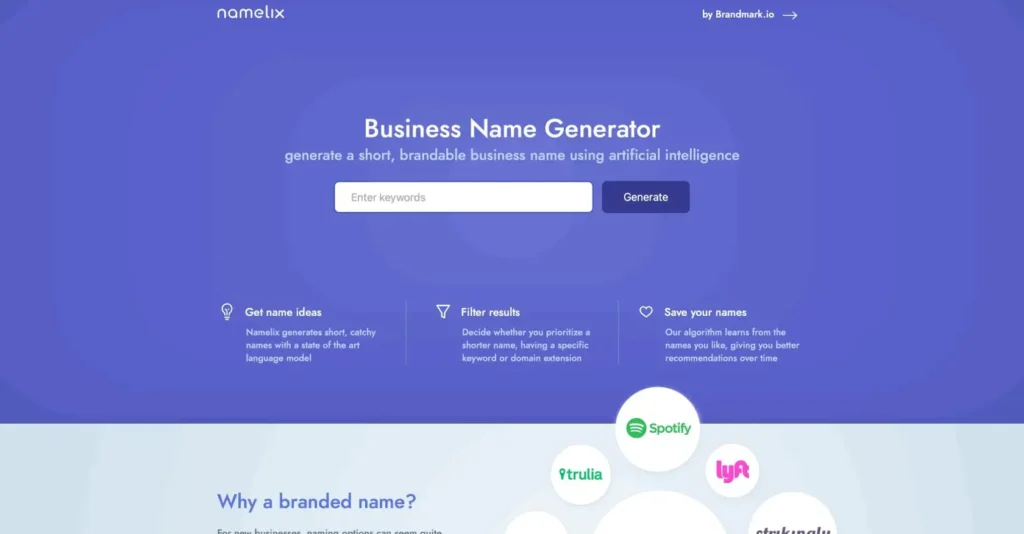 Namelix.com is ai tools for business names an online platform that provides users with the ability to generate creative and original business names for their companies. Namelix employs powerful artificial intelligence technology to create unique, memorable names tailored to fit each user's individual needs. The platform is also designed with a simple, intuitive interface so all users can navigate smoothly and quickly find the perfect name for their company or product.
The process of finding a good name has traditionally been long and arduous, but Namelix makes it easy by allowing users to input keywords related to their desired business name and receiving suggested options within seconds. The outputted list will contain several potential names based on your keyword criteria along with details such as domain availability, logo design ideas, social media handles and relevant taglines.
11)WTF Does This Company Do?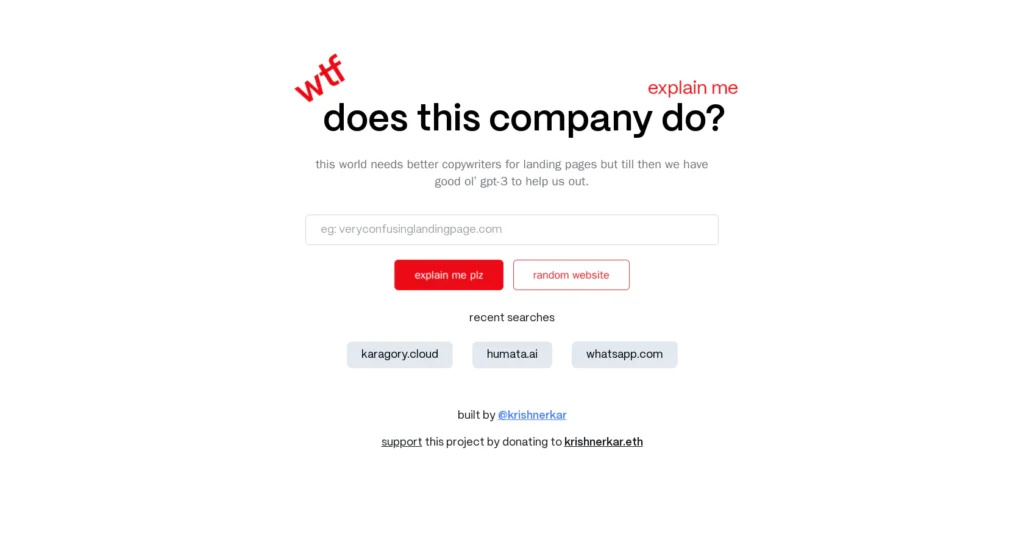 Explains landing pages by entering the domain name. The world needs better copywriters for landing pages, but until then we have good ol gpt-3 to help.
12)Maverick AI
Maverick AI,Raise customer confidence levels by customizing videos to your customers. We at Maverick provide a number of different services to companies, such as online marketplaces, e-commerce, online retailers, healthcare, and more, by leveraging AI and deep learning technology to create thousands of unique personalized videos. All you have to do is record yourself once, and Maverick will generate thousands of customized videos based on your characteristics.
Automatically personalized video messages
Delivered over personalized email
Branded video pages
Pricing
100$/Month
13)Ad-creative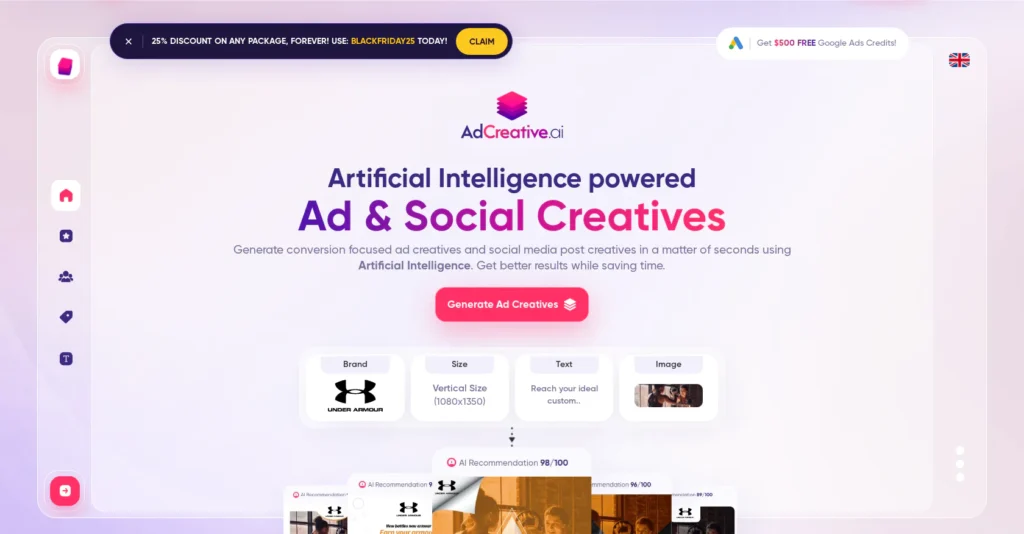 Ad-creative Artificial Intelligence powered Ad & Social Creatives is a revolutionary new tool that allows marketers to generate conversion focused ad creatives and social media post creatives in minutes. It utilizes the power of artificial intelligence to quickly develop highly personalized content for each individual user, allowing for more effective targeting and faster results. With this powerful tool, marketers are able to create engaging ads and social posts that capture their audience's attention, increase engagement, and ultimately drive conversions.
The system works by taking into account the user's data points such as interests, demographics, past purchases, etc., and then leveraging machine learning algorithms to create customized creatives that best match each user. This ensures that users are served with relevant content tailored specifically for them which leads to better results.
Pricing
Basic 29$/Month
Premium 59$/Month
Ultimate 99$/Month
Scale Up 149$/Month
14)CopyAI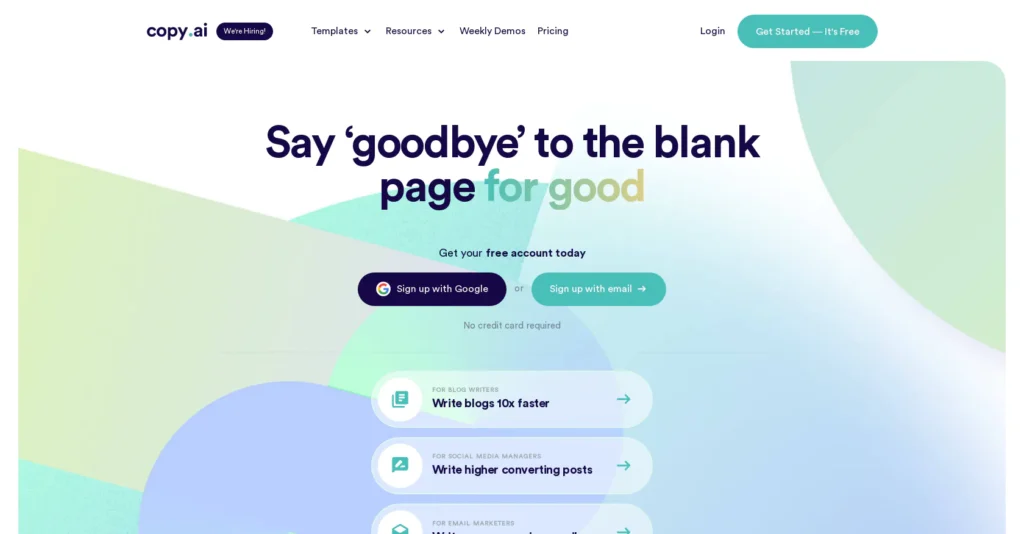 CopyAI is a revolutionary top class product that has made it possible for users to create quality copy in minutes. With Copy AI, you can generate captions and other text quickly and easily with just a few words. It's perfect for busy professionals who don't have time to sit down and write lengthy passages of text or for bloggers, content creator, copywriter.
The beauty of CopyAI is how easy it is to get started – all you need is a few words or phrases, and the software will do the rest. You can use it to create Instagram captions, blog posts, emails and more – all with just a few clicks of your mouse.
Unlike other copywriting services that require long lead times, CopyAI generates content almost instantly – so you won't be waiting days or weeks for your content to be finished.
Pricing
Free (upto 2000 words/Month)
15)WordHero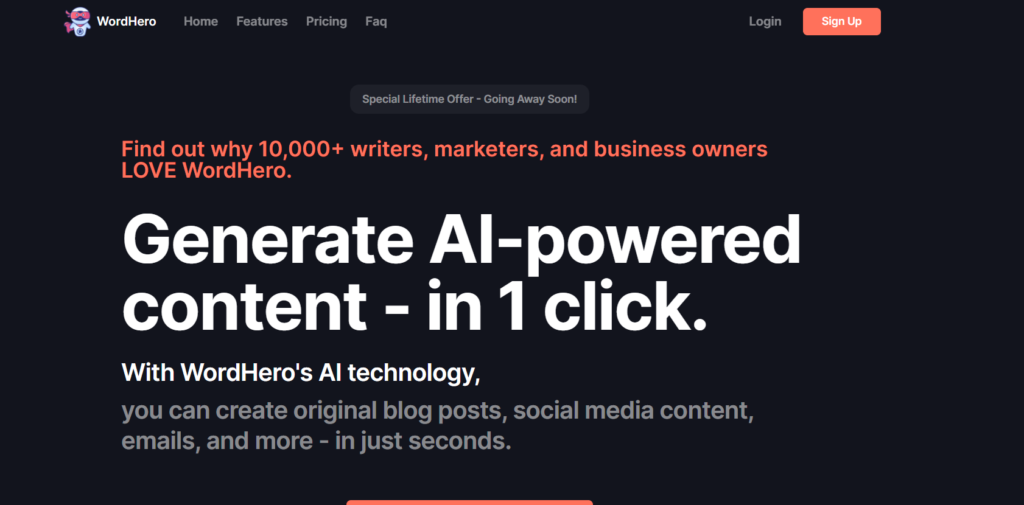 WordHero is a content writing software based on artificial intelligence. It was created in July 2021 by an experienced digital marketer, Jeff Tay. It has over 50,000 registered clients, and it accurately predicts more than 100 million words every month! Tools is money saver comes with great deal of onetime investment.
WordHero uses the latest version of the technology created by OpenAI Laboratories and adds a new model that supports Generative Pre-Trained Transformer 3 (GPT3), the most powerful language model on the market. This model consists of 175 billion parameters and generates new content by figuring out roles and sentences based on existing ones.
WordHero has 65 use cases to provide content to a wide variety of people.
Content Writers
Copywriters
Fictional stories
Ebook
Facebook Ads
Email Marketing
Product Description
Video Description
Pricing
Lifetime Starter $89 (No monthly fees)
Lifetimepro $267(No monthly fees)
Final Thoughts
AI tools are becoming increasingly important to help businesses work more efficiently and drive competitive advantage. With the right AI tools, companies can build better customer service experiences, automate manual processes, and gain insights from data that would otherwise not be available. From natural language processing to machine learning applications, there are many AI tools for business owners to choose from. The Top 15 AI Tools for Business discussed here provide a great starting point for companies looking to leverage the power of artificial intelligence in their operations.
Disclaimer: The information contained herein is of a generic nature only, and Toolsai.net is not, by means of this website or any part thereof, rendering professional advice or any recommendation of any AI Tools. We have just collected & shared AI tools in one place & blog as education. Every business is different and its need and not every tool fits every business. Before making any decision or taking any action that might affect you, your finances, or your business, you should make your own independent decision as AI is in the emerging stage, and some tools based on it may occasionally give incorrect results. Do not share sensitive information and read the terms and conditions of the respective tool. Your use of this website or any of its pages or links given is at your own risk and you assume full responsibility and risk of loss resulting from your usage in developing technology. Also, Read our Detail Disclaimer
You may Read:-
7 Best AI tools for Architects in 2023
Best 10 free AI tools for business name generator 2023
Top 15 AI Tools for Business ( for March 2023)
13 AI tools for video creation 2023 -Best AI Video generators